SOUP FOR SYRIA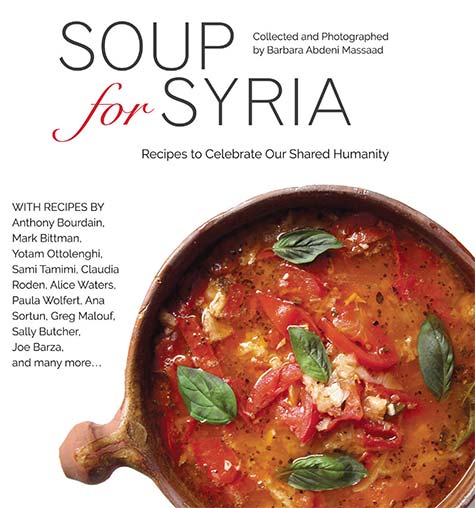 By Mary Reilly, Photographs by Barbara Abdeni Massaad
Courtesy Of Interlink Publishing
Soup. Uttering that word can make you feel warm, loved, safe. When we want to comfort and nourish those around us, soup is what we turn to.
When Lebanon resident and author Barbara Abdeni Massaad wanted to do something to aid the Syrian families in the refugee camp near her home, she began with soup. Every weekend, she and her husband began cooking gallon upon gallon of soup to bring to the camp. Her friends saw what she was doing and joined them. Feeling like she should do more, Massaad turned to her friend and publisher Michel Moushabeck.
Moushabeck suggested that they combine efforts to have a greater impact. With Massaad's background as a food writer and TV host and Moushabeck's experience as publisher and editor, the logical choice was a cookbook. The two of them began making phone calls, requesting recipes from friends and acquaintances.
The result is Soup for Syria, a collection of over 80 lavishly photographed soup and stew recipes. The international family of contributors includes celebrity chefs and authors such as Paula Wolfert, Alice Waters, Mark Bittman, Yotam Ottolenghi, and Anthony Bourdain. All the proceeds from the book's sale go the United Nations Refugee Agency UNHCR.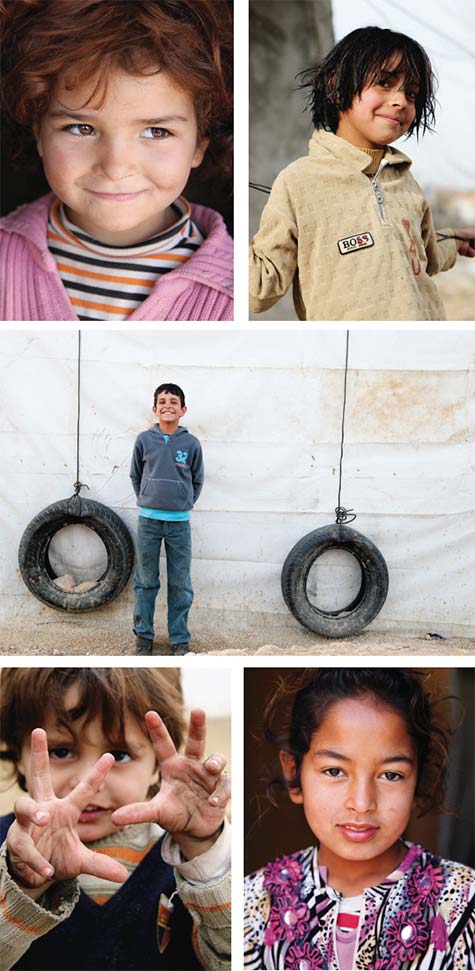 There are over 4 million Syrian refugees in five countries:
(Turkey 1,622,839; Lebanon 1,174,313; Jordan 623,241; Iraq 242,468; Egypt 136,661)
Nearly 8 million Syrians are internally displaced.
Thousands of Syrians continue to flee their country every day.
Half of all Syrian refugees are under the age of 18. Most have been out of school for many months.
More than half of Syria's pre-war population of 23 million is in desperate need of urgent humanitarian assistance.
Source: UNHCR, February 23, 2015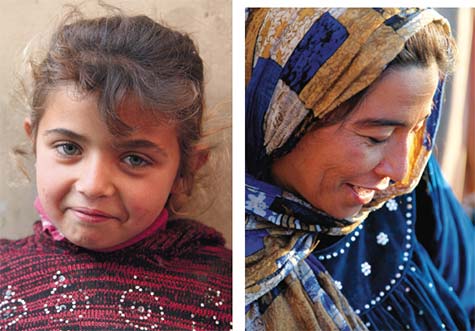 "Let us all make soup to create
some relief and provide more
outreach to those that are in need."
— Ana Sortun
RECIPE
WHITE TURNIP AND HAZELNUT SOUP
STOCK OPTIONS AT THE DALLAS FARMERS MARKET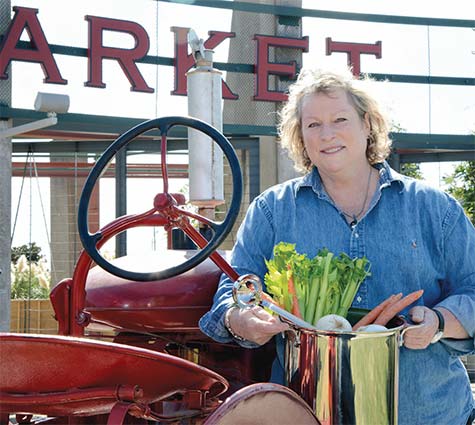 Joanne Bondy
photos by Lisa Stewart
Chef Joanne Bondy is on a mission: eliminate boxed broths and preservative- laced bouillon cubes from pantry shelves around the Metroplex. That's the first order of business at her new namesake shop, Stocks & Bondy, located in the recently remodeled Shed 2 of the Dallas Farmers Market.
The 1400-square-foot culinary compound is part retail space, part gastronomic gathering spot. Its cases are filled with clear broths, darkly rich stocks, compound butters and complex sauces like béchamel and Mexican moles—ready-to-use cooking components that will elevate even a novice's cuisine from humdrum to drum roll.
"Stocks and broths are kitchen essentials. But whether you're a home cook or professional chef, making them is both labor and time intensive," says Bondy, whose résumé includes positions at the popular, now closed Ciudad D.F. (executive chef, partner) in Dallas, and at the Gaylord Texan (executive chef, Old Hickory Steakhouse) in Grapevine. "At Stocks & Bondy, we specialize in preparing foods that can't be rushed."
The kitchen, supervised by executive chef-business partner Michael West (Ciudad D.F., Old Hickory Steakhouse, Neighborhood Services), also cooks up an assortment of gourmet soups. Customers can grab and go or sit and eat in the shed's common area. The store's menu features six standard daily soups along with a seasonal option. The bowls are garnished with tarallis, crunchy little Italian pretzel cookies known as love knots.
Chef Bondy beams as she reels off everything she has planned—winemakers' dinners, cooking classes for both children and adults, and even a Stocks & Bondy mini-food truck—a golf cart with an Igloo cooler attached—to make deliveries around the market and to downtown offices. The retail space can play host to intimate parties and small receptions. The view beyond their door looks onto the Dallas skyline.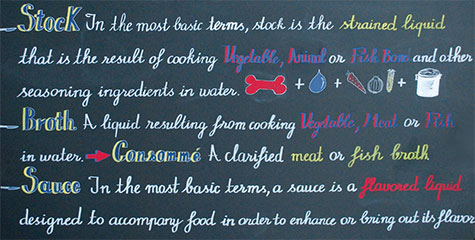 With decades of experience, including three cooking engagements at the famed James Beard House in New York City, Bondy has finally found her stride. She embarks on this new venture with hard-earned gratitude. A sobering diagnosis of breast cancer five years ago prompted her to reexamine her priorities.
"What are the things that bring me joy?" she wondered while undergoing rounds of chemotherapy. "It was hard to focus on anything else." She outlined five business concepts, among them Stocks & Bondy. "I liked the name so much I went on Legal Zoom and registered it long before I'd nailed down a plan with the Dallas Farmers Market." During chemo, Bondy craved things with big flavors and lots of spice. She found that the easiest—and healthiest—thing to make, and the food that she enjoyed the most, was soup.
"We'll always offer a dynamic vegetable soup with a nice balance of vegetables and fiber, like peas from Sides Pea Farm or garbanzo beans," says Bondy. Other regular offerings include lobster bisque, vichyssoise, chicken with noodles or matzo ball soup and a rotating roster of chilis—venison, turkey, wild boar and beef. The stocks are gluten-free, thickened by natural reduction during their long simmer.
Customers will also find complete meals with seasonal sides for takeout. "On busy days, when you need something quick but don't want to sacrifice flavor, we've got you covered," she says.
Try their grass-fed brisket from Burgundy Pasture Beef, seared and then drenched in a tangy chimichurri sauce. It's vacuum-packed and ready for a quick reheat. Or roast leg of lamb rubbed in a house-blend of herbs and spices and accompanied by a gourmet version of the traditional green bean casserole with chef-made mushroom soup and fried leeks.
To complement meals, sommelier Hayley Hamilton Cogill will pair food with wine selections from the store's bottles and half-bottles. For holiday parties, appetizers, pâtés and terrines, as well as desserts, like Mom's Pecan Pie made with Louisiana cane syrup, are ready to go. Thanks to the store's location, the kitchen staff sources many of their ingredients from their neighbors, the farmers and ranchers of the DFM.
Bondy grew up in Lakeland, Florida, a short train ride away from Bradenton, where her grandparents owned the town's only grocery store Her grandfather aged his own beef and received shipments of bananas straight off the boat from Cuba.
"When my parents, my brother and I went on car trips, we never passed a roadside stand without stopping," she laughs. "My mom always yelled—'Pull over, Jim!' to my dad, and we'd all get excited about buying fresh apples, peaches, honey, whatever was in season."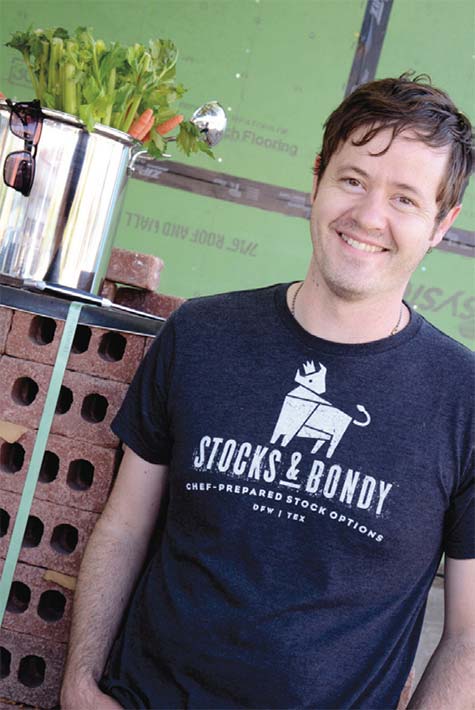 Michael West
Though she majored in business and banking, a serendipitous opportunity, working in the kitchen of a natural foods store, lured her into the culinary world. "I've learned from an awesome group of food and beverage managers," she says.
"I've decided that joy means creating a circle of good stuff. I want to surround myself with good friends, with family. I want to give back to the community, to work with kids and teach them to cook. I want my staff to say, 'I had a great day at work.' I want our customers to walk in and leave happy." And find comfort in a bowl of soup.
RECIPE
Edible Dallas & Fort Worth is a quarterly local foods magazine that promotes the abundance of local foods in Dallas, Fort Worth and 34 North Texas counties. We celebrate the family farmers, wine makers, food artisans, chefs and other food-related businesses for their dedication to using the highest quality, fresh, seasonal foods and ingredients.