REAL SCHOOL GARDENS & GRACE
TO HOST SCHOOLYARD HARVEST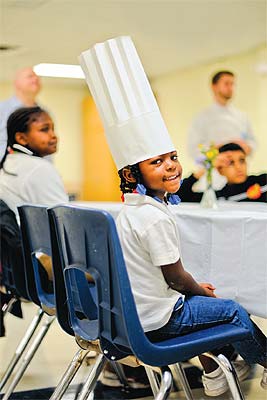 Photo by Matthew Rainwater
On Friday, November 11, REAL School Gardens and GRACE restaurant in downtown Fort Worth will host their second annual Schoolyard Harvest event, an evening of great food with a purpose. In August, children at five Fort Worth elementary schools began planting the seeds of what will become a delicious and memorable meal. the turnips, green beans, lettuce and herbs they tend in their school gardens will provide a focus for hands-on learning in science and math as well as a fun and meaningful way for them to learn about healthy eating.
"We are excited by the skills these students develop when they have the opportunity to learn outdoors," says REAL School Gardens Executive Director Jeanne McCarty. "Having the chance to plant and tend to an organic garden is a transformational learning experience for a child. Time and again, we find that children want to take responsibility for nurturing living things and growing nutritious foods for themselves and their families. REAL School Gardens is delighted to support our school partners and promote healthy lifestyles for young people across North Texas."
GRACE owners Adam and Caroline Jones and Executive Chef Blaine Staniford will visit each of the participating schools in October to thank them for their hard work and bring healthy eating to life through a cooking demonstration and taste test. When it's ready for the table, the children will share their harvest with the community. Diners will enjoy a handcra' ed meal of classic American fare, a selection of wines and a chance to meet the young growers who made their meal possible. Tickets are $150 each, and reservations can be made by calling GRACE at (817) 877-3388;
COMBATING DISEASE
WITH HEALTHY CUISINE

By Anna Caplan
The Fort Worth nonprofit Cuisine for Healing has a simple mission: make nutritious and delicious food available to people combating disease. Wendy Wilkie founded the organization in 2004, a few years after she was diagnosed with Stage-4 breast cancer. During her cancer treatment, Wilkie sought to eat healing foods— fruits, vegetables, legumes—while shunning preservatives and foods with antibiotics, hormones and sugar. She was tenacious in tracking down "clean" foods but was occasionally frustrated by the pursuit. Seven years later, and after her death in 2008, Cuisine for Healing is her legacy. President Sue Austin now oversees the organization, which includes an outreach food program, as well as an online retail component. The outreach program, targeting low-income patients, has grown from serving 72 meals in February 2010 to its current number of more than 600 meals a month.
Cuisine for Healing, through its partnership with Z's Café, a restaurant within the Fort Worth Community Arts Center, provides two meals a day for four to eight weeks to recipients. The organization partners with area cancer care centers, such as Cancer Care Services, the Joan Katz Breast Center and Texas Oncology, as well as area health care providers, hospitals, social workers and churches to find qualified individuals. On Mondays and Thursdays, food is cooked at Z's Café and then transported by volunteers to a refrigerator at Cancer Care Services. Volunteers then deliver the meals on Tuesdays and Fridays.
"We believe, as Wendy did, that the food you put in your body helps your immune system function more efficiently," says Austin. With a focus on quinoa, lentils, fruits and vegetables, typical menu items include roasted Cornish game hen with mashed red potatoes and a garden salad, spinach-stuffed mushrooms, carrots and green beans with slivered almonds and tarragon shrimp couscous salad and cooked apples. They use mostly organic fare purchased from local grocers like Whole Foods and Central Market. "The food is just gorgeous and so tasteful," says Austin.
This fall, Cuisine for Healing will partner with Central Market in Fort Worth for a series of cooking classes. To get more information on the classes, ordering food or volunteering, go to the website.
DALLAS BUTCHER WINS
COVETED NATIONAL TITLE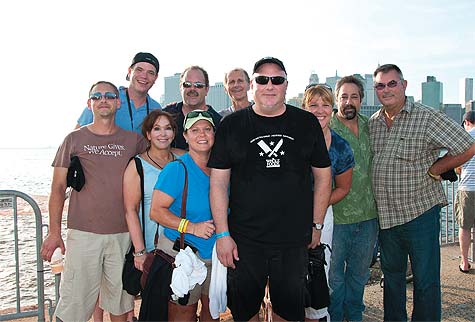 The Whole Foods Southwest regional team celebrates aft er their divisional winner Hans Van Der Enden of Dallas wins the national title of "Best Butcher." Front Row (from l-r) Jim McLallen (Southwest meat team), Karen Lukin (Media and Community Relations), Carmen Fort (Lakewood store team leader), Hans Van Der Enden ("Best Butcher"), Nona Griesman (Southwest Vice-President), Chris Romano (Southwest produce team), Lloyd Butler (Southwest meat team) Back Row: Jason Lowery (Park Lane store team leader), Steve Hellmann (Southwest meat team), Rick Findlay (Southwest Vice-President)
Whole Foods Market butcher Hans "Grizz" Van Der Enden of Dallas' Park Lane store triumphed over 300 butchers for the prized title of "Best Butcher" and a trip to Iceland. At this summer's 2011 Amstel Light Meatopia held at New York's Brooklyn Bridge Park, 11 finalists squared off to demonstrate their meat-cutting skills. The event was the culmination of weeks of regional competitions between in-house butchers from Whole Foods Market stores across the country.
Finalists were charged with demonstrating creativity, knife skills, efficiency and merchandising in front of thousands of meat enthusiasts, including Van Der Enden's co-workers from the Whole Foods' Southwest Region, who arrived in full force to cheer on their regional winner.
"It was more than just supporting Hans," said Whole Foods Media and Community Relations spokesperson Karen Lukin, who attended the grand finale. "This region believes in the importance of its meat program and the skills of butchery. It's so much more than just putting product in a package."
With more than 25 years of experience as a butcher and 19 years at Whole Foods Market, Van Der Enden earned a custom designed cleaver trophy along with an all- expense-paid trip to Iceland to participate in that country's annual fall lamb round-up event, réttir.
This annual tradition includes farmers riding high into the mountains to collect their lambs and culminates in a celebration with singing, dancing and customary delicacies. Whole Foods will have the meat available from September through November in selected stores.
"It's such a great honor to be recognized among these master butchers," said Van Der Enden. "This competition is a salute to all our in-house butchers, and it demonstrates that the art of butchery is alive and well at Whole Foods Market."
Edible Dallas & Fort Worth is a quarterly local foods magazine that promotes the abundance of local foods in Dallas, Fort Worth and 34 North Texas counties. We celebrate the family farmers, wine makers, food artisans, chefs and other food-related businesses for their dedication to using the highest quality, fresh, seasonal foods and ingredients.