DELICIOUSLY UNREFINED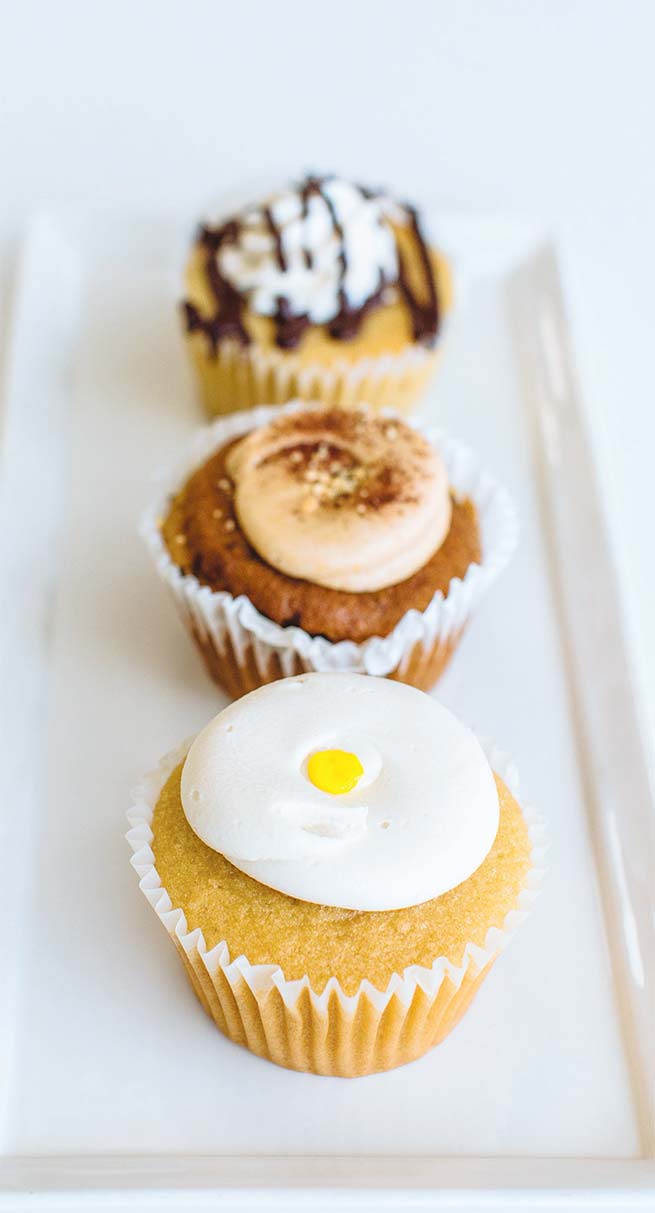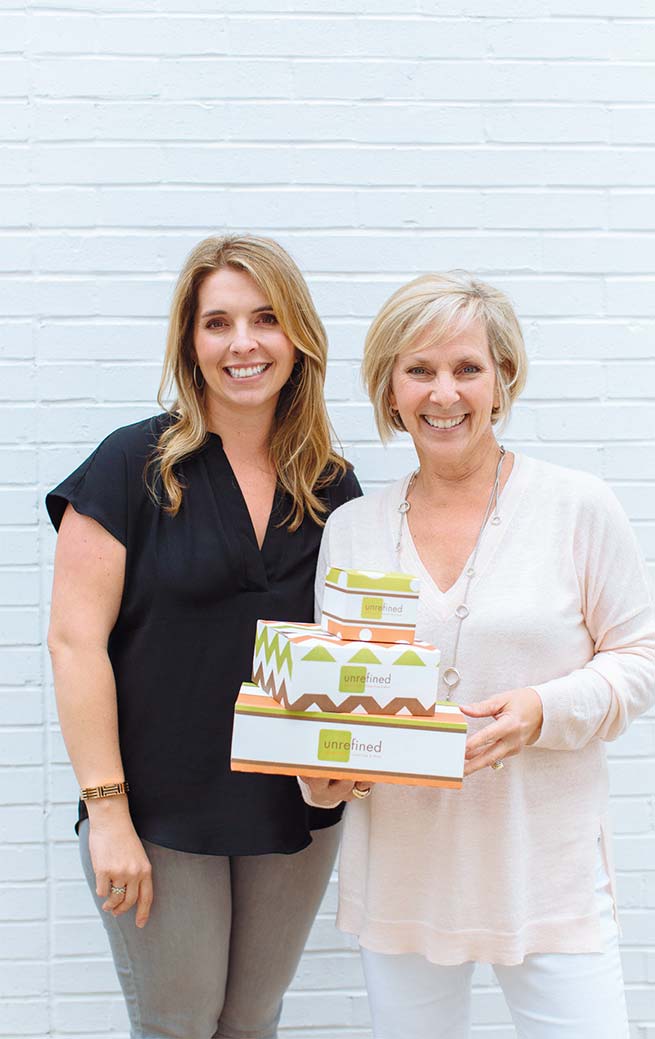 TAYLOR NICHOLSON AND ANNE HOYT, OWNERS OF UNREFINED BAKERY
STORY AND PHOTOS BY KELSI KLEMBARA
Unrefined Bakery owners Anne Hoyt and Taylor Nicholson dash about their White Rock location on a recent weekday morning. Although the rush of customers has slowed, the mother-daughter duo has not. In meetings since 7 a.m., they have a table stacked with planners and sticky notes about an upcoming event. Taylor instructs an employee behind the counter while her mom shouts a joke to her staff: the pace here is anything but listless.
Anne and Taylor exhibit the same amount of energy when you ask them about the bakery. Without pause or hesitation, they take turns listing example after example of why they opened a bakery, why they are passionate about their products, and why they love their customers. These ladies aren't just talk and energy, however. Unrefined has found immense success not only as one of the few gluten-free bakeries in DFW, but also amongst the best of the best bakeries throughout the Metroplex.
In their sixth year of business, Anne and Taylor currently operate five locations and serve over 100 items. Everything is baked from scratch, certified gluten-free, organic and non-GMO. Eighty percent of their menu is vegan, and they also have options for paleo and anticandida diets. Basically, if you have a food allergy, you'll be able to find something suitable and delicious at Unrefined.
Originally, their plan did not include so many locations or menu items. Upon discovering in 2007 that Anne, Taylor and Taylor's sister had celiac disease, the family began shopping around for gluten- free alternatives. It didn't take long to realize their choices for gluten-free breads and baked goods were not only limited, they were what Taylor calls "nutritionally void"—filled with refined carbohydrates, sugar and preservatives.
"I wouldn't have eaten those before I knew I was celiac, so why in the world would I eat them now?" Taylor says.
Anne, a lifetime home baker, began experimenting with different gluten-free flours. Paired with Taylor's self-taught knowledge about nutrition, plans to create a bakery with gluten-free staples quickly turned into a reality. The duo based their menu on customer demands and worked hard to make sure recipes were just as good without gluten and extra junk like cornstarch, extra sugars and preservatives.
Without any previous restaurant or professional baking experience, they were confident their recipes were better than what they could find on the market. Within six months of opening, customers were asking for soy-free and vegan options and more desserts, which they gladly provided.
"We've been super flexible in our growth because at the end of the day, we're serving our customers so we try to listen to their needs and cater to that," Taylor says.
Unwilling to compromise quality, they work relentlessly to perfect each recipe in both nutrition and taste. Unrefined's pizza crust went through 120 adjustments alone before being added to the menu, and Anne estimates she spent at least 90 hours getting her white cake recipe just right. The pair goes to great lengths to make sure their baked goods maintain moisture and freshness without adding preservatives. If something isn't delicious after day one, they don't put it on their menu.
"If I'm not going to eat it, I'm not going to sell it," says Anne. The long-term goal continues to be to give those with food allergies tasty, healthy options, but they are also adamant that they want their products to stand on their own when it comes to taste.
They estimate that one third of their current clientele doesn't have a food allergy, and in the past two and a half years they've focused on building the wedding cake portion of their business. Taylor says she loves serving both brides with gluten intolerances as well as brides who choose Unrefined solely for the taste and quality of their cakes.
"We're not trying to compete with gluten-free products, we're trying to compete with bakery products," Taylor says.
This summer, Unrefined will move its production facility from their current 3,500-square-foot location to a brand new 8,000-squarefoot facility.
"The reason for growth is so we can get this to more people," says Anne. "It's not just people in Dallas that need this food, it's not just people of a certain income. It's across the board, socio-economically and geographically."
They are passionate about providing education and resources for families struggling with food allergies, and they believe a huge part of that includes eating a clean diet full of nutrient-rich components.
Neither mom nor daughter would advocate their customers live solely on the cupcakes and carbs sold at Unrefined, but they also recognize that baked goods provide normalcy and make people happy.
Or as Anne says, "If you're going to eat a treat, have it not kill you."
THE ART OF THE DILL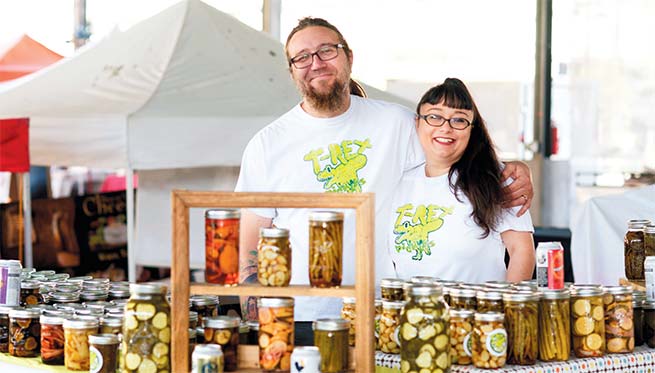 TRAVIS BUSH AND LIZ WALKER BUSH, T-REX PICKLES
BY TERRI TAYLOR • PHOTO BY JOY ZHANG
Summer cucumbers. Craft beer. Pair the two in a jar and what do you have?
If there's a smiling dinosaur on the label, the contents are T-Rex Pickles, prepared by Travis Bush and his wife Liz Walker Bush.
"We chose the name because it's catchy," says Travis, whose nickname is T-Rex. "And the king of dinosaurs makes a nice pickle-green mascot."
Though the main stars-in-the-jars are fresh cucumbers, beer is a key flavor component of the T-Rex pickling brine, along with spices, homegrown herbs and vinegar. The picklers' preferred brews come from Four Corners Brewing Company in West Dallas. On his weekly visits, Travis drops off containers of pickles and picks up the beer he needs for upcoming batches.
T-Rex products also include pickled okra, squash, jalapeños, sweet peppers, green beans and cactus paddles with ancho chiles (great for summer salads and wraps).
"We keep experimenting with new things," says Travis. "I love our dills, but I enjoy messing with other vegetables and new spices, too."
The two-year-old company got its start when Travis, who worked at another local brewery, began pickling as a hobby. "I had a plethora of beer and needed something to do with it," he said. After adding it to everything from sauces to brownies, Travis read about a Boston brewpub that used beer to brine its in-house pickles.
When a knee injury sidelined Travis from his day job, he began pickling in earnest. Friends, who'd previously received T-Rex jars as gifts, encouraged him to take it to the next level. "I decided it was time to work for myself," he adds.
"We were initially making everything in our home kitchen," says Liz. As sales increased, she left her job as a retail manager to help Travis full-time. The couple now operates out of a commercial kitchen.
Travis' recipes utilize herbs from their home garden and a variety of Four Corners brews, selected to enhance each product's flavor profile. The alcohol is cooked off, but the beer's hoppy zest remains.
Dill pickles float in brine made with the brewery's honey-rich Local Buzz or Super Bee beers, while their oatmeal stout (Notorious O.A.T.) is used for the bread-and-butter pickles. Travis turns up the fire for the spicy dills, adding four sources of heat—habaneros, serranos, chiles de árbol and red chile flakes.
The pickled jalapeños, first smoked over pecan and mesquite, swim in a brine made with Four Corners' El Chingón, an IPA, or their Heart O' Texas Red Ale.
"The pickled jalapeños are really delicious in Bloody Marys or on nachos, pizzas and cheeseburgers," says Liz. "Even if you're not grilling outdoors, their smoky flavor makes the burger taste as if you did."
Look for T-Rex products at the Dallas Farmers Market, Oak Cliff Lions Club Farmers Market, and West 7th Farmers Market in Fort Worth. At retail stores: Bolsa Mercado, Cox Farms Market, Gecko Hardware, Trinity Haymarket, and Four Corners Brewing Company. At restaurants: The Grove in Tyler and Garden Café in Dallas.
Find T-Rex Pickles on Facebook.
Edible Dallas & Fort Worth is a quarterly local foods magazine that promotes the abundance of local foods in Dallas, Fort Worth and 34 North Texas counties. We celebrate the family farmers, wine makers, food artisans, chefs and other food-related businesses for their dedication to using the highest quality, fresh, seasonal foods and ingredients.