THE FARMER AND THE CHEF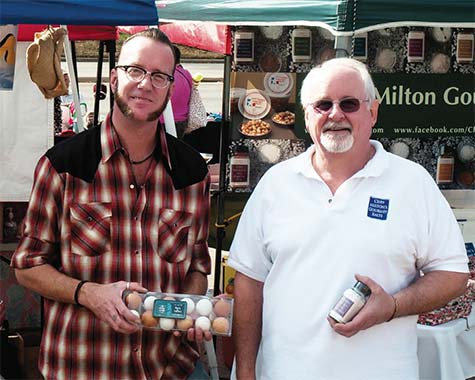 Kerry Herndon & Milton Aschner
Story and photo by Tressa Vazquez
Farmers markets have a way of bringing people together. Like chef Milton Aschner of Chef Milton's Gourmet Salts and farmer Kerry Herndon of Blue Yarn Farm. Both are vendors at White Rock Local Market, selling their wares side-by-side since 2013. The fortunate pairing has resulted in both an enduring friendship and some tasty recipes with straight-from-the- farm ingredients. Like duck eggs.
"Think of a chicken egg with butter," says Herndon. Duck eggs are larger, creamier and have proportionally more yolk than chicken eggs. In recipes, they offer a moister, more decadent final product. Chef Milton first used them in his Challah bread, which quickly became a favorite with his family and friends.
At Blue Yarn Farm's 10-acre spread in Bolivar north of Denton, Herndon and his wife Lee Ann maintain a flock of nearly 400 birds (mostly chickens and ducks, with a few geese and turkeys). The bird's protectors include a couple of llamas and several Great Pyrenees. The Herndons moved to Texas from Seattle six and a half years ago, and began introducing their customers to duck eggs by sticking a couple into each chicken egg carton they sold. It didn't take long to win converts.
Chef Milton, a former art director, began his journey into the world of food when his stepson Oliver Sitrin, (then a culinary student, now a lauded chef at Blind Butcher), invited him to a wine pairing class. Aschner and his wife Wendy had always cooked together, but the class inspired him to make the giant leap into culinary classes at El Centro College. While in school, he created various blends with spices and salts. They were such a hit that he eventually decided to market them. His signature product line also includes dry-roasted chili-honey nuts.
In this spring crème brûlée recipe, Chef Milton uses duck eggs along with his own blend of lavender sea salt. He enjoys watching people's faces when they take their first bite of this unique dessert. "They close their eyes," he says, "and you know they love it." According to the chef, lavender acts as a natural flavor enhancer. Herndon concurs, "Lavender adds a light touch, without being overbearing." Like the farmer and the chef, duck eggs and lavender salt complement each other nicely.
chefmilton.com
blueyarnfarm.com
whiterocklocalmarket.org
RECIPE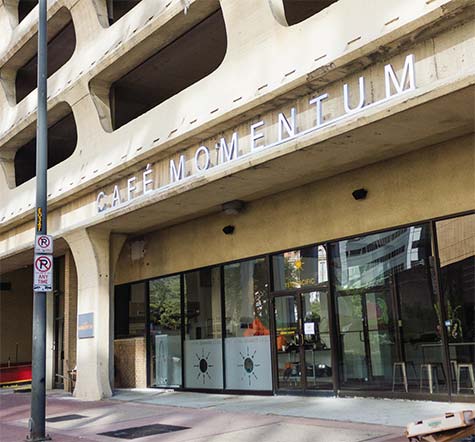 DOWNTOWN GAINS MOMENTUM
After four years of vigorous fundraising—including over 36, sold-out pop-up dinners, Café Momentum has at last found a permanent home in downtown Dallas. Since 2011, the program's executive director, chef Chad Houser, and his mentoring team have been changing the lives of at-risk youth from the Dallas County Youth village. The Café Momentum program off ers post-release paid internships to juvenile offenders with on-the-job training in the culinary arts. But the lessons go far beyond career training. "1510 Pacific is the tangible reality of a longtime dream for everyone involved with Café Momentum," said Houser. "This space is our opportunity to not only mentor more young men with job, life and social skills on a daily basis, it will also serve as a hub for community building with catering services and a classroom all in one place. Our guests will not only eat well, but will know that their dining presence is making a difference in the lives of our city's most at-risk youth."
Already, the program has mentored 166 young offenders, and the results are impressive. The recidivism rate for Café Momentum participants is only 11 percent, compared to the 47 percent state average. The result has saved Dallas County taxpayers more than $7 million. On the human side of the equation, the savings are incalculable. Located on Thanksgiving Square, the 85-seat dining space is open for dinner Thursdays-Saturdays and for occasional pop-up dinners on Sundays with guest chefs. The four-course seasonal menu features down-home dishes with chef-driven fl air, like smoked fried chicken with red eye gravy and biscuits, scallops with ricotta gnocchi and brown butter, and Texas caviar with bourbon-cured salmon and a cornbread blini.
A long-time local chef, Houser left his position at Oak Lawn's Parigi restaurant to dedicate himself full-time to Café Momentum. His impressive kitchen team includes chef de cuisine Eric Shelton (Kitchen LTO, The Green Room, The Driskill and the Four Seasons Hotel in Austin) and executive sous chef Justin Box (Stephan Pyles Caters, Restaurant Ava and Bolsa).
In March, Café Momentum will receive $487,640 from Crystal Charity Ball, which will be applied to the restaurant's operating expenses as well as help the program grow. Plans are in the works for a similar program targeting young women at the Letot Girls' Center.
Edible Dallas & Fort Worth is a quarterly local foods magazine that promotes the abundance of local foods in Dallas, Fort Worth and 34 North Texas counties. We celebrate the family farmers, wine makers, food artisans, chefs and other food-related businesses for their dedication to using the highest quality, fresh, seasonal foods and ingredients.