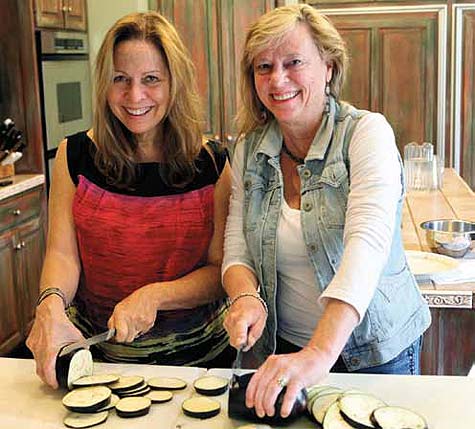 Photo by Kelly Yandell
Summer is here, and there's a lot to celebrate.
I'm very proud to announce that EDFW received two awards at the annual Edible Communities publishers' meeting. EDFW editor, my sister Terri Taylor, won an Eddy Award for "Best Editor's Letter" (Summer 2011), and writer Kelly Yandell was one of three finalists in the "Political/Social Issues" category for her feature "Targeting The Total Catch," from Fall 2011. With more than 70 Edible publications competing, this is a wonderful accomplishment for both of these writers.
Recently, Kelly, Terri and I, along with EDFW staffer Debbie Bozeman-Zook, paid a visit to Sid and Eva Greer's East Texas farm for a little R&R. As you can see by the above photo, even though knives were involved, we had a great time at our cooking class. Chef Eva Greer's recipes and an account of our stay are featured in this issue.
Before we say goodbye to spring, I'd like to reflect on two events that I had the privilege of attending. Both reminded me of the growing strength of our local food community.
Iris and Matt McAllister had a vision when they put together their first Chefs For Farmers dinner two years ago at Eden's Organic CSA Farm. Their focus has always been to connect local food producers with local chefs. "Mixin It Up On The Blvd," held on May 6 at Lee Park, was their 4th and largest event to date, bringing together 1,100 attendees, 35 chefs and over 60 local farmers, ranchers, food artisans, brewers, vintners and spirit makers. Proceeds from the event went to Tarrant Area Food Bank and Water For Chizavane. Several of those participating that day —Sid and Eva of Greer Farm, Dave Eagle of Eagle Mountain Farmhouse Cheese, and chef André Natera of the Pyramid Restaurant at the Fairmont Hotel Dallas—are featured in this summer issue.
Now in its second year, "A Community Cooks," benefiting the farm at Paul Quinn College, raised more than $250,000 at its April 19th event. This important fundraiser began as collaboration between Chris Zielke of Bolsa and the Paul Quinn Farm team—Elizabeth Wattley, Andrea Bithell, and a group of dedicated students. For those not familiar with the WE Over Me Farm, it is the brainchild of Paul Quinn President Michael Sorrell, who had the vision to turn the school's football field into an organic garden. It was a beautiful sight to see so many people, more than twice as many as last year, enjoying dinner in that garden.
In closing, I'd like to celebrate the life of Ben Rikhilal, the Kurry King. Ben passed away in February, just after our spring issue went to press. I have missed his smiling face on my visits to the Dallas Farmers Market, and I'd like to extend my most heartfelt sympathies to his family. Paula, his wife of 50 years, and daughter Jody, will continue Kurry King in Shed 2 and at their store in Mesquite, and I will still maintain my tradition of stopping in to see them for smiles and hugs.
Nanci Taylor
Edible Dallas & Fort Worth is a quarterly local foods magazine that promotes the abundance of local foods in Dallas, Fort Worth and 34 North Texas counties. We celebrate the family farmers, wine makers, food artisans, chefs and other food-related businesses for their dedication to using the highest quality, fresh, seasonal foods and ingredients.