SEASONAL SEAFOOD AT TJ'S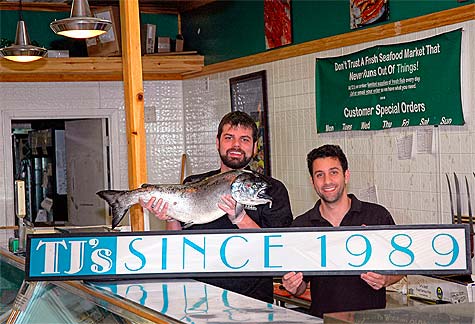 Jon Alexis
A fisherman who casts a net as wide as a hemisphere, Jon Alexis of TJ's Fresh Seafood Market provides land-locked Dallas with a diverse selection of seasonal and sustainably-sourced fish. What may have started 22 years ago as a market for Gulf seafood is now uniquely situated to offer good choices from all our coastal waters.
"Any discussion of fresh seafood in North Texas has to begin with the understanding that we can't be 100% locavores," Alexis said. Local seafood used to mean from the closest body of water, but daily, direct flights to DFW from the East and West Coasts provide consumers an opportunity to buy fresh seafood at a reasonable cost. "It's just as easy, and often easier, to get lobster air-shipped from the Northeast as it is to get oysters trucked from New Orleans," said Alexis. In preparation for air shipment, fish is packed on ice with long-lasting gel packs, not frozen.
Customers of TJ's can receive emails from Alexis or check his posts on Facebook for up-to-date information about what is available. He is quick to credit Tom and Peggy Haden, the founders of TJ's. "They were able to influence the way many of our customers think about seafood," Alexis said.
TJ's goes directly to the source, whether from the ocean or an aqua farm. "I don't believe that farm-raised fish are inherently bad," he said. "With bottom feeders such as tilapia or catfish, you want a source that controls what's on top of the water. In some cases, farm-raised is better. What is important is that the farms are close to a fish's natural habitat."
"In many ways we are just learning about oceans and fishing," he said. "It's a rapidly changing industry, and we are still in a phase of identifying which sources are sustainable and which are not." The sustainability of a source may fluctuate depending on species and origin—aqua farm, ocean or river—and can vary as well from country to country. "We strive for a position that will move the fishing industry in a positive direction, but for now consumers will do well to have a fishmonger they can trust to guide them in the right direction."
TJ's customers will find an orange dot on the labels of sustainably-sourced seafood, indicating the seafood meets criteria established by the Marine Stewardship Council, Monterey Bay Aquarium Seafood Watch or Environmental Defense Fund. Alexis notes that patrons tend to want to prepare at home what they've seen on menus, and TJ's will advise customers who want alternatives for non-sustainable or overfished food.
The seafood is shipped as cargo on already-scheduled flights, therefore reducing the carbon footprint. As much as possible, TJ's stocks fish one day out of water and obtains whole fish that will be filleted after arriving at the market.
To be seasonally correct this spring, shop for crawfish in March when the season is in full swing, Alaskan Halibut after March 15, Wild Pacific King Salmon beginning April 4 and live soft shell crab beginning May 15.
TJ's Fresh Seafood Market
11661 Preston Road #149
Dallas, TX.
214.691.2369
—Vivian Morrow Jones, Photo: Melissa Boon
GREEN SPOT: A GREEN ALTERNATIVE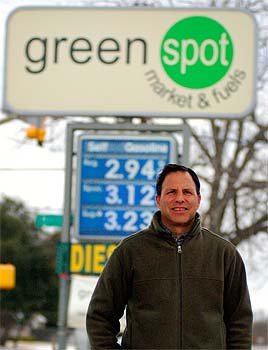 Bruce Bagelman
When Bruce Bagelman and his wife Brenda were car shopping several years ago, they had the same concerns as every car buyer: safety, quality and mileage. But the Bagelmans decided to take things a step further. Already owners of a hybrid vehicle, they began studying developments in alternative fuel sources.
After researching biodiesel fuel—a renewable, biodegradable alternative made from vegetable oils—they decided that the Volkswagen Wagon with a diesel engine would allow their family to go green without emptying their wallet. "Biodiesel is a cleaner burning fuel that can be used in all diesel engines," Bruce explained. "Diesel and biodiesel compete in prices, but the use of biodiesel reduces harmful emissions."
At first, the family purchased their fuel from a nearby garage, but soon it became unavailable. "That's when I decided to open my own station," said Bruce. Early in 2008, his concept became reality with the opening of the Green Spot, located at 702 N. Buckner Blvd. near White Rock Lake. Though a promoter of biodiesel, the station also offers regular unleaded gas and a diesel/ biodiesel blend.
Knowing his station would attract an eco-minded customer, the entrepreneur decided to stock his convenience store with natural, organic and local products instead of the usual gas station junk food. "I wasn't aware of anyone anywhere offering this healthier alternative," he continued. And it wasn't long before a kitchen following the same healthy principals was added. The Green Spot Café, a neighborhood favorite, offers grass-fed beef and vegan burgers, tacos for both breakfast and lunch, sandwiches, salads, sweet potato fries and the kids' favorite—organic frozen yogurt.
The Green Spot also plays host to the White Rock Local Market, a popular farmers market, in its parking lot every second and fourth Saturday from March until December. The market's 2011 opening date is March 12.
Bruce sees his creation with a wide-angle lens. The Green Spot is a collection station for the City of Dallas Cease the Grease Campaign, which promotes the recycling of used cooking oil.
When thrown down drains, used grease severely damages sewer lines; however, when recycled, it can be turned into fuel. "Our long term goal is to involve restaurants in this program," he says.
"If we can produce our own biodiesel, we will be able to lower fuel prices and encourage more people to buy this greener product." Visionaries like Bruce Bagelman are helping to make the world a little greener, one step at a time.
Green Spot Market and Fuels
702 N. Buckner Blvd., Dallas, TX
214.319.SPOT
www.greenspotmarket.com
www.whiterocklocalmarket.com
—Photo and story by Melissa Boon
Edible Dallas & Fort Worth is a quarterly local foods magazine that promotes the abundance of local foods in Dallas, Fort Worth and 34 North Texas counties. We celebrate the family farmers, wine makers, food artisans, chefs and other food-related businesses for their dedication to using the highest quality, fresh, seasonal foods and ingredients.