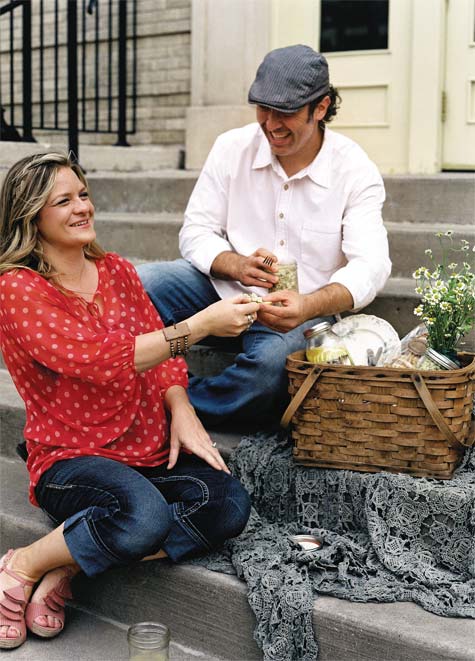 Robert & Kaci Lyford
Photo by Melinda Ortley
We asked some of our favorite local foodies, McKinney chef Robert Lyford with his wife Kaci of Patina Green Home & Market and Fort Worth artisanal baker Gwin Grimes, to give us their thoughts on picnicking, and tell us what they'd pack in their locally sourced basket.
ON THE COURTHOUSE STEPS
With Robert and Kaci Lyford
Patina Green Home & Market, McKinney
One of the fondest memories of my culinary school days in San Francisco is eating on the street while watching people go by. For our urban picnic, my friends and I would grab food from our favorite local spot and head for the steps of the nearest building. Entertainment was free. There was always a cast of colorful characters performing. The sites of the city in motion never bored us.
When Kaci and I opened the store in McKinney, one of our hopes was that this experience could be recreated in our little town. At Patina Green, we wrap our food so customers can walk outside and find a bench or a step and take in our charming hometown.
My picnic with Kaci doesn't take place at a park or a lake. It's on a rare day after the lunch rush when there is a minute to rest. We gather our goods and head across the street to the old courthouse steps. It's the best view of local happenings and sitting here reminds us why we chose this spot for our place of business.
Our picnic includes jars of basil chicken salad, zipper pea salad and mushroom pâté with a bag of crostini. A couple of cookies from the store are nabbed to go with the macerated summer fruits. Lemonade is the drink of choice for a hot summer's day.
Locally sourced ingredients include chicken from Windy Meadows Family Farm in Campbell, peas from Sides Pea Farm in Canton, Kitchen Pride mushrooms, an Empire Bakery baguette, Rocky Ford melon from Pure Land Organics in McKinney, berries from Greer Farm in Daingerfield and honey from Ace Bees in Princeton.
RECIPE
AT THE FORT WORTH BOTANIC GARDEN
With Gwin Grimes, Chef-Owner, Artisan Baking Co., Fort Worth
and President, North Central Texas Farmers Market Corp
Whether it's tailgating at a TCU football game or picnicking at Concerts in the Garden, Fort Worth dines al fresco with aplomb.
The Fort Worth Symphony Orchestra's annual series of pops concerts in the Fort Worth Botanic Garden is a beloved institution combining a collective love of culture and a beautiful setting. For a chef, it's always an interesting creative challenge to create menus that not only taste great, but also look tempting and hold up after being packed in a cooler.
This year's musical line-up provides plenty of inspiration: from Creole specialties for the Trombone Shorty & Orleans Avenue concert to caviar and other classic canapés to accompany the symphony during Moonlight and Mozart. An all-American menu appeals on Independence Day for the Old Fashioned Family Fireworks Picnic on July 3 and 4.
My summer larder is stocked from Cowtown Farmers Market. Today's summer picnic starts with a fresh tomato tart, made with small but flavorful Fourth of July tomatoes from B&G Garden topping a schmear of Latte Da Dairy chèvre on a crisp puff pastry crust. Our entrée is Southern-fried comfort, made with buttermilk-brined Prairie Oasis pastured chicken and served with a salad of red, white and blue potatoes from Texas Prairie Farms. Dessert is simplicity itself: chilled Israeli melon and watermelon from Scott Farms.
To pair with the food, I'll have the easy-drinking River House Saison from Martin House Brewing Company and picnic-friendly 2011 Dry Rosé from Times Ten Cellars of Fort Worth and Dallas.
RECIPE
Edible Dallas & Fort Worth is a quarterly local foods magazine that promotes the abundance of local foods in Dallas, Fort Worth and 34 North Texas counties. We celebrate the family farmers, wine makers, food artisans, chefs and other food-related businesses for their dedication to using the highest quality, fresh, seasonal foods and ingredients.