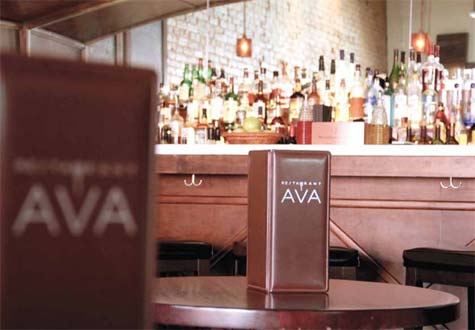 By Janice Provost • Photography by Chad Houser
When friends become business partners, there's no telling where the road may lead. Will the path be bumpy? Will everyone get along? Will the venture succeed? With Randall Copeland and Nathan (Nate) Tate driving the bus, the road led east of Dallas out I-30 to the historic lakeside community of Rockwall. It was here in April 2009 that Randall and Nate opened a little jewel called Restaurant Ava, and the splash was heard way past the shores of Lake Ray Hubbard.
The magic began ten years ago when Randall went to work for Eastern Hills Country Club as its sous chef. When he learned of an open position in the kitchen, he called Nate, a kid he'd met at El Centro's Culinary School. Though he was technically Nate's boss, he never had to act like it. "The dude always just got it and always did things right," recalls Randall.
(Warning: The words "Dude," "Right?" and "Word" are frequently heard in Ava's kitchen. Don't let the lingo fool you. These passionate chefs love the creative process, love each other and under the tattoos and bad boy energy—they're pussycats.)
From the start, Ava's boys knew they wanted to source food locally and develop long lasting relationships with the folks producing those foods. And develop those relationships, they did. They visited nearby farms; they asked people to grow specific items; they created menus around what was available to them seasonally. We're talking chicken from Windy Meadows, tomatoes from Lemley Farms, cheeses from Full Quiver Farms and greens from Rocky Tassione. And that's just a partial list.
The wine selection was created with local vineyards in mind.
Texas is producing some darn good grapes these days. On our recent visit, Randall, wearing flip-flops, a T-shirt and shorts, paired our five-course tasting menu with two of his favorites, a Kiepersol Estates Syrah from Tyler and a McPherson Cellars Viognier from Lubbock. We were downright impressed.
All of Ava's breads are baked in-house. That roll your burger is on? Made by them, thank you very much. That delicate corn muffin served up with sweet butter? The same. Bread is something they do really, really well.
Most days you'll find Nate in the kitchen, and Randall working on the wine list or corralling the front of the house. That's not to say that they both don't have lots to do with what comes out of the kitchen. Neither is big on following written recipes. Except for a handful of dishes, they rely more on creativity.
"Dude, they both taste everything that comes out of that kitchen," says Chef Dave. "Even when Randall's working the front, he'll stop by the pass and taste the plate to make sure it's to his liking. Each is super creative in his own way."
Though many of their cooks are still in culinary school, everyone is referred to as chef. Randall believes that if you don't think of yourself as a chef from Day One, how will you ever become one? Chef Cody, their pastry chef, told me that Nate is great about explaining how he wants things done. He wants his staff to understand why they're doing what they're doing. "He's so patient," says Chef Cody. "When Nate says he likes something you've done, you know it's for real. It's the highest compliment you could receive."
I've talked a lot about the guys in the kitchen, but I don't want to leave out the lady. As the old saying goes, behind every successful bunch of guys, there's a great woman. At Restaurant Ava that woman is Sous Chef Laura Monje. This chick rocks. When she isn't cooking on the line, or keeping the servers in line, or teaching the newbies how to do things the "Ava Way," she is organizing the kitchen, placing orders and working hard to make her bosses happy.
So, what's next for the dynamic duo of Randall and Nate? Possibly another restaurant, maybe a gastropub. Whatever they do, expect it to include cool, chef-driven food paired with awesome drinks. For now though, they're building their catering business, serving up beautiful food at Restaurant Ava and enjoying the ride. Not bad for two dudes from Dallas, right?
Restaurant Ava, 108 S. Goliad in Rockwall, 469.698.9920, www.restaurantava.com
Writer Janice Provost and photographer Chad Houser know a thing or two about partnerships and restaurants. They are chefs and co-owners of the neighborhood bistro Parigi in Dallas' Oak Lawn district. www.parigidallas.com
Edible Dallas & Fort Worth is a quarterly local foods magazine that promotes the abundance of local foods in Dallas, Fort Worth and 34 North Texas counties. We celebrate the family farmers, wine makers, food artisans, chefs and other food-related businesses for their dedication to using the highest quality, fresh, seasonal foods and ingredients.