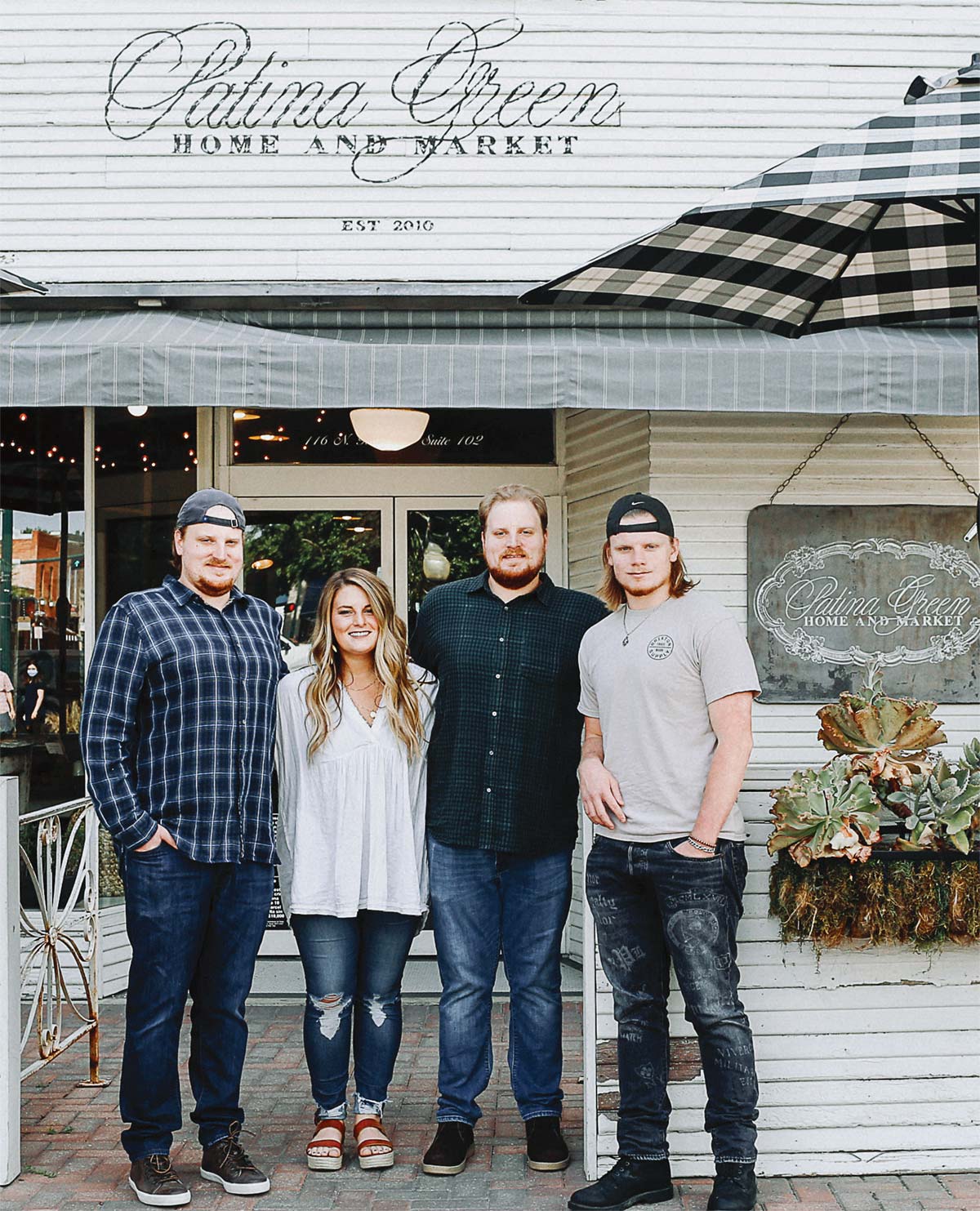 "I practically grew up loving Patina Green. We've been customers as well as friends of the Lyford family for 10 years," Mallori Hanes explained. As a teen, Hanes helped out at the family store, Ambrosia, owned by her mom and aunt that happens to be next door to Patina Green Home and Market.
"So, earlier this year when Kaci and Robert told us they were thinking of selling we thought, wow, this could be a great opportunity for us. My twin brothers went to culinary school and were running The Twin Taco food truck. I had my Entrepreneurship degree from OU, and for the past year was working upstairs doing accounting and admin for my dad, who owns the building. And I was wanting to do something more creative and people-oriented."
They struck a deal. On February 1st, ownership of Patina Green was transferred to the Hanes family with Mallori Hanes and brothers, Trevor and Tyler Hanes as majority owners. The plan was to work side-by-side with the Lyfords for several months as the new owner- operators absorbed all aspects of the business. The twins took over the kitchen with Robert Lyford, learning his recipes and how he did everything – they even discovered a shared passion for pickling. Younger brother Mason also loves to cook and stepped into a big role in the kitchen, soaking up everything Lyford showed them.
Lyford took the trio on a farm tour to meet local suppliers at Cartermere Farms, Profound Microfarms and Pure Land Farm. They also rolled up their sleeves for a "farm work day" at Nana and Pop's farm in Farmersville, N & P Farm and Dairy. "We understood the Lyfords' passion for supporting local farmers and food producers, but getting to participate first-hand was when we truly started to own that passion," Hanes said. "For example, when Cartermere delivers eggs, I get excited – I met all those happy chickens! And I love telling customers about our amazing soaps, handmade by Renee who's just a few miles up the road. It's what Patina Green is all about."
Then they were hit with a big surprise – the pandemic shutdown. "I'd caught on quickly to daily operations, but after less than a month of transition everything changed and we had to make huge adjustments. My biggest challenge was not connecting face-to-face with customers. But there's been an upside. It presented a puzzle we had to figure out as a family – how do we make things work now? We needed a total shift, which in a way allowed us to settle in and make the business our own."
Downtown McKinney became a ghost town. "I'd be sitting on the patio and there wasn't a single car on the square; it was so sad." But soon, downtown had socially distanced picnic tables set up outside for people to eat food to-go. Hanes came up with an online ordering system, but worried if anyone would use it. In addition to sandwiches, salads, sides and drinks, she added grab-n-go baskets and other fun items. The very first day, so many people ordered that they had to make big adjustments.
"The response was overwhelming; it was obvious that people wanted us to succeed. For us, it was all hands on deck – my dad and mom were even car-hopping orders out to people in their cars! Orders were flying in so quickly that we of course had some hiccups – but thankfully, people were forgiving and so grateful we were open. It's been exciting and crazy at the same time."
"We have ideas for other things we want to do, but they're obviously on pause for now. Expanding the outdoor eating patio is on the agenda, but we need to see how "drinks-to-go" on the Square pans out before we decide exactly how." Tucker Nickols, Patina Green's store manager, has brought in more canned wine and expanded the craft beers. In addition to the on-going daily cookies and cheese biscuits baked up for Friday's famous B.O.B – brisket on a biscuit – Baker Andi Moser has been experimenting with new small-batch Saturday pastries, recently offering delicious little pop tarts and gluten-free cinnamon rolls.
The twins are working on bringing extra "spice" to the menu, with additional sandwich options and maybe some taco surprises. They love the creative aspect of using seasonal ingredients – they told us that pickling the remaining cherry pepper crop just might inspire something Italian.
They've managed the transition well through it all. "I'm just 23 and the boys are 25 – I think the fact that we jumped in and are making it through COVID is huge. We had to learn a lot really quickly. We're fortunate to have Tucker's depth of experience, and he's a nice bridge with customers. Some people expected things to be really different, but we're carrying on the traditions that have made Patina Green great, adding our own personality and passion. We're making it go."
Edible Dallas & Fort Worth is a quarterly local foods magazine that promotes the abundance of local foods in Dallas, Fort Worth and 34 North Texas counties. We celebrate the family farmers, wine makers, food artisans, chefs and other food-related businesses for their dedication to using the highest quality, fresh, seasonal foods and ingredients.