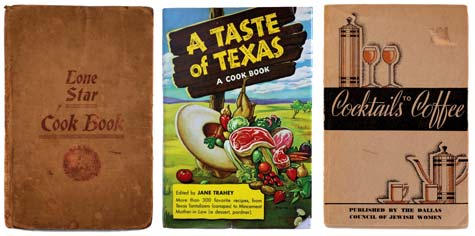 Handwritten and tucked within a treasured tome,
a hidden recipe is discovered for cookies
that taste of a grandmother's hug.
by Amy Severson
Time has an insatiable appetite. It consumes days, months and years. Tomorrow becomes today and then, it is our history. Old cookbooks represent more than an edible history within their fragile pages. Often forgotten and undigested, these collected food memories offer lessons on how we lived, ate and socialized. Pages devoted to etiquette, table design and entertainment show that food was as socially bonding an experience 200 years ago as it is today. Recipes brought from the Old World track the migration of families, and express a yearning for connection between the generations. Handwritten and tucked within a treasured tome, a hidden recipe is discovered for cookies that taste of a grandmother's hug, or for a favored dish to pass around the holiday table.
Since the printing of the Lone Star Cook Book in 1901, recipe compilations have been an enduring tradition in Dallas. Books like Motherhood Class Cook Book by the Tyler Street Methodist Church (1923), the 1924 Garland PTA Cook Book, or Cocktails to Coffee by the Dallas Council of Jewish Women (1936) were sold to raise funds. These were not showy pieces for display, but are artifacts of what people actually cooked and ate in their homes. Neighbors bonded together through treasured recipes in these collections, sharing them not only to help charities but also to give others those dishes that had meaning within their families.
Cookbooks chronicle advancements in technology, education and economic welfare. From an open fire to wood burning stoves, to gas and electric ranges— each innovation required new cooking methods.
Schools taught more people how to read; science discovered how to safely can and store foods; and improvements in transportation increased the availability of ingredients. Restaurant and professional chef-style cooking became an ideal to emulate as a generation expanded the middle class. All of this can be followed in the progression of published American recipes.
Time has not finished dining. The menus of today will one day be recalled through whatever pages we leave behind. Long after the authors are gone their recipes will continue, feeding solace to people who wistfully remember a particular dish.
Since 1997, Amy and husband chef Jim "Sevy" Severson have owned and operated Sevy's Restaurant on Preston Road in Dallas. She began collecting vintage American cookbooks in 1986 and today that collection totals 300 books, dating back to the Civil War Era.
Edible Dallas & Fort Worth is a quarterly local foods magazine that promotes the abundance of local foods in Dallas, Fort Worth and 34 North Texas counties. We celebrate the family farmers, wine makers, food artisans, chefs and other food-related businesses for their dedication to using the highest quality, fresh, seasonal foods and ingredients.