By Teresa Gubbins
Life has never been more
effervescent for beer
drinkers in North Texas.
Thanks to a cosmic confluence of events— loosened laws, plucky entrepreneurism and an increased sophistication about artisanal goods of all kinds— Dallas-Fort Worth has birthed a local craft beer industry that keeps growing, tap by tap. It's happened fast: in the past five years, more than 40 breweries have opened or are on their way in 2016.
Craft beer in DFW runs the gamut. You have breweries such as Peticolas Brewing Company, that brew and sell their own beer. You have brewpubs such as Braindead Brewing, where they brew their own beer, serve other beers and food, too.
A new trend is the "growler" station such as Lone Star Taps & Caps, where you bring in your own bottle and get beer on tap to go.
There are even hybrids such as On Rotation in Lakewood, which is half growler store, and half microbrewery. They serve beer from other brewers and make their own beer in small batches.
An even grander hybrid is represented by select Whole Foods Market stores, which combine supermarket, in-house bar and growler station, featuring wines on tap along with locally brewed beers. The company ramped up its program in 2015 when it launched a brewing operation— Whole Foods Market Brewing Company— at its Post Oak location in Houston. The brewery produces up to six beers, available on-rotation at North Texas stores with in-house bars.
The lines began to blur in 2013, when Texas laws changed to help the little guy get a foot in the door. Small breweries are now allowed to sell their beers for drinking on-site, and brewpubs can sell their beer to distributors. Those legislative changes set the stage for the beer prosperity we're seeing today.
In the past five years, more
than 40 breweries have opened.
But illogical inconsistencies still remain, such as the restriction still on the books forbidding traditional breweries from selling their beer for off-site consumption. This means that a customer can visit Deep Ellum Brewing Company and taste their beer, but not buy a six-pack to take home. It's a practice that's perfectly legal for wineries, distilleries and small breweries with a brewpub license. Why not breweries, too?
Frustrated by the double standard, Deep Ellum Brewing Company filed a lawsuit against the Texas Alcoholic Beverage Commission in September 2015, claiming that the system was "arbitrary and discriminatory." DEBC was joined in its lawsuit by Grapevine Craft Brewery; a ruling is expected in fall 2016.
Let's toast the continued success of local craft beer by supporting those who brew it and serve it. We've compiled a list of the breweries and brewpubs in the DFW area, which we've marked accordingly, along with a little lexicon explaining the differences.
| | | |
| --- | --- | --- |
| brewery | brewpub | growler station |
| | | |
| A brewery focuses on making beer, which it sells in bottles or cans. Almost all breweries host tasting tours, usually on Saturday afternoons, where you can visit the facility, admire their shiny tanks and sip a few of their brews. | A brewpub is a restaurant-brewery combo that serves food and makes beer, with much (though not all) of that beer designed to be consumed on site. (Some restaurants inaccurately call themselves brewpubs, but only to imply that they serve a lot of beer.) | A growler station is a cross between a liquor store and a bar, where you can have a beer on-site or else bring a growler to take your beer to go. They're worth mentioning here because they're a growing local trend, and most growler stations focus on local beer. |
COLLIN County
1. Franconia Brewing Co.

Pioneering Franconia is all about local. It follows green practices including feeding its mash to local cattle, and its heritage is German, connecting to the area's early settlers. It also makes terrific beer including a sweet Maibock in the spring and a dark bock beer for the fall.
2. Nine Band Brewing

Allen joins the craft beer craze with Nine Band, a stylish entry with nicely packaged canned beers and well-managed (if slightly pricey) tours of its facility.
3. Tupps Brewery

You can't beat Tupps for the charm of its location, in McKinney's Cotton Mill complex dating back to 1910. Tupps' worthy collection of brews includes seasonal wheat beers and a pale ale brewed with peppers and spices.
DALLAS County
4. 3 Nations Brewing

Brewery in the northwest keeps things simple with basic brown, pale ale, and wheat.
5. Back Country Brewery

The old Firewheel space is now the Texas branch of Colorado's Back Country, which is carrying on with brewing, plus tours in the taproom and beer garden.
backcountrybrewery.com/texas-home
6. Bankhead Brewing
Opening June 2016

Brewpub from owner of Zanata restaurant plans to rotate flavors with classics such as the West Coast-style IPA.
7. Bitter Sisters Brewery

Addison's only brewery is a familyand- friends operation with friendly owners and good beer with cute names like Cat Fight, its India pale ale.
8. Braindead Brewing


Brewpub with best patio in Deep Ellum does novel house-made brews such as cream ale and a full menu of food.
9. Community Beer Company

Design District brewery boasts a mega-facility and a reach that extends to Austin. One cool beer is its porter, a collaboration with Ascension Coffee.
10. Deep Ellum Brewing Company

One of Dallas' original breweries has grown to become a top-5 player in Texas. They continue to expand to new horizons, with sour beers and spirits. Taproom is now a restaurant with a full menu of eats.
11. Four Bullets Brewery

Cozy Richardson brewery has a back patio featuring games and TVs. House specialty is English ales and stouts.
12. Four Corners Brewing Company

You've seen Four Corners' beer in cans at the grocery. Now you can see their barn-like brewery where they sell beer, T-shirts, hats, and other merch.
13. Intrinsic Brewing


Brewpub puts the accent on fun with trivia nights, beer, and barbecue with brisket, smoked turkey, and sandwiches.
14. Kirin Court

Chinese restaurant brews its own beers to accompany its renowned dim sum. Beers include wheat, coffee dark ale, and pale ale with honey and ginger.
15. Lakewood Brewing Co.

Perfectionist brewery in a warehouse on the Garland border produces some of the most beloved local beers including its Temptress milk stout.
16. Malai Kitchen


Glossy Asian-Thai restaurant launched its beer-making side-project in 2014. Each restaurant has three or more house-made beers, such as a chili-and-chocolate porter, good enough to merit their own trip. Second location in Tarrant County.
17. Noble Rey Brewing Company

While the beers from this Design District spot can be found at supermarkets, you need to visit to try special small batches made only on-site. They also have a satellite taproom at the Dallas Farmers Market where they sell draft and packaged beer.
18. Oak Highlands Brewery

Indie brewery brings Lake Highlands the prototypical brewery experience with a taproom featuring TVs and limited-run items along with their year-round brews.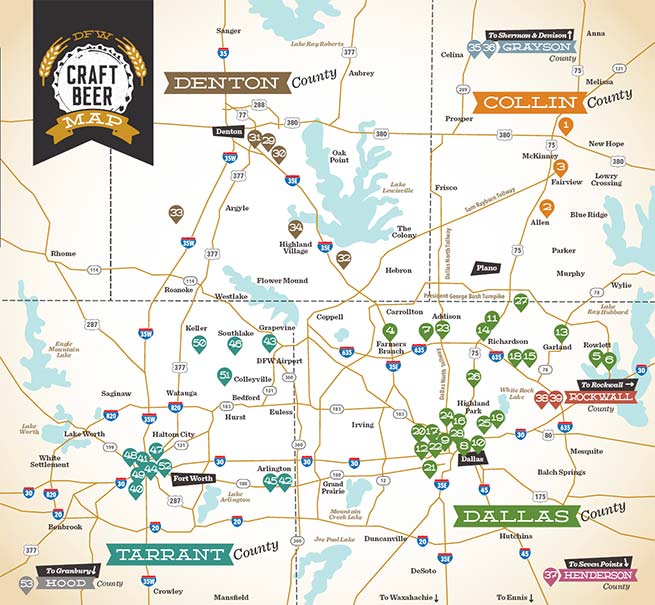 19. On Rotation


Lakewood spot is a blend of brewery and bar, with a little growler action to boot. They brew small batches, enabling cool experimental beers like jalapeño saison, alongside beers from other brewers.
20. Peticolas Brewing Company

Peticolas reigns as an early trailblazer and also for its award-winning beers such as Velvet Hammer red ale. Design District taproom is a neat if bare-bones space, but hours are limited. First and third Saturdays of the month.
21. Small Brewpub


Small's the word for this restaurant- brewery, which capably serves its Oak Cliff neighborhood. For beer, they do avant-garde brews like table beer with wild yeast in small batches.
22. Texas Ale Project

Design District brewery boasts youth and polish, with a smooth taproom operation and nifty limited-run beers such as Somethin' Shady, a porter with coffee and chocolate notes.
23. Whole Foods Market, Addison


Whimsically named Spirit of 76, the bar is buried in the center of this large, brisk store. Seating is limited, but the beer is not, with 18 taps, plus 3 for wine.
wholefoodsmarket.com/stores/addison
24. Whole Foods Market, Highland Park


Tucked in between the cash registers and the bakery, "Bar Alto" is a baby bar with 10 taps, more often prized boutique brews than local beers.
wholefoodsmarket.com/service/bar-alto-highland-park
25. Whole Foods Market, Lakewood


As befits its location, Lakewood On Tap has a neighborhoody, Cheers-like atmosphere. All 10 taps are dedicated to beer, leaving wine to the bottles.
wholefoodsmarket.com/service/lakewood-tap-1
26. Whole Foods Market, Park Lane


This is the big kahuna of WF's bar scene, with 49 taps and two bars: a tiny one nestled in the wine department and a big one perched at the front of the store by the prepared foods.
wholefoodsmarket.com/service/bar-park-lane
27. Whole Foods Market, Richardson/Cityline


Richardson's Cityline branch has 16 taps in one of the most luxurious restaurant-like spaces, since this store does not allow customers to walk around with beer.
wholefoodsmarket.com/service/cityline-bar
28. Whole Foods Market,Uptown


Dubbed "the Taproom," the bar at the Uptown store is an open space near the entrance, with 24 taps and an emphasis on growlers.
wholefoodsmarket.com/service/taproom
DENTON County
29. Armadillo Ale Works
Opening Summer 2016

This outfit's efforts to get off the ground include a Kickstarter campaign and a one-time partnership with Deep Ellum Brewing Company.
30. Audacity Brew House


Audacity's crew are good-time guys who love their hometown Denton, live music, and beer. Their beers are crisp and straightforward, and the tart Cherry Bomb beer is a yes.
31. Barley & Board

Hot spot in downtown Denton is more pub than brew, with a big dining room and bar. They have brewed a beer or two, but they also serve other locally-made beers.
32. Cobra Brewing Company

Well-regarded craft brewer focuses on small batch brews that are outside the box. A visit to the brewery will definitely net sips of limited editions such as a golden ale brewed with strawberries.
33. Rabbit Hole Brewing

Rabbit Hole is what happens when home brewers turn their hobby into their livelihood. They're a real deal brewery with a roster of catchy beers such as the "Ryeteous Knight" made with rye malt.
34. Whole Foods Market, Highland Village


Denton County store has 12 taps and a more bar-like feel than its peers, as it can sell for on-site consumption only; no growler sales are allowed, per city zoning.
wholefoodsmarket.com/stores/highlandvillage
GRAYSON County
35. 903 Brewers

Mom-and-pop has won awards for beers such as its chocolate milk stout. The brewery makes for a well-rounded excursion, with trivia nights, movie nights, and Saturday tours.
36. Ivanhoe Ale Works

Part of a trio of businesses that includes a winery and an Italian restaurant. It is a great destination for downtown Denison, and their beer called Nectar of the Gods is aptly named.
Facebook: Ivanhoe-Ale-Works
HENDERSON County
37. Cedar Creek Brewery

Here's a brewery made for a day trip, with idyllic location near the Cedar Creek Reservoir. Pub food's available at its in-house Plowboys Café; inventive beers like oatmeal stout with candied pecans and strawberries draw in beer nerds.
ROCKWALL County
38. Hemisphere Brewing Company

Long-in-the-making brewery from Rockwall hometown boys will open spring 2016.
39. Woodcreek Brewing Company

Rockwall's finest has nine beers on tap including unique seasonal brews such as raspberry wheat.
TARRANT County
40. Chimera Brewing Co.


Brewpub takes brew and food equally seriously, even offering vegan menu options. Along with its own creative saisons and other brews, Chimera serves top beers from locals and beyond.
41. Collective Brewing Project


CBC is a sweet brewery with a bar atmosphere. Sip one of their golden sours there or take it to go in a growler. They also have an impressive selection of bottles from others.
42. Division Brewing

Arlington's first hometown brewery has been wildly creative with fun styles and flavors such as a dark porter flavored with chocolate and coconut.
43. Grapevine Craft Brewery

Ambitions are high at Grapevine, and they've won medals for brews such as their brown ale, on tap along with special brews available at the brewery only.
44. HopFusion Ale Works
Opening Spring 2016

Homebrewers will open taproom and brewery on Fort Worth's Southside.
45. Legal Draft
Opening Spring 2016

Two beer-drinking friends decided to go pro.
46. Malai Kitchen


Glossy Asian-Thai restaurant launched its beer-making side-project in 2014. Each restaurant has three or more house-made beers, such as a chili-and-chocolate porter, good enough to merit their own trip. Second location in Dallas County.
47. Martin House Brewing Co.

Martin House team has carved out a niche, both for its splendidly located facility overlooking the Trinity River, and for its adventurous beers such as the deliciously tart Salty Lady.
48. Panther Island Brewing

Festive brewery north of downtown Fort Worth has TVs and ample seating, plus a food truck for snacks. Four beers on tap include their Allergeez unfiltered wheat.
49. Rahr & Sons Brewing Company

Fort Worth brewery was the original local beer trailblazer, while simultaneously racking up awards for brews such as its rich bourbon-barrel dark beer. Its Saturday afternoon tours are the stuff of legend.
50. Shannon Brewing Company

Keller brewery is located next to a natural spring where the water has the perfect mineral content for beer. What a coup. It's won awards for its Irish red and chocolate stout.
51. Whole Foods Market, Colleyville


This store's in-house bar has its own entrance and a restaurant-like dining room with Neapolitan-style pizza among the choices, plus 16 taps for beer and 4 for wine.
wholefoodsmarket.com/stores/colleyville
52. Wild Acre Brewing
Opening May 2016

Beer industry vet finds gem of a spot in Fort Worth's old Ranch Style Beans complex.
HOOD County
53. Revolver Brewing

Given its Granbury location, a trip to Revolver is an excursion, and they make it a fun family deal with food trucks, picnic benches and live music.
---
GROWLER STATIONS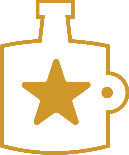 Use a refillable container called a growler and purchase craft brew to go at the following locations:
Bearded Monk
Denton
Brass Tap
Fort Worth
Brewed
Fort Worth
Craft & Growler
Fair Park
Dagwood's
Fort Worth
Lakewood Growler
Lakewood
Lone Star Taps & Caps
Lewisville & Denton
Opening Summer 2016 Fort Worth
LUCK Kitchen
Trinity Groves
Pouring Glory
Fort Worth
Thirsty Growler
The Colony
Opening Summer 2016
What's on Tap
Highland Village
World Beer Bottle Shop
Greenville Ave.
Whole Foods Market
Multiple Locations
---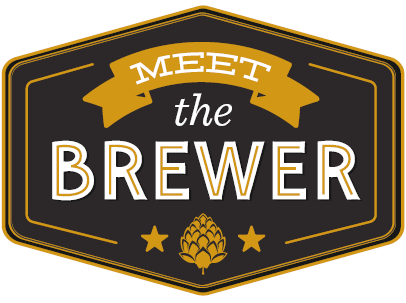 Celebrate North Texas Craft Beer
at Whole Foods Market
Saturdays in June from 3–5PM
| | | |
| --- | --- | --- |
| Date | Location | Featured Brewery |
| June 4 | WFM Uptown | Lakewood Brewing Company |
| June 11 | WFM Lakewood | Oak Highlands Brewery |
| June 18 | WFM Cityline | Deep Ellum Brewing Company |
| June 25 | WFM Colleyville | Collective Brewing Project |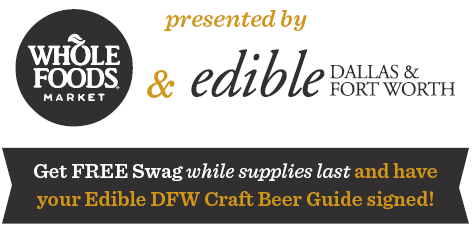 Save
Save
Edible Dallas & Fort Worth is a quarterly local foods magazine that promotes the abundance of local foods in Dallas, Fort Worth and 34 North Texas counties. We celebrate the family farmers, wine makers, food artisans, chefs and other food-related businesses for their dedication to using the highest quality, fresh, seasonal foods and ingredients.