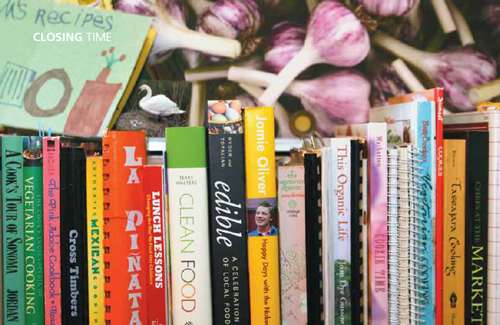 By Karen McCullough
Cooking was part of the landscape of my childhood. The lay of the land consisted of grandparents' gardens and sampling such delicacies as rabbit, squirrel or black walnuts that had been shaken and collected from trees in the woods. Pickles, sweet and dill, jams, canned peaches and chutneys, leftovers of summer's bounty, were stored on the shelf in the basement. As days dissolved into years and I started my own cooking traditions, I found that I relied heavily on what I had learned from family. Nothing could beat the aroma of onions frying in grandma's kitchen or the scent of savory pot roast, wafting out the back door as I wandered in from school. My own children inherited these cooking genes and have become excellent cooks themselves. Not always using books, but experimenting and trying new things. Sometimes they work, and sometimes not, as was the case with my son Jacob's recent experiment in replacing the anchovies in the family Puttanesca recipe with sardines. A little bit of Creative Cupboard Cooking on his part and a huge spirit of adventure yielded a meal he deemed uneatable yet ate anyway. The vegan Berry Pie recipe that was concocted by my daughter Hannah (see page 37) to satisfy her own developed senses for what a pie should taste like and the vegetarian diet she adopted when she was 15 is another example of homegrown. 
Tying my family together are cookbooks and recipes handed down and around through the years. The collection on my shelf is eclectic, ranging from titles like Pittsburg's Own Cookbook published in 1951 (Pittsburg, KS) containing recipes both typed and handwritten by my Grandma Postai, to "Cooking With the McCulloughs", a book hand designed by brother Kevin, sister Megan and brother-in-law Mark in 1992 for our family reunion. This title sits next to its sequel, "Second Helpings", published in 1996 by the same family and expanded with more recipes. And finally, one that holds a special place in my heart, "Mom's Recipes", published in 1995 by my daughter Tessa's kindergarten class. Thumbing through these books, random bits of paper fly out with recipes, handwritten by my Dad, Mom, Grandma, Aunt Ruthie and others, that release my senses once again into my food landscape. Speaking to me like the outlaw scents and harvests of my childhood, nostalgia drifts in along with the recipes and memories, preserved and passed on in these books. And then the phone rings and it's my oldest son Ian in California asking for the Red Velvet Cake recipe because it's his girlfriend's birthday and he wants to make her a cake. At the end of the recipe from my Grandma Mac it reads: "your Dad liked this back when".
Edible Dallas & Fort Worth is a quarterly local foods magazine that promotes the abundance of local foods in Dallas, Fort Worth and 34 North Texas counties. We celebrate the family farmers, wine makers, food artisans, chefs and other food-related businesses for their dedication to using the highest quality, fresh, seasonal foods and ingredients.