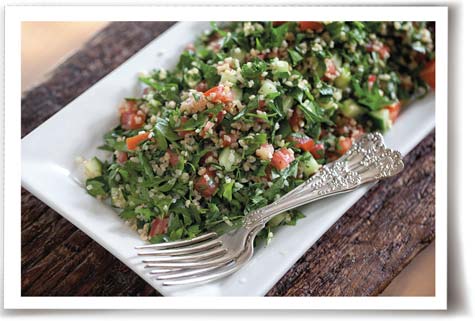 Photo by Kelly Yandell
How has traveling inspired the way you cook? We posed this question to several of our favorite local chefs. Here are their stories with recipes.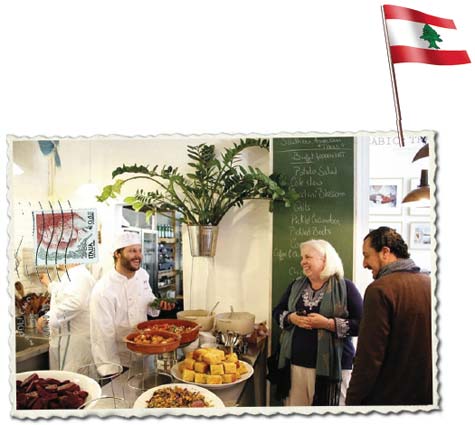 Chad Houser and Kamal Mouzawak with Maura Connelly,
U.S. Ambassador to Lebanon. Photo by Randy Potts
LEBANESE TABBOULEH
by Chef Chad Houser, Café Momentum
In 2011, I embarked on a culinary journey to Lebanon, a country with a history older than the Bible. Whether cooking in various kitchens, foraging through the Kadisha Valley, tasting wine at a vineyard or buying shawarma from a street vendor, I could feel all of the ancient food traditions in my bones and smell them in the air. Several of these traditions I experienced firsthand from my friend and host, Kamal Mouzawak. Kamal, one of the most progressive and trend-inspiring people I have ever met, prepared food with me as if we were cooking with his ancestors from generations before. Th e two biggest lessons I learned from Kamal: 1) If you chop the parsley correctly (for tabbouleh), the knife will only touch the leaves once and never leave them "shamefully bruised." 2) When ordering food for a mezze (appetizers) always order twice as much food as you think you can eat. In Lebanon, nothing is more offensive than leaving an empty table. And as hard as it is to walk away from all of that uneaten food, never ever ask for a doggie bag.
RECIPE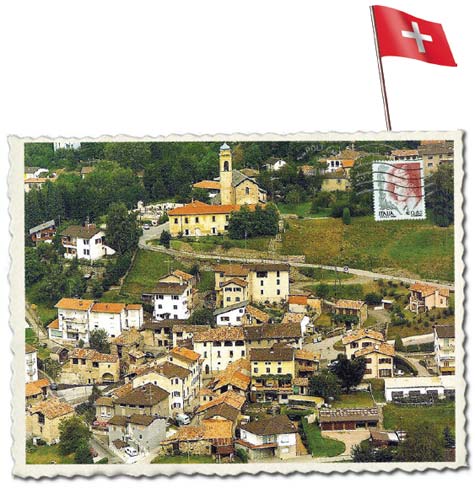 The Swiss Town of Arosio
SWISS BASIL PESTO
by Executive Chef Graham Dodds, Central 214
After graduating from culinary school, I met a couple in Portland, Oregon who set me up working for a chef in the Swiss Lake District near the Italian border. The restaurant, called San Michele, was part of a small, family-owned inn in the town of Arosio, close to Lugano. When I arrived, I discovered that the chef had been fired, and I, by default, took over the kitchen. It was quite a daunting task given the fact that I had only a few years of cooking experience. One of my first duties was to make the basil pesto that accompanied the gnocchi. The owners, two Swiss-German sisters, handed me their recipe, composed of 10 items, all weighed out in grams, and made the old-fashioned way, using a mortar and pestle. Being a chef, I decided this was totally unnecessary and just threw everything together and made my own version. After tasting both, I quickly decided how wonderful and perfectly balanced that their pesto was and mine wasn't! From there on out, I meticulously did it their way, and to this day, it's still one of the few recipes, other than pastries, where I weigh out the ingredients. Of course, my prep cooks hate me for it, but it's very rewarding to get the perfect pesto every time!
RECIPE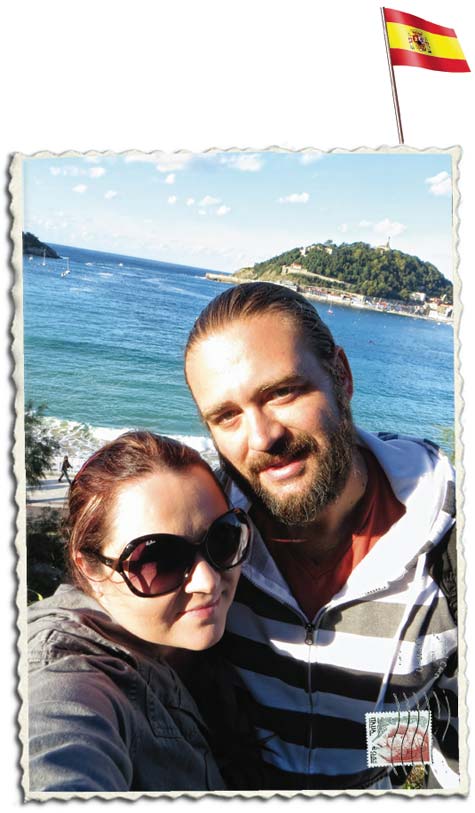 Chef Harris and wife Tiffany enjoying the wonders of San Sebastian
BRUSSELS SPROUTS AND
FALL SQUASH SALAD
WITH WARM BACON VINAIGRETTE
by Executive Chef Jeff Harris, Bolsa & Bolsa Mercado
Being a chef, and because Spain is one of the most exciting places in the world to eat, I have wanted to visit there for years. Last September, I was lucky enough to get to go to Barcelona and San Sebastian with my wife Tiffany for our honeymoon. The Spanish culture largely revolves around food and drink and sharing those things with family and friends. The passion Spaniards have for their amazing local products and cuisine is unparalleled. Much of our trip was spent visiting the local markets, eating pintxos (snacks at Basque taverns) and trying various restaurants. This recipe is not necessarily derived from a certain dish but more inspired by our two-week immersion in the Spanish culture. It incorporates some of my favorite ingredients.
RECIPE
BRUSSELS SPROUTS AND FALL SQUASH SALAD
WITH WARM BACON VINAIGRETTE
Edible Dallas & Fort Worth is a quarterly local foods magazine that promotes the abundance of local foods in Dallas, Fort Worth and 34 North Texas counties. We celebrate the family farmers, wine makers, food artisans, chefs and other food-related businesses for their dedication to using the highest quality, fresh, seasonal foods and ingredients.