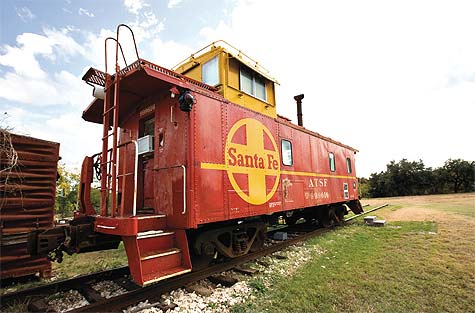 Photo courtesy of Red Caboose Winery
BY SOLL SUSSMAN
When asked at what point green design became an important part of the plans for the Red Caboose Winery and Vineyards in Meridian, winemaker and vineyard manager Evan McKibben doesn't hesitate for an instant. "From day one," he says. "My dad was going to design this to be as energy efficient as possible." One of the first things Evan's father, Gary—an architect with the Dallas-based Johnson/McKibben Architects—took into account before construction began was site orientation. "The way we designed the building is to face north and south so that the east and west sun would go over the top and create coeffiencies to cool the building," Evan says. Rain-catching and geothermal units were also important early facets of the winery. "The solar panels are the only things that are kind of new," he notes. "We've had them for about two years now through the availability of a renewable energy grant from the U.S. Department of Agriculture."
"Actually," Evan continues—looking out from the solar-topped roof at 16 acres of vines with 11 different varietals—"the original plan had nothing to do with wine." His father acquired the land in Meridian, 65 miles from Fort Worth and 90 miles from Dallas, simply intending to build a house and enjoy life in the country on what had been a deer lease.
But the elder McKibben eventually dabbled a little in grape growing. "The first year, we did about a hundred plants," says Evan. The conclusion was that the land was indeed suitable enough to grow grapes, and perhaps they could produce grapes for other wineries.
Evan, now 31, was just out of college at the time and commuting from Dallas. On weekends, as the vineyard was being built, the father- and-son team stayed in a refurbished caboose newly moved to the property. "We were looking for a trailer but we found this old caboose in a junkyard," Evan recalls. "My dad was in the caboose one night and woke up, and he just thought: Red Caboose Wine. He called me the next day and said, 'That's the name!'"
Evan took as much pride showing off the winery's green features as he did offering tastes of Red Caboose port and La Reina tempranillo. The roof, for example, was designed to be able to handle solar panels years before they were able to install them. The rainwater storage, which uses gravity flow to supply the irrigation system, holds 19,000 gallons and eases the need to pump from the well. The McKibbens also understood that while up-front costs may be more, the investments pay off over time. Utility bills for the winery typically run $30 to $35 a month, although they spike during the heat of summer, Evan notes.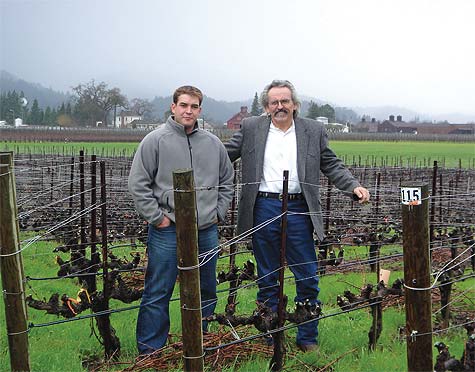 Evan and Gary McKibben
Geothermal energy plays an especially important part in the winery's operation, which cools, chills, refrigerates and heats with a geothermal ground-source loop that uses 24 geothermal wells. Much of the winery was built with rock that was excavated during planting, while additional rock from the vineyards is used decoratively in gabions (cages) that also serve as retaining walls.
The result of their green efforts was an award recently bestowed on Red Caboose for being one of the most sustainable wineries in Texas. The Growing Green Communities program for rural development organized by the Texas Engineering Extension Service at Texas A&M University presented the award at a statewide conference in Austin.
While Johnson/McKibben has a large architectural portfolio that includes functional buildings like jails, firehouses and schools, wineries now play a part, as well. Other than an exercise during architectural studies at California Polytechnic State University, Red Caboose was Gary McKibben's first winery. He's since served as an architect for Brennan Vineyards in Comanche, Flat Creek Estate in Marble Falls and Pedernales Cellars in Stonewall, as well as La Bodega Winery at Dallas/Fort Worth International Airport.
An obviously happy Evan confesses to having first suffered a bit of culture shock at his newfound rural life—a sharp contrast to what he experienced growing up in north Dallas. "Coming down here, I had never seen a tractor before," he says. "Here, I'm a farmer for ten months and a winemaker for two. Some of my friends live in cubicles. I'm just out here, and I say, 'this is my office.'"
The old caboose is still on the property, used for storage until it can one day be improved for show as part of the decor. Evan says that, in the past year, the vineyard has produced almost 30 tons of fruit, and they expect to sell about 4,000 to 5,000 cases of wine each year. Some sales are taking place at the new Red Caboose retail outlet in Clifton, 11 miles southeast of Meridian and more visible to traffic on well-traveled Highway 6. They also sell to a variety of wine shops and restaurants around the state. In the Metroplex, look for Red Caboose wines on the menus of the Pyramid Restaurant & Bar at the Fairmont Dallas, Del Frisco's Grille in Dallas and Del Frisco's Steakhouse in Fort Worth, and Grace in Fort Worth. Retail outlets include A Toast to Texas in Plano, Beverage City in Carrollton and Stockyard Wines in Fort Worth.
An easy day trip from Fort Worth or Dallas, Red Caboose sponsors events including a bring-your-own-food Cork and Fork at the Meridian winery with music on the last Friday of each month (January through October).
Red Caboose Winery and Vineyard
Meridian: 254-435-9911
Clifton: 254-675-0099
redcaboosewinery.com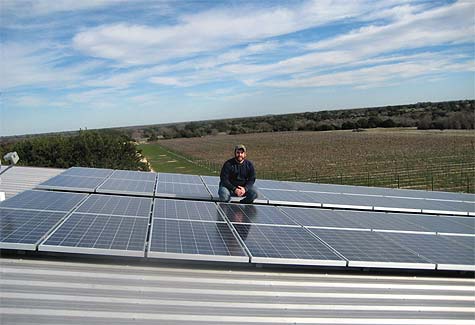 Photo by Soll Sussman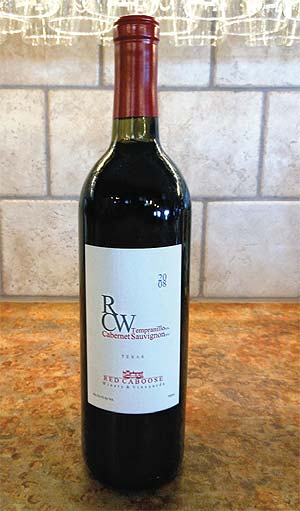 2009 La Reina Tempranillo: The 2009 Red Caboose La Reina is crafted from 100 percent handpicked tempranillo fruit. The wine is aged in old American oak for 18 months, lending a light smoke flavor. The color is deep ruby red. On the palate, the 2009 La Reina opens with a blast of strong fruit/berry/herbal flavors and follows with the tobacco and earthy minerality common to its limestone-rich terroir. The wine is fairly low in acid and presents medium to strong tannins. It promises a high potential for cellaring for many years and pairs beautifully with Texas game birds (dove and quail), as well as with lamb. It was a gold medal winner at the 2011 GrapeFest in Grapevine—and won silver medals at the 2011 Lone Star International Wine Competition and the 2011 Denver International Wine Competition.
2008 Tempranillo/Cabernet Sauvignon: This wine is a great blend of 50 percent tempranillo and 50 percent cabernet sauvignon, resulting in a wine that is a joy to drink. The superb conditions in the 2008 growing season resulted in an excellent crop of estate-grown tempranillo and cabernet sauvignon grapes. The color is a bold cherry red with aromas of excellent coffee and cassis. The wine was aged in American white oak for 16 months, then bottle-aged for two years, resulting in a smooth, silky finish with well-integrated tannins. This wine is unfiltered and should be decanted before drinking, but promises a perfect marriage for a grilled dry-aged steak or venison. It won the prestigious Jefferson Cup (Sweepstakes Winner) at the 2011 Jefferson Cup Invitational Wine Competition, and won silver medals at both the 2011 Lone Star International Wine Competition and the 2011 GrapeFest.
2010 Blanc du Bosque: Red Caboose has experimented with this French-American hybrid since 2005—perfecting their formula. The 2010 vintage showed concentrated sugar levels, which produced a wonderful semisweet wine. On the nose, the wine exhibits a lush bouquet of florals, fresh-picked summer fruits and a nice hit of spice. On the palate, there's a luscious burst of berries followed by banana and pear flavors. When served well-chilled, the smooth, pleasant finish extends the wine's affinity for taming the heat of a Texas summer. It won Texas Champion and Class Champion at the 2012 Houston Livestock Show and Rodeo.
—Terry Thompson-Anderson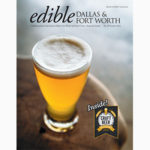 Edible Dallas & Fort Worth is a quarterly local foods magazine that promotes the abundance of local foods in Dallas, Fort Worth and 34 North Texas counties. We celebrate the family farmers, wine makers, food artisans, chefs and other food-related businesses for their dedication to using the highest quality, fresh, seasonal foods and ingredients.