COPPELL COMMUNITY GARDENS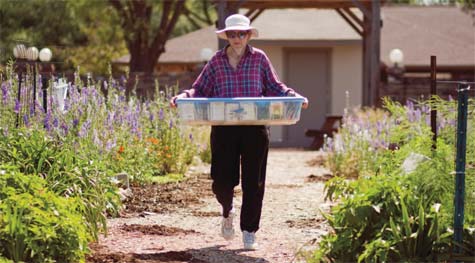 Volunteer Joanne Hennessey
Story and photo by Lauren McClure
For many, a typical Saturday morning includes the continuous tapping of the snooze button and the pursuit of a few extra hours in bed. But for the early risers who volunteer at Coppell Community Gardens, leisure hours are spent in beds of a different sort, all for the purpose of providing nutritious, organic food for families in need.
The 100 raised beds at Coppell Community Gardens flourish with organic produce, including an assortment of heirloom and heritage varieties. Every Saturday during the growing season, the harvest is picked and weighed by 10 am. At that time, volunteers deliver the food to the Metrocrest Social Services' food pantry, a community organization dedicated to preventing homelessness in North Texas. Any extra produce is donated to the Coppell Senior Center.
When work is complete, volunteers gather under the garden's arbor for a potluck brunch. Eager newbies from the local high school mingle with seasoned folks who have the greenest of thumbs and plenty of knowledge to share. Parents watch their young children delight at the growth of their first budding plant. Another group chats about this year's bounty of plump blackberries while enjoying a cobbler that features a recently harvested crop. The camaraderie among the volunteers shines as brightly as the sun that nourishes the garden's thriving beds.
In 1998, the City of Coppell realized the need for a project that would build the spirit of community. A garden was the answer. To launch the initiative, Coppell City Manager Jim Witt and Council Member Marsha Tunnell called upon the experience and commitment of Amanda Vanhoozier, Board Member of Gardeners in Community Development and developer of numerous school gardens. "It's all about the people," says Vanhoozier. "Even before breaking ground, we started gathering and cultivating the community."
Everyone from scout troops to local business leaders aided in the funding and construction of the project. By April of that year, Helping Hands Garden was established and by July, Ground Delivery Garden was finished as well. Before the year's end, the combined gardens had donated 2,000 pounds of organic produce. To date, more than 100,000 pounds of food has been harvested, making Coppell Community Gardens a model for other community gardening projects. "We're in our 13th year, and it is still all about the people," reflects Vanhoozier.
Volunteers interested in maintaining a bed register for the Adopt-a-Plot program with the understanding that each gardener donates his or her Saturday harvest. Chores include everything from maintaining the compost piles to pulling weeds. While every gardener is permitted to grow any crop they desire, everyone is committed to promoting thriving biological systems in the soil. The consensus is that great soil equals healthy plants, negating the need for pesticides. All gardeners have access to organic products like dry molasses, coffee grounds and orange oil with instruction sheets posted in the shed. Bumblebees and other beneficial insects find a welcome home here, and they are plentiful.
Educational seminars are hosted for those wanting to learn about organic methods. The exchanging of ideas seems as integral to the gardens' success as its healthy soil methodology. The Coppell Community Gardens is a living example of how doing for others helps an entire community bloom.
www.coppellcommunitygarden.org
A TRIP TO WOW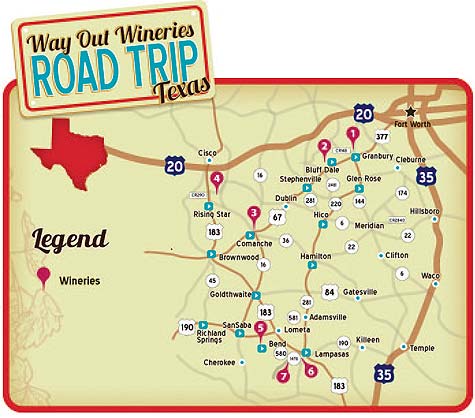 Day Trippers: Time to fold down the old convertible top, put on your scarf à la Grace Kelly —or your Texas Rangers baseball cap— and point the car southwesterly for a weekend of food, wine and a tour of the Texas heartland. On June 24 through 26, the Way Out Wineries, a collection of seven boutique wineries, will be hosting their Tailgate Pork Cook-off Road Trip. Each winery will be grilling up a pork dish and pairing it with a featured wine. A $35 ticket entitles you to a logo wine glass, one bottle of a WOW wine, a wine tasting at each winery and an opportunity to taste and judge the pork cook-off, which ends with the awarding of the coveted butt trophy.
The Way Out Wineries, each unique and family-owned, are scattered along a route that drapes from Granbury, southwest of the Metroplex, to Lampasas at the northern edge of the Hill Country. The WOW wine trail is situated around the geographic center of Texas and is full of rolling hills, big skies, historic markers and some of the state's prettiest little towns. The entire loop, about 300 miles down and back, is best done in two days. Take your time and make it three.
A central stopping point is the town Brownwood, where the Star of Texas B & B offers charming cottages as well as a vintage 1950's motor home. In the historic downtown area, you'll find Mary and David Stanley's Turtle Restaurant, featuring Chef Curt Sassak's specialties using regional ingredients. The Turtle's Enoteca Wine Bar serves up gourmet pizza and a vast selection of beers and wines. Their gelateria offers gelatos crafted by Mary, who frequently uses Way Out wines in her flavors.
Edible Dallas & Fort Worth is a quarterly local foods magazine that promotes the abundance of local foods in Dallas, Fort Worth and 34 North Texas counties. We celebrate the family farmers, wine makers, food artisans, chefs and other food-related businesses for their dedication to using the highest quality, fresh, seasonal foods and ingredients.