FARM-TO-TABLE DINING
FOR TRAVELING TEXANS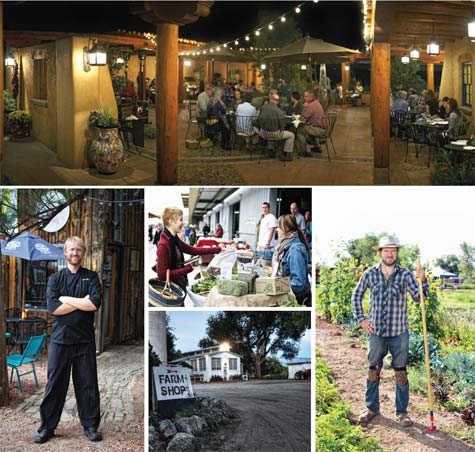 Clockwise from top: dining al fresco on the patio at Farm & Table;
farmer Ric tends the fields at Farm & Table;
Los Poblanos farm shop;
The Hollar chef/owner Joshua Novak in Madrid, NM;
action at the Santa Fe Farmer's Market in the Railyard.
Story by Chef Johnny Vee
Photography by Sergio Salvador
Texans LOVE New Mexico. They venture there in the summer, eager to escape the heat, and trek there in the winter, equally excited about the first snowfall. It's a bonus that the Land of Enchantment has such a rich culinary scene. Whether feasting on the state's celebrated chiles or sampling dishes steeped in Spanish and Native American traditions, gourmands in search of local cuisine will find much to enjoy. Listed below are some of the best local dining options on the well-traveled trail between Albuquerque and Santa Fe.
Only a short drive from the Albuquerque airport, the prestigious Los Poblanos Historic Inn & Organic Farm (lospoblanos.com) is a working farm with an adjacent inn set among 25 acres of lavender, enormous cottonwoods and lush formal gardens. The main buildings, designed by famed architect John Gaw Meem, were built in 1932. Originally the private residence of New Mexico Congressman Albert Simms, the property is the site of the state's first swimming pool. This farm-style Shangri-La offers 20 rooms: some in the original inn or others that are more modern suites. All are charming.
At the inn's La Merienda Restaurant, the menu reflects the daily harvest. A native New Mexican executive chef Jonathan Perno trained at the California Culinary Academy and worked for high-profile chefs like Wolfgang Puck and Alain Rondelli. A farmer himself, Perno oversees the planting of the property's specialty crops. The beets in his creamy buttermilk beet soup were in the ground that morning. Pickled chard stems garnish a fresh field salad plate. The black pepper & pistachio sausage gilding the house-made pappardelle are made in-house as well—the pig came from the barn. For breakfast, there's the shakshouka, an exotic dish with two eggs poached in a spiced tomato stew atop chickpeas with mint and feta. (See recipe.)

Top: Farm & Table's French Roasted New Mexico-Raised Bone Marrow;
Middle: The breathtaking entry to Los Poblanos Inn;
Bottom: Fried Green Tomatoes at The Hollar
A fig tree out back of the kitchen is draped with luscious ripe fruit ready to be transformed into compote. The farm has its own supply of honey, eggs, pomegranates, eggplant, greens, tomatoes, apples, corn, melons, grapes and artichokes. For things he doesn't grow, Perno works closely with area farmers and can identify the origins of every ingredient on his plates. He calls his cooking Middle Rio Grande Valley cuisine, and his mantra is simple, "Do the least you can do to an ingredient and let it show itself off…I have a total respect for each of item…change the shape a bit but leave it intact…you can't improve on what comes from the field."
Just four miles north, another must-visit restaurant is nestled in the north valley of the Duke City. Aptly named Farm & Table (farmandtablenm.com), this casual yet lovely establishment is an extension of its 1½-acre farm. The restaurant is located in a 200-yearold former stagecoach building that is shared with La Parada Mercantile Store, selling clothing, collectables and items for home and garden.
Though a seventh generation Texan, chef Jaye Wilkinson grew up in Santa Fe, and she shares owner Cherie Montoya Austin's vision of serving good food from the land. This summer's Farm & Table menu included crispy chicharones from local lamb, porcinis gathered from nearby mountains, and a quinoa salad with roasted root vegetables culled from behind the kitchen. Even the classic French roasted bone marow was served with New Mexico beef providing the bone. Chiles thrive in their garden so expect certain dishes to be fired up with New Mexico greens, padrons and serranos. Wilkinson received her training at Los Poblanos and is a skilled disciple.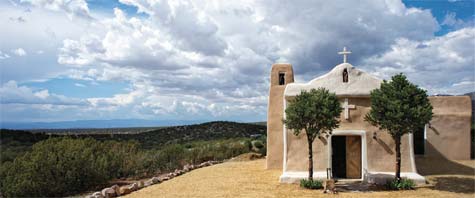 The San Francisco de Asis church in Golden. NM just outside Madrid;
Dr. Field Goods' Josh Gerwin.
Heading north to Santa Fe, forgo the usual route up I-25. Instead, go east on I-40 and connect with the historic Turquoise Trail, a National Scenic Byway, which winds through tiny towns and the rural desert. At the former mining town of Madrid, stop and visit The Hollar (thehollarrestaurant.com), a casual roadside café whose menu combines down-home Southern cooking with Norteño New Mexican. Chef Joshua Novak spent part of his career in Alabama, and it shows in dishes like his luscious pulled pork served on delicate biscuits, his tart fried green tomatoes and those shrimp po'boys dripping with spicy mayo. The grass-fed meat in his voluptuous buffalo burger is from LaMont's Wild West; the goat cheese on the fiery chile relleno burrito hails from Edgewood's South Mountain Dairy, and the juicy tomatoes are from Growing Opportunities in Alcalde. The décor is funky as is this unique artist colony town but the food is fun and fabulous.
Arriving in Santa Fe, circumvent the historic downtown and head out Cerrillos Road to the town's hottest foodie spot, Dr. Field Goods (drfieldgoods.com). Located in a nondescript strip mall, the restaurant offers a locally sourced menu that's anything but run-of-the- mill. Look for chef Josh Gerwin, tall, tattooed and goateed, gathering his ingredients at the Santa Fe Farmers Market. His El Cubano pork sandwich is made from an in-house butchered pig— guests can come and observe— from Albuquerque's Kyser Farms. There is local goat meat and goat cheese on the restaurant's Goat Torta. A wood-fired oven dispenses pizzas loaded with local ingredients like chiles from Wagner Farms. There's rock-n-roll on the sound system and exotic beers on tap.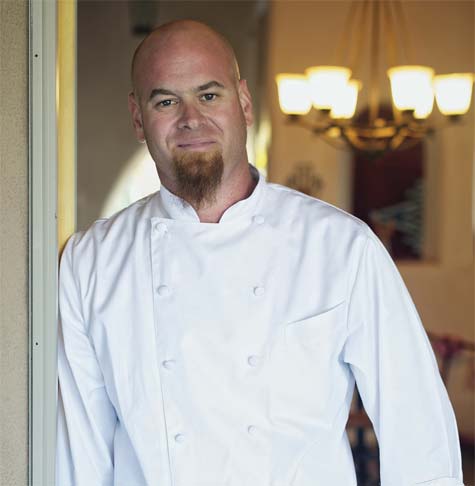 No trip to Santa Fe would be complete without a visit to the Santa Fe Farmers Market (santafefarmersmarket.com). On Tuesdays and Saturdays, locals, world visitors and chefs peruse stalls displaying the best of New Mexico's harvest. While shopping, nosh on a variety of prepared foods including steaming red chile tamales and pudgy breakfast burritos stuffed with kicky roasted chiles from Matt Romero Farms. At the Market Café, soups, wraps and salads are all created with goodies from the nearby stands. If you're heading up to the mountains for a hike or just strolling around the historic Plaza, you'll find an assortment of artisnal goodies to include in your pack.
On the outskirts of the city on the way to Las Vegas (New Mexico), visit Café Fina (cafefinasantafe.com), a local favorite with a simple menu and impressive baked goods. The airy cloud cakes with berries and maple syrup will make you forget the ordinary pancake forever. Galisteo's Talus Wind Ranch supplies beef for the café's perfect green chile cheeseburger, lamb for menu specials and eggs for their fabulous omelettes and breakfast burritos. Don't miss their cream puff-like venceky. It's worth blowing a whole day's worth of calories. Take some home with you and eat-it-up New Mexico style.
RECIPE
Edible Dallas & Fort Worth is a quarterly local foods magazine that promotes the abundance of local foods in Dallas, Fort Worth and 34 North Texas counties. We celebrate the family farmers, wine makers, food artisans, chefs and other food-related businesses for their dedication to using the highest quality, fresh, seasonal foods and ingredients.