Good 2 Go Taco
Good 2 Go Taco has a lot of fans—1,196 to be exact on my last Facebook count. After eating one of their tacos, it's easy to understand why. Located inside the GreenSpot on the corner of Buckner and Northcliff, this new taqueria focuses on using local, grass-fed beef, pork and chicken combined with organic produce. Good 2 Go Taco sells tasty, from-scratch soft tacos that satisfy the appetite without overloading the stomach. Veteran chefs Jeana Johnson and Colleen O'Hare saw a need to give the public what they wanted, and their business was born. GreenSpot supports the local food scene with their healthy convenience foods, locally produced products and even a farmers market in their parking lot, making it the perfect place to launch this new business. The chefs change the menu daily around the deliveries they receive from their local providers. Offerings can include tacos with names like Swine Blue, a pulled pork and blue cheese slaw taco, The Jerk, jerk chicken with mango and Late Riser, house made chorizo with mashed potatoes. They even offer veggie and vegan tacos for those who shun meat. Be sure and stop in sometime to try their delicious offerings. Good taste, excellent value!
Located in The GreenSpot
702 N. Buckner Blvd
Dallas, TX
214.668.0831
Making Food Work for You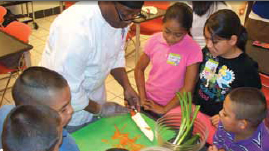 Lake Highlands Community Garden has teamed up to provide fresh fruit and vegetables to the North Texas Food Bank for their Operation Frontline classes offered to community members in order to educate them about the benefits of healthy eating. The Donation Garden at Lake Highlands is dedicated to growing fresh organic veggies, herbs and fruits. Their donations in turn help to promote long and short-term solutions to hunger. The North Texas Food Bank organizes volunteer chefs and nutritionists to help teach and educate people how to make healthy food choices and how to turn these healthy choices into delicious, affordable meals.
To find out more about this program visit the Lake Highlands Community Garden website at www.lhgarden.org and click on the Donation Garden tab or The North Texas Food Bank. www.ntfb.org. Lake Highlands Community Garden is located at: 7901 Goforth Rd, Dallas, TX
REAL School Gardens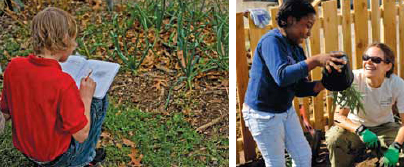 REAL School Gardens is a grassroots gardening program that helps children by supporting elementary school communities as they design, install and sustain outdoor classrooms (gardens). The inclusive approach embraces a shared belief that the best way to embed learning into life is to experience it outdoors.  The gardens aren't just pretty places on school campuses but rather are learning labs that raise hope, spark imaginations and connect children to nature. The group's support also extends beyond the garden installation, as it leads schools through an extensive community design process before installation day and conducts ongoing teacher training and networking opportunities throughout the year.  In North Texas alone, REAL School Gardens supports 66 schools, ensuring that more than 40,000 children and 2,300 educators have daily access to nature, and the movement is growing. To learn more or to participate in an upcoming event, please visit www.realschoolgardens.org.
Celebration Market and Restaurant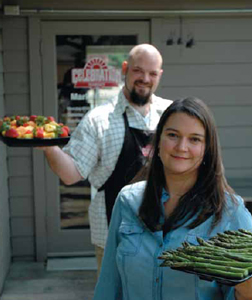 Good food is cause to celebrate and Celebration Restaurant serving Dallas since 1971 pride themselves in serving good food to good people.  The addition of their catering business in 1994 gave them the flexibility to serve good food offsite to businesses and special events. Finally in 2000, the Market opened to serve those customers who wanted to take their good food and enjoy at in the comfort of their own table.  As Celebration Market and Restaurant moves into the future, they take special care to find local sources for their ingredients and to prepare them seasonally. A local produce market was opened in the parking lot last summer, but hopes of reopening this year are being put on hold while the City of Dallas debates the future of local markets. To show your support of The Celebrations Local Market, contact your city council representative to let them know that this issue has your support.
Community businesses that support our farmers, ranchers and food artisans deserve our support as well.
Celebration Restaurant, Catering & Market
4503 Lovers Lane
Dallas, TX
214.351.5681
Edible Dallas & Fort Worth is a quarterly local foods magazine that promotes the abundance of local foods in Dallas, Fort Worth and 34 North Texas counties. We celebrate the family farmers, wine makers, food artisans, chefs and other food-related businesses for their dedication to using the highest quality, fresh, seasonal foods and ingredients.