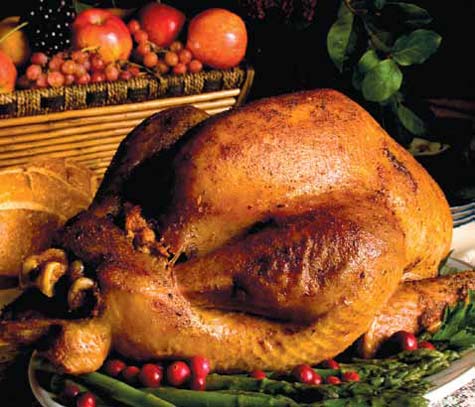 (Courtesy of Rehoboth Ranch)
RECIPES
Tips For Cooking a Pasture Raised, Free Range Turkey (including Basic Brine and Herbed Butter)
Chef Jeanette's Savory Bread Pudding with Herbed Chevre, Portobello Mushrooms and Spinach
Blue Moon Gardens Sweet Potato Soufflé
Parigi's Acorn Squash Stuffed with Quinoa, Peas, Carrots, Parsnips, Spinach and Asiago
Restaurant Ava's Smoked Paprika Chive Muffins
Looking for a locally raised Thanksgiving turkey? Two farms, Rehoboth Ranch in Greenville and Rhineland Farms in Glen Rose, are raising pastured turkeys, including heritage breeds such as Bourbon Reds, as well as conventional Broad-Breasted Whites. These slowly-grown birds roam free, breathing clean air and feasting on a natural diet of green grass, bugs and chemical-free feed. Contact farms for availability, pricing and pick-up options. Order early; supplies are limited.
Rehoboth Ranch
Robert and Nancy Hutchins Family
2238 County Road 1081
Greenville, TX 75401
To order: 903.450.8145 or [email protected]
www.rehobothranch.com
Rhineland Farm
Don and Samantha Rebstock
3157 County Road 411
Glen Rose, TX 76043
254.897.4517 or 254.396.5866
Edible Dallas & Fort Worth is a quarterly local foods magazine that promotes the abundance of local foods in Dallas, Fort Worth and 34 North Texas counties. We celebrate the family farmers, wine makers, food artisans, chefs and other food-related businesses for their dedication to using the highest quality, fresh, seasonal foods and ingredients.