by Terri Taylor
ART AND APPETITE
A new exhibition at the Amon Carter Museum of American Art explores the rich tradition of food in American art. Art and Appetite: American Painting, Culture and Cuisine brings together more than 60 paintings from the 18th through the 20th centuries to demonstrate how depictions of food have allowed American artists to both celebrate and critique everything from trends in the national diet to the broader issues of society and politics. The exhibition features iconic works by such noted artists as Edward Hopper, Norman Rockwell and Andy Warhol. As professional and home chefs increasingly turn toward local, organic food and American society ponders its history as a fast-food nation, this exhibition offers visitors the chance to look at depictions of American food and culture with new meaning and fresh eyes. Organized by the Art Institute of Chicago, Art and Appetite continues in Fort Worth through May 18th.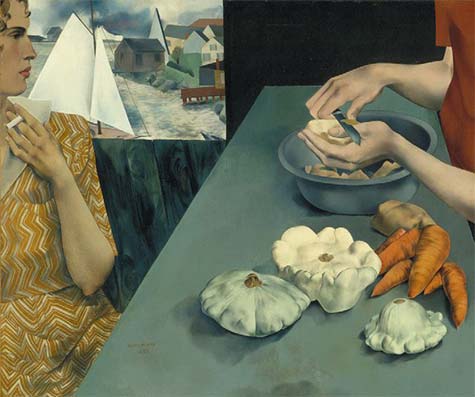 Peter Blume (1906–1992)
Vegetable Dinner, 1927
Oil on canvas
Art © The Educational Alliance, Inc.
Estate of Peter Blume
Licensed by VAGA, New York, NY
Smithsonian American Art Museum, Museum Purchase
BURGUNDY'S LOCAL GRASS-FED
MEAT MARKET OPENS IN FORT WORTH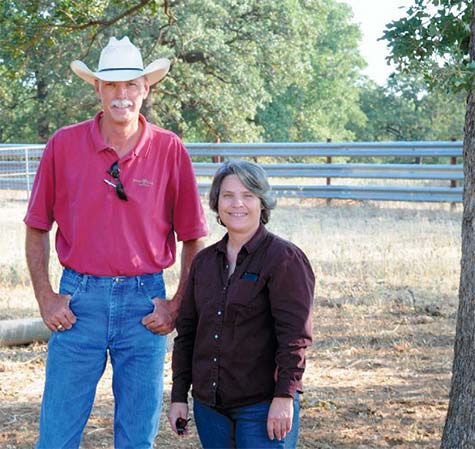 Photo: Carole Topalian
Ranchers Jon and Wendy Taggart will open their Fort Worth store, Burgundy's Local Grass-Fed Meat Market, in March. "We've been kicking this around for a long time," says Wendy, who along with husband Jon co-owns Burgundy Pasture Beef, a grass-fed operation in Grandview, 40 miles south of the Metroplex. For 15 years, they've been delivering to DFW homes. "Having a Fort Worth retail store seems to be the next step to making it more convenient for our customers," says Wendy.
The 1500 square-foot store, which includes a commercial kitchen, is poised between the Monticello neighborhood, the Museum District and the West 7th Street District. The store will off er a full selection of both chilled (never frozen) and frozen beef cuts, including beef franks and jerky. Besides selling their own beef, they'll be offering pasture-raised pork, chicken and lamb. "These products have been raised by other local family operations who share our core philosophies," says Wendy. "We believe in raising animals in a natural habitat, on a natural diet and with no antibiotics or hormones."
The store will also sell local raw honey, free-range eggs and raw milk cheeses, as well as beef stock in several flavors, including Vietnamese Pho, made by an Austin food artisan who uses Burgundy's beef bones. "We'll also offer chilled chicken," says Wendy. "You don't find that very oft en."
On Fridays, Saturdays and Sundays, they'll be cooking up grass-fed burgers in their kitchen. "Eventually, we'll have an elevated porch in the back with seating," says Wendy. "We're planning to do educational programs, cooking classes and maybe even some private tours and dinners."
Since 2004, they've been operating a retail store in Grandview, valuable experience as they embark on this new endeavor. The Taggarts also own a USDA-approved butchering facility, where a 6-person staff handles quality cutting and the packaging of their products. "Managing as much of the process as we can is the best way to insure the quality of our products," says Wendy. "We've been raising grass-fed cattle for 15 years, and the changes we've seen among consumers has been dramatic. The timing feels right for this."
Burgundy Pasture Beef • 3326 W. 7th St., Fort Worth 817-878-2722
burgundypasturebeef.com
KATHY NEUMULLER OF JJ&B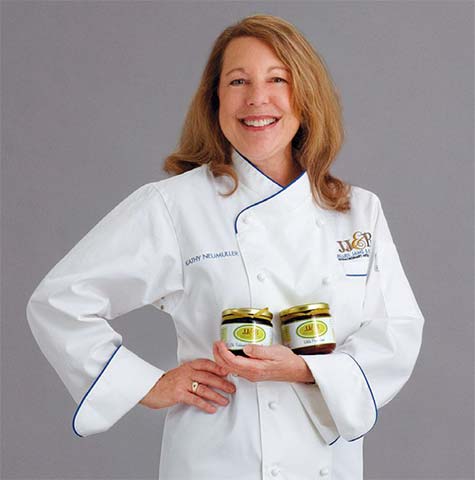 Photo: Andrew Vracin
Kathy Neumuller laughs about the day she drove to work and saw her image on the side of Aritzone's delivery truck. "It was surreal," says Neumuller, the owner of Plano-based JJ&B—Jellies, Jams & Butters. Actually, an unsuspecting co-worker sighted the advertisement first and announced, "I think I just saw your face on a van."
During the last three and a half years, Neumuller, who is a recruiter for a large consulting firm, has taken her passion for canning and expanded from hobbyist to entrepreneurial food artisan with a line of 32 jams, jellies and butters that are sold at farmers markets, local retail outlets and through delivery services. She sources much of her fruit from local producers like Larken Farms, the Berry Patch, Comeback Creek Farm, and Lightsey Farms.
"I always loved canning and preserving things," says Neumuller, who moved to Dallas from California with her husband ten years ago. "When the kids were young, we'd take them on weekends to go berry picking. That's when I started making jams." She began giving jars as gift s to friends who were impressed with the quality. Upon moving to Dallas, she began entering canning competitions at the State Fair of Texas. Aft er winning nine ribbons in two years, her confidence grew Blue ribbon winner doesn't necessarily translate to successful entrepreneur. "It's been an amazing journey," says Neumuller. One of the biggest challenges for craft ers taking it to the next level is finding commercial kitchen space. "Someone referred me to Chris Zielke (Bolsa) and he referred me to Brent Jackson (Sylvan Thirty). There was an old taqueria where they had the 48-Night pop-up dinners. I rented the kitchen on weekends."
Before several of the dinners, she was invited to show her products. "I showcased my savory jams with cheese and crackers and people loved it." Later, when the taqueria closed, she made a connection with Taco Borga of La Duni, and she still uses their NorthPark kitchen on weekends and evenings. She credits Borga and Zielke for their generous advice and considers both her mentors.
"This is a nice complement to my corporate life," says Neumuller. "I'm a Type A personality and this has made me better at my full-time job." What advice does she give other food entrepreneurs? "You go into business with a plan but you have to be flexible," says Neumuller. "Grow at a controlled rate. Don't promise more than you can deliver—and have fun."
COMMUNITY LEADERS RECOGNIZED
BY CHEFS FOR FARMERS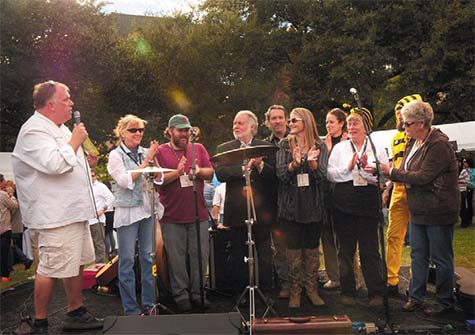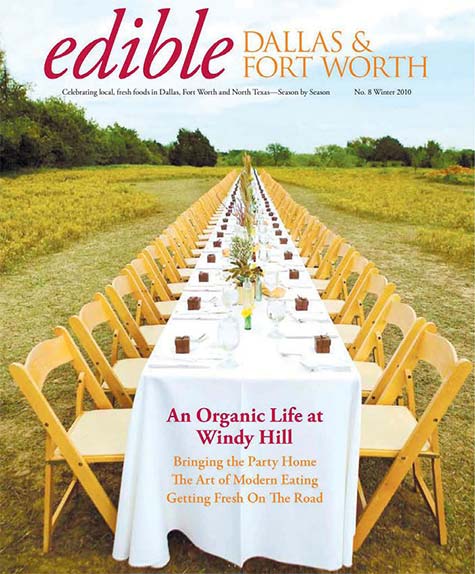 Photo: Tressa Vazquez
On a sunny Sunday afternoon in November, just as we headed to press with our winter issue, the nonprofit organization Chefs for Farmers held its annual festival celebrating local foods. In Dallas' Lee Park, festival goers perused booths showcasing over 100 chefs, farmers, ranchers and purveyors of small-batch food and drink. Th e event also recognized seven community leaders, including EDFW publisher Nanci Taylor, for their efforts to raise awareness about the importance of locally sourced foods. Besides Taylor, other honorees included chef Sharon Hage (formerly with York Street), chef Graham Dodds (Hibiscus), Brandon and Susan Pollard (Texas Honeybee Guild), chef Robert and Kaci Lyford (Patina Green Home & Market), Lucian LaBarba (FreshPoint) and the late chef Randall Copeland (Restaurant Ava and Boulevardier). Chefs For Farmers began as collaboration between Iris McCallister (Oh Brownie, FT33) and her husband chef Matt McCallister (FT33), and was inspired by their weekend visits to local farms. Th e first gathering in the fall of 2009 was a long-table dinner for 100 in farmer Marie Tedei's pasture at Eden's Garden CSA Farm in Balch Springs. A photo from that event by local photographer Sarah Kate graced the cover of EDFW's winter issue in 2010. Th e event grew from there and is now one of the most eagerly anticipated events for North Texas foodies. Th is year's proceeds were divided between the North Texas Food Bank and local farmers.
Edible Dallas & Fort Worth is a quarterly local foods magazine that promotes the abundance of local foods in Dallas, Fort Worth and 34 North Texas counties. We celebrate the family farmers, wine makers, food artisans, chefs and other food-related businesses for their dedication to using the highest quality, fresh, seasonal foods and ingredients.