IN A PICKLE!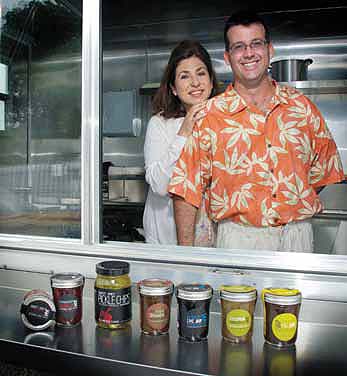 Karen won't divulge their recipe, but she does
reveal that these "splendiferously different"
pickles are made from the freshest cucumbers
soaked in a fiery brine of chile peppers, sugar
and— Mama's secret ingredient
By Terri Taylor
Photo by Matthew Rainwater
Nineteen years ago, elementary school teacher Karen Kouri was in a pickle: Christmas was approaching, and she needed gifts for a long list of friends and colleagues. So, what'd she do?
"I called my mom and asked for her pickle recipe," says Karen. The gifts were a big hit; so big, that for years, there was a steady stream of requests for more. Flash-forward fourteen years: James Felps is rifling through his friends' refrigerator where he discovers "the most delicious pickles in the world." His friends' jar had been a gift from Karen. "I devoured the entire thing," confesses James, "and then said to my friends, 'Get another jar and if this woman is single, introduce us!'"
Today, husband and wife James and Karen Felps have a burgeoning Fort Worth-based specialty food business, not surprisingly called IN A PICKLE . Karen won't divulge their recipe, but she does reveal that these "splendiferously different" pickles are made from the freshest cucumbers soaked in a fiery brine of chile peppers, sugar and— Mama's secret ingredient.
Inspired by James' mother and Karen's grandmother, both avid home canners, they also developed an IA P line of seasonal, smallbatch jams. Some of their flavors include Apple-Bourbon Cinnamon, Orange-Fig with Grand Marnier, Peach-Chocolate with Godiva Liqueur and Peach-Cinnamon with Hazelnut Liqueur.
"Josh at Hedden Farms in Canton sources cucumbers, peaches and blueberries for us, and we also use peaches from Larken Farms in Waxahachie," says James. Recently, the couple built a new commercial kitchen and purchased a big red and silver-trimmed food truck.
This summer, you'll find that truck every Wednesday through Saturday at Fort Worth's Cowtown Chow Down Food Park. The rotating menu features old school items like pickle-filled egg salad and tuna salad, grilled pimento cheese sandwiches, and grilled peanut butter and jam sandwiches. They will also be cooking up foods inspired by their families' roots: James is a self-described Ragin' Cajun from Baton Rouge, and Karen's heritage is Lebanese. During the park's opening week, they served both jambalaya and hummus with hashwa (ground beef, onions, cinnamon and pine nuts).
During the school year, James oversees the food business while Karen teaches at Sagamore Hill Elementary School, as she has done for the better part of 26 years. Recently, she was instrumental in working with REAL School Gardens to install a teaching garden there, and she's ecstatic about the results.
"The new garden is amazing," she says. "There's a monarch butterfly way station and rain barrels to collect water. Over one hundred volunteers from Mercedes-Benz Financial, along with parent volunteers and Sagamore Hill staff, came to build it."
When the garden is fully developed, she'd like to organize a school farmers market, and help her students create their own label of pickles with school-grown cucumbers, onions and peppers.
"Our lives stay really, really busy," she says, "but when you enjoy something and have a passion for it, everything else falls into place."
Go to www.inapicklefoods.com for a list of farmers markets and specialty stores where IA P pickles and jams are sold.
TIPS FOR FARMERS AT PATINA GREEN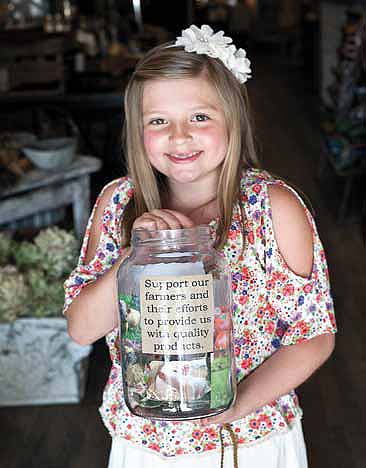 Story and Photo By Melinda Ortley
While most seven-year-olds are counting their coins, trying to fatten up their piggy bank for the latest must-have toy, Peityn Foster is saving her loose change to help the farmers who raise the piggies—and the cows and the chickens.
At Patina Green Home and Market in downtown McKinney, Peityn stands at the forefront of patrons who generously contribute to the TIPS FOR FARMERS jar. Unlike other glass jars you find at this gourmet and vintage furnishings store, the one sitting at the corner of the checkout counter is not an antique or filled with tasty confitures.
This jar, stuffed daily with loose change (and sometimes a bill or two), exists to raise funds for farmers who are down on their luck. It was the brainchild of Patina's youngest employee, Garrett Graves, after he overheard the heart-wrenching story of a local egg farmer who'd lost his entire flock of hens to disease. Seeing how quickly the tip jar at the lunch counter filled up each day, he had the idea to put out a second jar that would collect money for farmers in need.
Patina Green owners, Robert and Kaci Lyford and Luann Van Winckel, needed no convincing. The second tip jar was made, promptly put on the counter and within a few weeks, it was filled with enough money to buy the farmer a new flock of hens. The gift not only gave him back his chickens, it gave him back his livelihood. Chef Robert, who had already been putting his lunch tips into the farmers' jar, saw no need for two tip jars, and today only the TIPS FOR FARMERS jar remains.
To date, the collection has helped a small organic farm survive the devastation of last summer's drought, helped another buy organic strawberries for planting, and more recently, assisted a rancher who was critically injured in an automobile accident. Last summer, in conjunction with Texas Organic Farmers and Growers, $500 was sent to help cover the costs of bringing donated hay from Iowa to Texas's drought-stricken ranches. Young Peityn was introduced to the cause during a Patina Green shopping trip with her mom, which coincided with an Acts of Kindness project at her elementary school. She filled a recycled Luscombe Farm jelly jar with loose change and money earned doing chores. Her initial donation added up to $45. Since then, she's raised roughly $300 by tapping into her natural fundraising skills. At a friend's recent garage sale, she set up a booth with a crayon-written sign reading "Please donate change for the local farmers!"
But it's not just local farmers that Peityn has a soft spot for. Her grandfather, whom she calls "Pop," is a farmer in central Texas, and she loves to visit him (and his many cows) during summer vacations.
As word of Patina Green's TIPS FOR FARMERS jar spreads, Kaci is amazed and humbled by the number of those who dig deep to give. "One of the best things about this business," she says, "is seeing how very kind, thoughtful and generous people are, even in this trying economy".
HOLY KOMBUCHA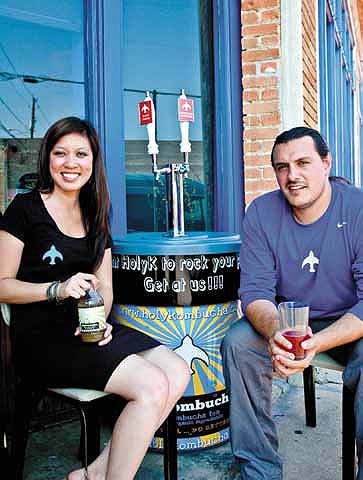 Theresa Pham & Leo Bienati
By Terri Taylor
Photo by Richard Adams
As children, most of us heard countless reminders to eat our vegetables, but Argentina-born Leo Bienati remembers a slightly different version. "I couldn't leave the table until I drank my kombucha," laughs Bienati, the owner of Fort Worth-based Holy Kombucha. "A daily shot of my mom's kombucha was like drinking from the Holy Grail. It was the key to good health and digestion."
Now, decades later, Bienati and his team have created their own version of this slightly effervescent, fermented tea made with sugar and a living starter called a SCOBY , a pancake-looking culture of bacteria and yeast, reverently referred to as "the mother."
Fermented tea dates back thousands of years to ancient China, where it was used to cure ailments and promote longevity. Over the centuries, its popularity spread from the Far East to Russia, Europe and beyond. Kombucha sales in the United States have more than quadrupled in the last four years, as consumers have become more health conscious.
Holy Kombucha, which is available both on tap and in bottles, features Bienati's own blend of organic black, white and green teas, organic cane sugar and fresh fruit, organic and sourced locally whenever possible. "Ours is a much more palatable version of what my mother made," says Bienati. "Hers was more vinegary, straight-up sharp without flavoring. Ours is healthy AND it tastes good."
Holy Kombucha's flavors are unique: among them are Green Apple- Ginger, Blood Orange and Hibiscus-Pomegranate. "We wanted something different than the other guys," says Bienati. "We're always dreaming up new flavors. My hope is to turn all Coke [Coca-Cola] drinkers into kombucha drinkers."
Bienati came to the States in 1998 to study English, which eventually brought him to Texas. (He's a classically trained singer, who once competed on Gigantes del Mañana, the Latin American equivalent to American Idol.) The road back to his childhood drink was a circuitous one. He sold commercial real estate in Fort Worth, a job that put him in contact with a number of restaurants. An avid foodie, he began a business importing Colombian coffee with Theresa Pham, who directs sales and marketing for Holy Kombucha. During this time, he also met Hugo Camacho, now the company's financial manager.
Another member of the inner circle is philanthropist Andres Ruiz, the founder of Sow The Seed, a non-profit that aids women and children rescued from human trafficking in India. Ten percent of Holy Kombucha's profits go directly to that organization. "Our motto is 'Drink Well, Do Better,'" says Bienati. "When you drink Holy Kombucha, you're not only doing something healthy for yourself, you're helping others."
Bienati is quick to acknowledge the mentors who have encouraged his young company. "So many have helped promote us. Bruce Bagelman at Green Spot and Ernest Belmore at Buzz Brews were among the firsts." Holy Kombucha is sold at over 30 locations around the metroplex, including Bolsa, Whole Foods (Park Lane), Garden Café, Local Yocal, Meddlesome Moth, Good2Go Taco, Spiral Diner and the In A Pickle food truck. For a complete list, go to www.holykombucha.com.
Edible Dallas & Fort Worth is a quarterly local foods magazine that promotes the abundance of local foods in Dallas, Fort Worth and 34 North Texas counties. We celebrate the family farmers, wine makers, food artisans, chefs and other food-related businesses for their dedication to using the highest quality, fresh, seasonal foods and ingredients.