LOCALLY INSPIRED GIFT GUIDE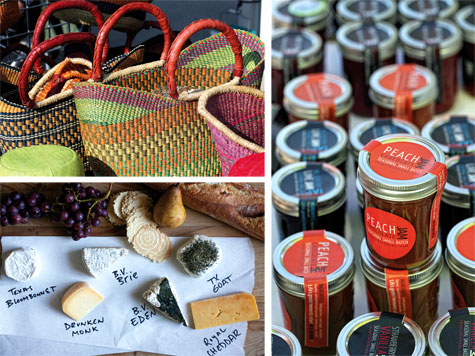 BY HEIDI SHIPP
During the holidays and beyond, add local flavor to your gift choices. Here are a few ideas that will please everyone from the culinary inclined to the gardening guru. 'Tis the season to go local.
1. KEEP IT FRESH
The vow to eat healthier tops everyone's New Year's Resolutions list. Show how much you care with a gift of naturally grown North Texas vegetables and meats.
GIVE A CSA SHARE (and buy one for yourself while you're at it). A seasonal share gives that special person fresh vegetables directly from the farm. CSA (community supported agriculture) members invest in a true partnership with an individual farmer, bounty or bust. Shares vary in price (around $250-$400 per season, depending on the farm). Go to edibledfw.com or localharvest.org for complete listings.
ONLINE DELIVERY SERVICES offer delicious gift options, featuring sustainably raised meats, produce, eggs and small-batch items from area growers and food crafters.
ARTIZONE, an online specialty food venue, will hand deliver a gift basket of organic veggies from Earthwise Produce in Denton ($27.99 per basket). A full offering of artisan food items is also available. artizone.com/dallas
GREENLING offers online delivery service, bringing local, organic products to your recipient's doorstep. Send boxes for a month to a year. Select from a gluten-free pasta box, artisan pantry gift box and more, all with a personal note from you. greenling.com/gift  
Representing a variety of farms, URBAN ACRES is an organic market in Oak Cliff that offers co-op style shares with pick-up spots around the Metroplex. Shares are available in mini, half and full sizes. $50/ year membership and a one-time $14 bin rental fee, plus share fee. urbanacresmarket.com/co-op
FOR THE CARNIVORE
BROKEN ARROW RANCH offers gift packs of free-range, humanely harvested Texas venison, antelope and wild boar. The purveyor takes online orders and ships to anywhere in the United States. brokenarrowranch.com
Grandview's BURGUNDY PASTURE BEEF is just a click away. From thick-cut steaks to gourmet ground beef, pasture-raised meat can be delivered to your gift recipient's home or office. burgundypasturebeef.com
2. DIY LOCAL GIFT BASKETS FOR THE GOURMAND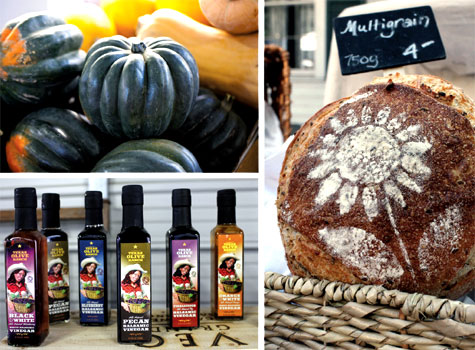 Create your gourmet gift basket (or host/hostess goodie bag) with foods grown or handcrafted in North Texas. Food lovers never had it better. Look for regional cheeses, chocolates, beer, wines, jams and locally roasted coffee beans. These stores and markets have it all—and it's delicious.
TO MARKET, TO MARKET
First stop—your local farmers market, where you can chat with farmers and artisans and get the story behind your purchase. Go to edibledfw.com for a complete list of websites. Besides produce and meats, pick up tamales, pickles, salsas, honey, spices and non-edible gift items. During December, look for special holiday markets.
RETAIL MARKETS WITH AN EYE ON LOCAL
North Oak Cliff's BOLSA MERCADO is a little bit hip and a whole lot fresh. This neighborhood grocery market has counters and shelves filled with Texas beers, wines and small-batch food items. bolsadallas.com/bolsa-mercado
From ready-made meals to homemade dressings, CELEBRATION MARKET in Dallas has you covered. Check out the shelves for goodies like Grapevine Grains (rolled oats, granola and muesli). Gift certificates are available. celebrationrestaurant.com/farmersmarket
Denton's CUPBOARD NATURAL FOOD & CAFE offers a long list of regional foods, including salsas and craft beer. The bakery offers fresh gluten-free and vegan options, as well as traditional baked goods. cupboardnaturalfoods.com
Toffees, truffles, fudges, oh my. For the sweetie on your list, DUDE, SWEET CHOCOLATE, with 2 locations in Dallas and another in Fort Worth. Chef Katherine Clapner's indulgent chocolate creations will win over any sweet tooth. dudesweetchocolate.com
ELLERBE FINE FOODS, Molly McCook's farm-to-table restaurant in Fort Worth, has a market filled with artisanal items. Request a gift basket for that special someone. ellerbefinefoods.com
Fill your holiday breadbasket with European-style breads and pastries from EMPIRE BAKING COMPANY on Lovers Lane in Dallas. Also available, JJ&B spreads, Dr. Sue's Chocolate, In A Pickle Foods and Zip Code Honey. empirebaking.com
GREEN GROCER in East Dallas works closely with nearby farmers and producers to stock its shelves. For gifting, grab a bag of coffee beans from Noble Coyote Coffee Roasters and fresh bread by Village Baking Company. greengrocerdallas.com
Owned by the DiCarlo family, JIMMY'S FOOD STORE in East Dallas carries specialty Italian items like handmade sausage, and Texas products too, including Carnival Barker's Ice Creams and Martin's Biscotti. jimmysfoodstore.com
Don't let the funny name fool you—McKinney's LOCAL YOCAL is serious about carrying the best in area products. More than a butcher shop, the store carries handcrafted soaps by Willow Creek Bee Company and coffee beans from Aduro Roasters. localyocalfarmtomarket.com
Paula Lambert's MOZZARELLA COMPANY has been making artisan cheeses for 30 years. Find the best selection at their Deep Ellum storefront. Online gift certificates for cheese making classes or products are available. mozzco.com
Pop into PATINA GREEN HOME AND MARKET in McKinney and pick up local fare like olive oil from Texas Olive Ranch and handcrafted jalapeño jellies from Luscombe Farm. For unusual baskets and containers, peruse the selection of antique collectibles. patinagreenhomeandmarket.com
POTAGER'S OTHER STUFF in Arlington is the organic grocery arm of Potager Cafe. You'll find granolas and stone-ground mixes from Grapevine Grains, cheeses from Veldhuizen Family Farm, jams, honey and handcrafted pottery. potagercafe.com/the-shop-potagers-other-stuff.html
SCARDELLO in Dallas' Oak Lawn area is a one-stop cheese shop. From artisan to farmstead cheeses, think local—Eagle Mountain Cheese, Caprino Royale, Latte Da Dairy, Pure Luck Dairy, Brazos Valley Cheese. Gift boxes range from $45-$95 and for another $20, they'll include wine. scardellocheese.com
Looking for a Texas-size collection of craft brews and spirits for your basket? Head to SPEC's for Deep Elum Brewing, Franconia Brewing, Rahr & Sons, Treay Oak Rum and Starlite Vodka. specsonline.com
SPICEMAN's FM 1410 is a quirky Dallas treasure with an 11,000-square-foot garden behind the store. Owner Tom Spicer frequently offers jars of homemade sauces, salsa, pickles or jellies. You never know what you'll find. For updates, go to the shop's Facebook page or call (214) 404-9104.
Visit any area WHOLE FOODS MARKET and just look for the Go Texan label and start filling up your cart. There are aisles and aisles of wholesome organic choices. Go to wholefoodsmarket.com for a market near you.
3. THINK OUTSIDE THE GIFT BOX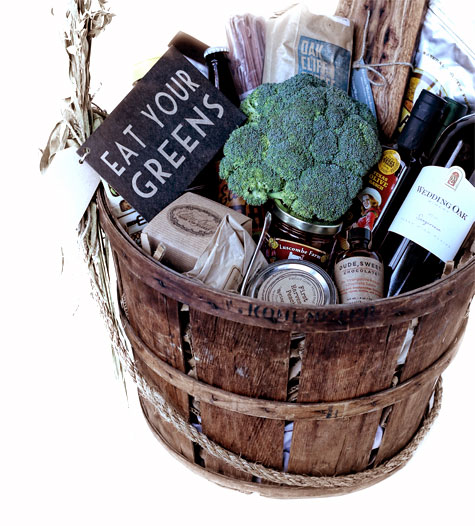 Gift Basket by Patina Green
Books, gadgets, classes and other eye-opening learning opportunities are the gifts that keep on giving.
COOKING CLASSES
Chef Sharon Van Meter's 3015 AT TRINITY GROVES offers culinary education from one-day workshops to more in-depth multiple-week classes. Skilled chefs guide students through the art of simple stirfry to handmade pasta and more. 3015dallas.com
LE CORDON BLEU RIBBON KITCHEN WORKSHOPS focus on core culinary techniques. Taught by instructors from the famed cooking school, the classes enable novices to elevate their cooking skills. chefs.com
Know someone looking to step up his or her cooking game in a serene East Texas setting? Try GREER FARM'S Farm to Fork classes. Chef Eva Greer has earned high praise for her culinary expertise. Come for the class, stay for the weekend. greerfarm.com
GARDENING CLASSES & ONE-ON-ONE INSTRUCTION
Fort Worth's ELIZABETH ANNA FARM & GARDEN MARKET offers a wealth of inspiration for backyard gardeners. Give the invaluable gift of knowledge with their farm and garden mastery classes. And for ages 7-11, an overnight farm school, scheduled for December 27. elizabethanna.net
Head to NORTH HAVEN GARDENS in Dallas and stock up on gardening gifts like books, plants and tools. But why stop there? Sign up a friend for gardening classes or hire a personal gardening coach. NHG has kits for raised bed gardens that can be installed in your gift recipient's yard. nhg.com
Andrea Bithell at OAK CLIFF ORGANICS offers custom organic garden installation and edible landscape design. She will also help with weekly maintenance to keep your garden in tip-top shape year round. oakclifforganics.com
A POTPOURRI OF FUN STUFF
GECKO HARDWARE is an urban homesteader's paradise and a great place to find stocking stuffers. Find canning supplies, chicken coops and gadgets for the backyard pioneer. From beer making to house painting, there's a workshop for the hands-on gift recipient. geckohardware.com
TRINITY HAYMARKET sells European-style scythes, hand-forged hoes from Italy, and even vintage horse drawn implements, all refurbished in Texas. If you're shopping for someone with an urban flock, a rabbit hutch or a backyard beehive, you're going to love this store. trinityhaymarket.com
Edible Dallas & Fort Worth is a quarterly local foods magazine that promotes the abundance of local foods in Dallas, Fort Worth and 34 North Texas counties. We celebrate the family farmers, wine makers, food artisans, chefs and other food-related businesses for their dedication to using the highest quality, fresh, seasonal foods and ingredients.