MISTER WOOTTON'S NEIGHBORHOOD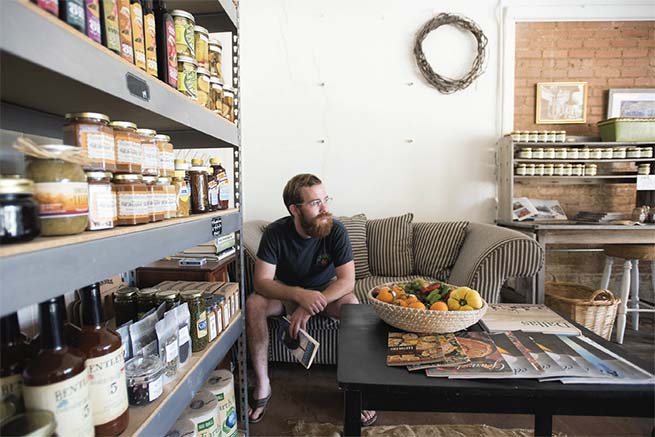 Photo by Teresa Rafid
With the Stock Exchange Neighborhood Pantry next door to his Garden Café, Mark Wootton embeds more deeply into his East Dallas micro-hood. The Pantry's a cheery place to drop in for avocados, Mill-King milk, organic taters, maybe Spaulding's Specialty Spices rose sugar or JJ&B chocolate-raspberry jam. Or linger in the reading nook, play a rescued piano, sweat a chess challenge. "I wanted to create a community space," Mark says, including a nod to the late Tom Spicer. "I've got the dime bags," Mark says, Spicer's excellent $10 mushroom assortments. Some of the 1410 vibe, too.
5308 Junius St. 469-386-4052, www.stockexchangepantry.com
GRASS-FED MEAT MARKET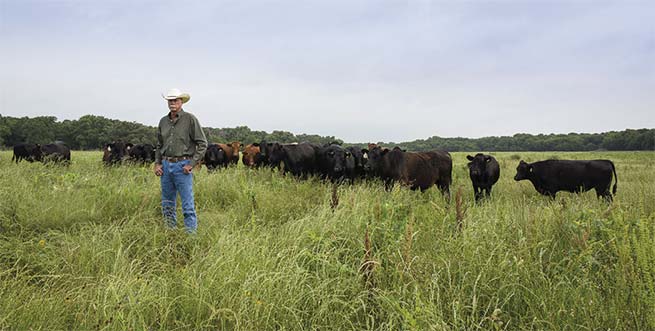 Since 1999, Wendy and Jon Taggert have delivered their pristine, pasture-raised beef to North Texans. Come October, locavores will be able to procure their beef daily, when the Taggerts open Burgundy Local Grass-Fed Meat Market in East Dallas. Besides beef fresh from the Grandview ranch, the shop will carry pastured pork from Full Quiver Farms (Kemp) and pastured chicken from Cobb Creek Farm (Hillsboro). "No frills," Wendy says, at least in the beginning. Just honest, local meats. The shop is Burgundy Beef 's third, after Grandview and Fort Worth.
3314 Ross Ave. www.burgundypasturebeef.com
THE ULTIMATE GARDEN CENTER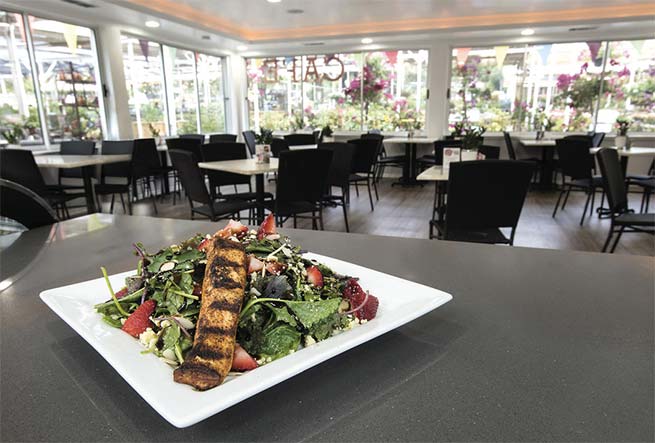 Photo by Teresa Rafidi
Upping its cool factor, North Haven Gardens has added a light-filled café and onsite art gallery. The popular North Dallas garden store is an urban oasis, a stone's throw from Central. Break for a bite before perusing the plants. The seasonal menu, created by Hell's Kitchen alumna Roe DiLeo (Henry's Majestic), is on the lighter side: chef's salad with salmon, chicken salad on Empire's Hippie Health bread, grown-up grilled cheese, tortilla soup, breakfast all day. Enjoy wine, beer and smoothies, too. Café hours: daily 10 a.m. to 5 p.m.
7700 Northaven Rd. (214) 363-5316, www.nhg.com
GARDEN TO PLATE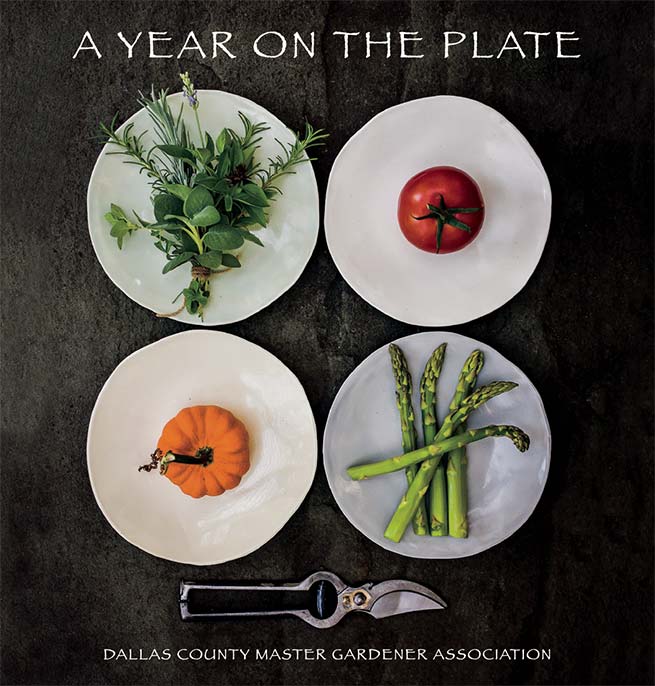 The Dallas County Master Gardeners launch their new cookbook A Year on the Plate at their annual fall garden tour on Saturday, October 1. Divided by seasons, this collection of recipes and gardening "trowel tips" offers step-by-step inspiration for growing what you eat and eating what you grow. Tour-goers can taste several garden-inspired dishes by pre-ordering brunch, which will be served at one of the five display gardens. Purchase cookbooks and tickets online or at garden stops on tour day. Tickets will also be sold at North Haven Gardens. www.dallascountymastergardeners.org
LOAVES WE LOVE
The soulful satisfaction of breaking bread goes back so far in our history, it's probably hard-wired in our DNA by now. Who doesn't love a fresh, warm slice or toasty wedge slathered with butter, dipped in olive oil or smeared with sweet jam or nut butter? Or as a base for bruschetta—or a sandwich? We have nothing but praise for the locals who put the art in artisan bread, and here we single out a handful of favorites—acknowledging that many were barely nudged-out also-rans, from Eatzi's apricot-white chocolate to La Spiga Bakery's rustic Italian.
PAIN AU LEVAIN: EMPIRE BAKING CO.

Trail-blazing Empire Baking Co.'s pain au levain best embodies the purity that owners Robert and Meaders Ozarow champion. A traditional French sourdough, it has a pale, golden crust—firm and crunchy at the base, crackly-crisp on top—with a moist crumb inside. The sourdough lends a subtle tang, making the bread a versatile player with other foods or tasty enough to eat on its own. —Teresa Gubbins
PANE AL LINO: WHOLE FOODS MARKET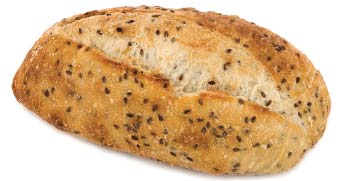 A sleeper on Whole Foods' bakery list, pane al lino or flax bread imparts a slightly tangy, nutty taste punctuated with pleasant fl ax seed crunch (bite'em to access their omega-3s). Spelt flour lends density without heaviness, and toasting heightens the flavor. Terrific with artisan butter, but will just as easily sidle up to pâté or a rich, runny cheese. Did someone say avocado? —Kim Pierce
SEEDSATION: CENTRAL MARKET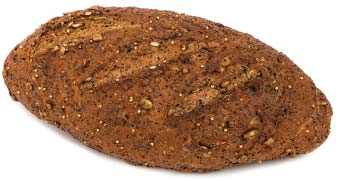 A great toaster, Central Market's Seedsation bread is a perfect holder for freshly ground almond butter and honey. Slightly sweet from honey and molasses and loaded with sunflower and pumpkin seeds, this bread's a total omega-3 bomb, and has a great crunch on its own. Also available in a half-loaf, (like all the breads at Central Market), so you won't waste a single crumb. —Ellise Pierce
SOURDOUGH: D'S SOURDOUGH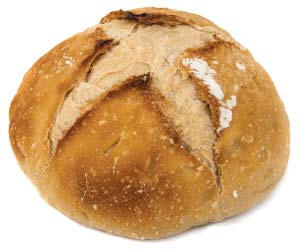 A Dallas Farmers Market favorite, this all-purpose rustic boule is handcrafted by artisan baker Debra Piedra from organic ingredients: "flour, water and time." Moist, springy slices crisp up to make an out-of-this-world grilled cheese when paired with melty Gruyère or fontina, a smear of fig jam and a swipe of butter. Also try the herb-flecked Rosemary and Sea Salt Loaf. —Terri Taylor
CULTURALLY DIVERSE CUISINE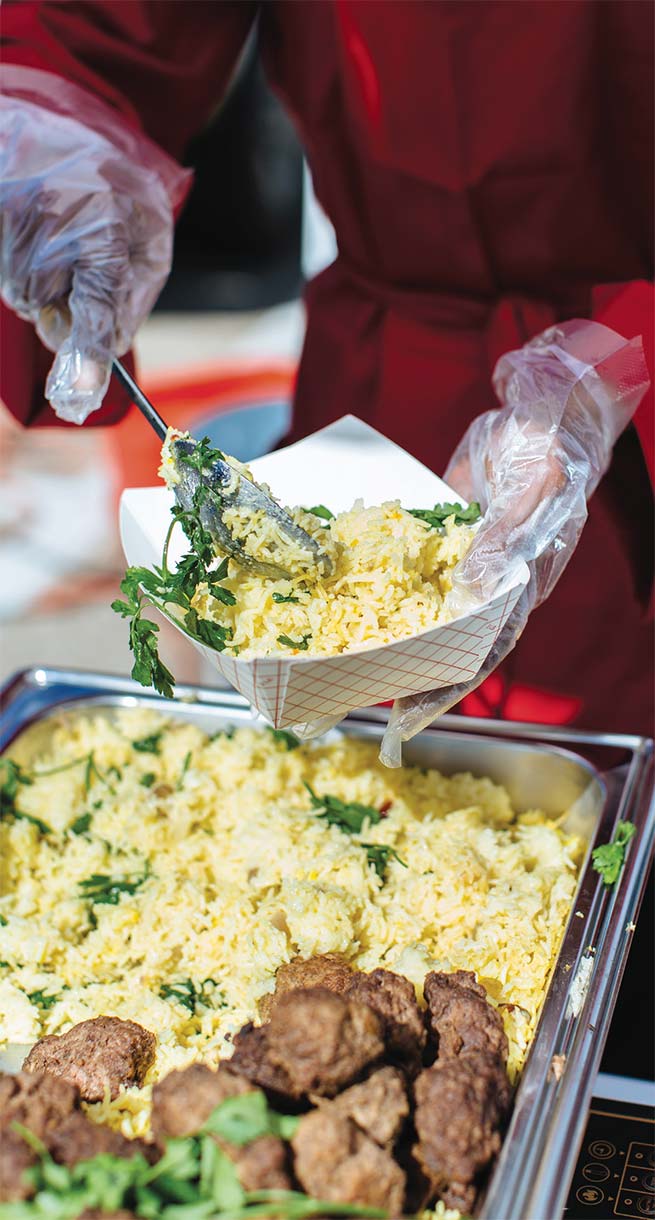 An incubator program for community chefs is budding at Trans.lation Vickery Meadow, the arts and cultural center serving this neighborhood's richly diverse immigrant population. Look for monthly notices on their Facebook page about boxed lunches to go. Past plates have included tabouleh and falafel, chicken mole with homemade tortillas, koft a (beef meatballs) with okra and rice. Participants hail from myriad locations: Eritrea, Iraq, Mexico and Myanmar. On occasion, they also set up at one of the Good Local Markets (www.goodlocalmarket.org). Catering options are available. Contact director Carol Zou at [email protected].
8361 Park Ln. FB: Trans.lation Vickery Meadow.
Edible Dallas & Fort Worth is a quarterly local foods magazine that promotes the abundance of local foods in Dallas, Fort Worth and 34 North Texas counties. We celebrate the family farmers, wine makers, food artisans, chefs and other food-related businesses for their dedication to using the highest quality, fresh, seasonal foods and ingredients.