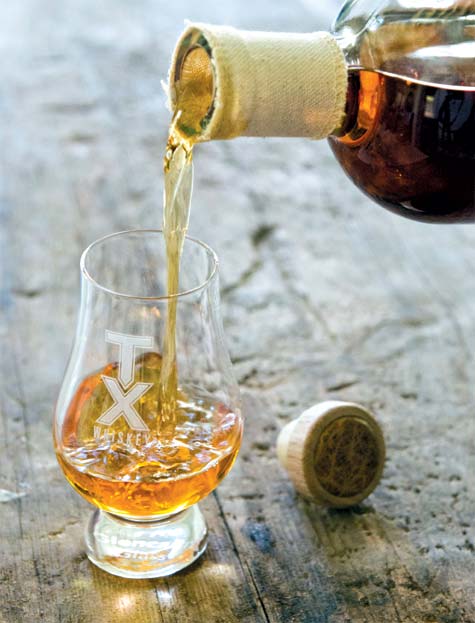 STORY BY JULISSA TREVIÑO
PHOTOS BY DANNY FULGENCIO & MATTHEW RAINWATER
Outside the renovated warehouse, an aroma—sweet and yeasty—wafts from an opened, roll-top door. A decorative whiskey barrel emblazoned with the initials F&R hangs from the brick façade, offering a hint at what's "cooking" inside. This is home to Firestone & Robertson Distilling Co., the first bourbon maker in North Texas.
"We take a lot of pride in what we've done with the building," says F&R's co-owner Leonard Firestone as he welcomes our tour group to the distillery located in Fort Worth's Near Southside district. The space is full of light with high ceilings and exposed brick walls. Upon entering the foyer, one of the first details guests notice is a large wall crafted from hand-stacked firewood, an artistic feat that took Firestone and his business partner Troy Robertson four months and three cords of wood to build.
Firestone gives details about the history of this 1920s era building and its renovation. But the building isn't the main attraction here, nor is it the only thing becoming more distinguished with age. In a loft over the production area, the first batch of North Texas bourbon is aging in 53-gallon American oak barrels, developing its unique character notes, improving with time. Barreled in March 2012, it will remain here for at least two years.
The production floor with its shiny copper stills and distilling equipment has the appearance of a giant science lab. And indeed, much science goes into producing this uniquely American spirit. A common misconception is that bourbon can only be produced in Kentucky, where its namesake county is located. Not so, says Firestone. "Bourbon is a registered American product so it can be made anywhere in the U.S. if it satisfies [certain] criteria." National law states that it must be made in the United States, from at least 51 percent corn and, in the case of straight bourbon, aged for at least two years in charred oak barrels. Other grains used in the process include some combination of malted barley, rye or wheat.
So what will distinguish this North Texas bourbon from its counterparts elsewhere?
"In trying to produce an authentically Texas whiskey," says Firestone, "we really are focused on finding the best Texas grains that we can, so that, in the end, they serve as a real differentiator with other bourbons in the market."
F&R uses homegrown corn, either from North Texas or the Panhandle, depending on the season. Texas climate and soil contribute to the corn's flavor, making it different than corn grown in the Midwest. Much of what F&R uses is a variety known for its sweetness. And rather than add rye to the mash, which results in a spicier bourbon, F&R uses Texas soft red winter wheat, which imparts a mellower flavor.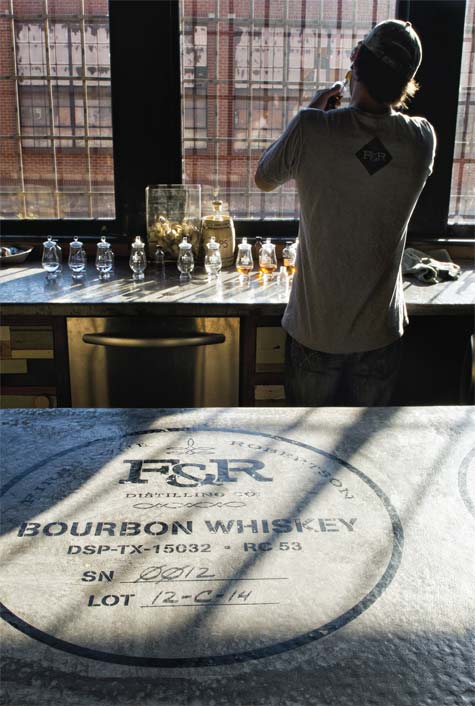 During the mashing process, the corn and wheat are cooked with water to break down the starches. Later, malted barley is added to convert those starches into fermentable sugars. Though F&R's barley isn't Texas grown, it comes from Rahr Malting Company, bringing a local tie to Fort Worth's own Rahr & Sons Brewing Company One of the most interesting—and local—aspects of F&R's fermentation process is the proprietary strain of yeast they have cultivated. According to head distiller and Kentucky native Rob Arnold, most of today's craft distilleries use a version of the same lab-manufactured yeast. This provides consistency, but results in flavor similarities between various whiskeys. Distiller's yeast wasn't available commercially until after Prohibition. Before that time, distillers found their own yeast strain in the wild.
"The flavor diversity has suffered," says Arnold. "Yeast will contribute up to a quarter of the flavor of a whiskey. What we wanted to do was respect the tradition of isolating a proprietary yeast, and not just for the sake of doing it, but because we wanted to develop unique flavors in the whiskey that wouldn't be [produced] by using a commercial strain."
He began by taking samples of local nuts, fruits, seeds, soil and bark from a ranch in Glen Rose. Using lab space at Texas Christian University, Arnold, who has a background in biochemistry, tested over 100 samples of yeast, finally narrowing it down to three or four possibilities.
A yeast strain isolated from a pecan nut delivered the best results. "Not only did it work well with the mash, it also produced the most distinctive bouquet of flavors," says Arnold, "It had a lot of unique notes that I didn't smell or taste in the commercial strain fermentations." This yeast has been nicknamed Brazos, and it is propagated on-site, something done in only a handful of distilleries. According to Arnold, in the American whiskey industry, a proprietary yeast strain hasn't been isolated since Jim Beam captured the strain used by that distillery today.
Before it's barreled, the un-aged, crystal clear whiskey is called White Dog. "There's a lot of character in our White Dog," says Arnold. "There are a lot of fruit flavors, a lot of floral flavors. It's got that sweet corn to it." The bourbon is tested regularly through its maturation process, and development is noticed quickly. Even after nine days, it's the color of apple juice.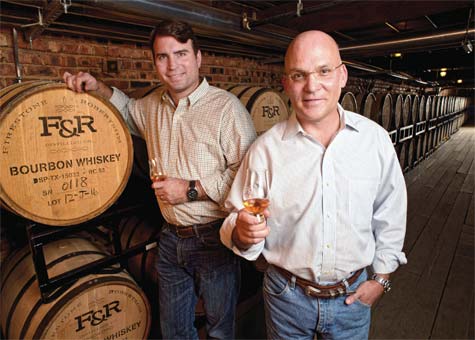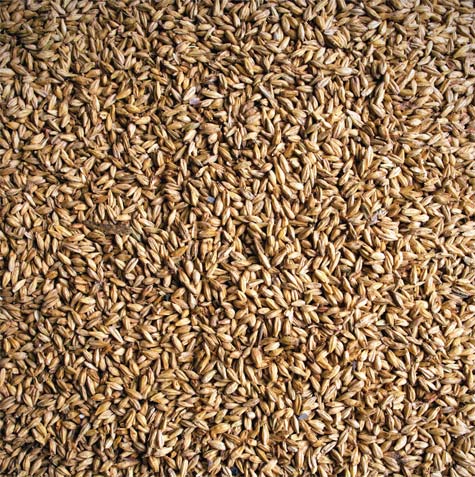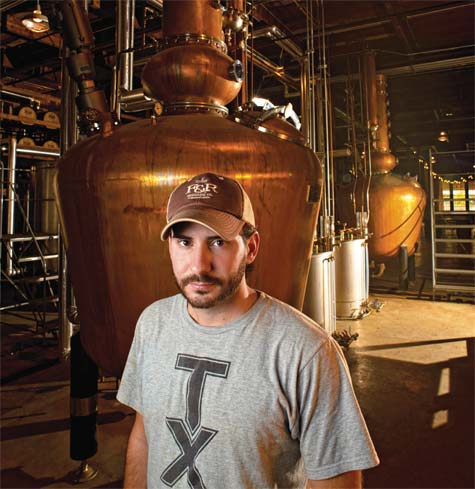 (Top) Troy Robertson and Leonard Firestone, co-proprietors of
Firestone & Robertson Distilling Co.;
(Bottom) Rob Arnold, head distiller
The charred oak barrel also adds to the flavor. "It's already picking up barrel characteristics like it should," says Arnold. "It's picking up notes like vanilla, caramel, some of that toasted sugar from the oak. It's getting a lot of color from the oak. What hasn't kicked into gear yet is the oxidation process. It's happening right now as we speak, and that's really going to reveal some surprises."
According to Firestone, the North Texas weather will also play a role in the way the bourbon reacts with the oak barrels. For once, Texas heat could be a good thing, creating distinct flavor notes as the oak and spirits interact. It's also possible that the heat could speed up the aging process though Firestone is quick to add that nothing will be rushed. They will be monitoring it every step of the way. Back in the tasting room, a shelf with bottles and jars shows various stages of distillation. Our tour group gathers around a bar crafted from whiskey barrels to learn more about the process and history of Robertson, Firestone and Arnold.
It's been five years since Firestone and Robertson began to dream, albeit separately, about opening up a distillery. While they knew each other through their kids' playgroups, they had no idea the other was interested in whiskey. When it became clear they both wanted to open up distilleries, they quit their jobs and decided to partner up. "We managed to create something bigger with the two of us," Firestone says.
During his childhood, Firestone helped harvest grapes at his uncle's vineyard in California. His father owns Firestone's Culinary Tavern in Frederick, Maryland. Robertson, a native Texan and graduate of Texas Tech, worked for a decade in the energy business before becoming intrigued with the thought of owning a micro-distillery.
Arnold's long-rooted interest comes from his uncle and grandfather who worked in the bourbon industry in Kentucky. He, too, was thinking of opening up his own distillery when he found out about Firestone and Robertson. "We had very similar ideas for what we wanted…It was just a good match," he says.
So what's a bourbon lover to do while waiting out the aging process? Firestone and Robertson have an answer for that. Our tour group bellies up to the bar for a taste of their already released blended whiskey called TX. In stores and restaurants around the Metroplex, TX has been flying off the shelves. It's a secret blend of several premium whiskies from various American distilleries. While waiting for the bourbon to mature, TX is a perfect introduction to the Firestone and Robertson brand.
"We really didn't see a premium American blend on the market so we saw that as an opportunity," says Firestone. "We think we've captured a spectrum of flavors. The result is a very smooth and pleasing whiskey."
Says Robertson, "It is so smooth, so approachable, that people who have historically not liked whiskey are enjoying it." Another local detail—TX bottles have handcrafted tops made with leather cuttings from M.L. Leddy's, a Fort Worth retailer known for its custom boots and saddles. "I love the aspect of all things handmade," says Robertson.
As important as those small details are to the pair, Firestone and Robertson are hoping to have a big impact—one that goes beyond selling whiskey.
"Over the last two decades, [the wine industry] has done a really great job of opening up the wineries" Robertson explains, "showing people how things are done and the differences between wines, and people have been getting educated. You're seeing an increase in wine consumers and also an increase in different varietals. We hope that's what we can do with whiskey."
Edible Dallas & Fort Worth is a quarterly local foods magazine that promotes the abundance of local foods in Dallas, Fort Worth and 34 North Texas counties. We celebrate the family farmers, wine makers, food artisans, chefs and other food-related businesses for their dedication to using the highest quality, fresh, seasonal foods and ingredients.