By Jef Russell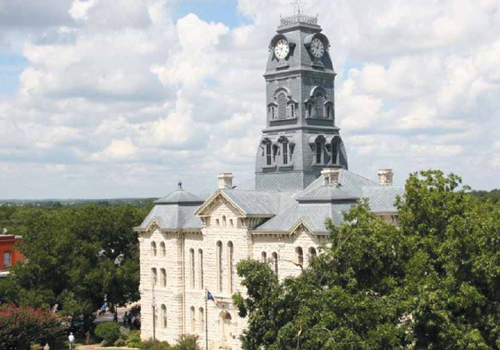 Granbury Texas, located less than a one-hour drive southwest of Fort Worth via US Highway 377, offers the serenity and charm of a cozy, small town with the amenities of a big city. This alluring, tranquil community of slightly more than 8,000 residents is replete with a pristine lake, beach, gingerbread style homes, the quintessential town square, a vineyard/winery, restaurants galore, accommodations to please every desire, a drive-in movie theatre and a partridge in a pear tree (maybe it was a dove). Located at the extreme northern reaches of the Texas Hill Country, this peaceful mecca with its gently contoured land is reminiscent of a marcel hairstyle. The town was named after Confederate Brigadier General Hiram Bronson Granbury who fought in the Civil War.
The adventure begins near the Courthouse, which is listed on the National Register of Historic Places and designated as the Hood County Courthouse Historic District. Built in 1890 of Brazos Limestone in the Second Empire style, it is a three-story structure with a lighted clock tower reminiscent of the building in the movie Back to the Future. Each space on the square is occupied by a tantalizing variety of dining, shopping, entertainment and business venues. An 1886 vintage building houses The Granbury Opera House that specializes in Broadway inspired productions and serves as a training ground for aspiring actors. Granbury Live is the year round home of an eclectic blend of shows featuring everything from rock 'n' roll reviews to a stellar Christmas event. Yee-ha, y'all.
The Bisque House is a delightful destination for all ages where you can express your artistic talents. Visitors are inspired to create special treasures that include glass objects, pottery and jewelry. Special classes and workshops are also offered. Additionally, an endless variety of shopping possibilities around the square including clothing,
jewelry, antiques, western home furnishings and merchandise, books, and works by Texas artists make for an all day shopping experience. From the novice to the experienced gourmet, The Pan Handle offers cookware, accessories, specialty foods, custom gift baskets and gourmet cooking classes featuring high profile guest chefs.
An overwhelming selection of dining options abounds within a long birdie putt of the county edifice. Selections from high end to budget conscious are all available in casual settings. Steaks, Mexican, fried chicken, Cajun, Bar-B-Q, sandwiches, burgers, seafood, salads and beverages of all varieties are offered in Granbury's vast array of restaurants. Locally grown food is part of the menu in many restaurants. Rinky-Tinks, a classic 1950s style ice cream parlor and sandwich shop offers frozen treats.
The new kid in town, or more appropriately, on the square, adjoins the Nutt House Historic Hotel and is aptly named Café Nutt. The maestro of the stove is the deservedly well-decorated chef Tom McGrath.
McGrath, a graduate of the Restaurant, Hotel and Institutional Management program at Texas Tech University, also received a degree from the prestigious Culinary Institute of America in Hyde Park, New York. In addition to orchestrating the newly opened Café Nutt, he is the owner/executive chef along with wife Andi, of Ultimate Cuisine and Events in Fort Worth.
McGrath's menu is continually changing. Currently on his "minis" menu you will find such tantalizing treats as Quail Lollipops, Warm Unbaked Brie and Broiled Figs. Main offerings include, Chicken Fried Tenderloin "Stake", Braised Beef Short Ribs, Nutt Scampi and Summer Vegetable Plate among others. His side dishes are not to be missed and are headlined by Smoked Cheddar Mac & Cheese and Baby Spinach Casserole. Eagerly awaiting local farm products showing up at his back door, McGrath's cooking philosophy is reflected in his menu, simple and fresh.
Barking Rocks Vineyard and Winery, a mere ten-minute jaunt from the center of town, is a perfect next stop. At the vineyard's entrance you'll find the sign, "Open Saturdays or by Chance." This portends my delight in visiting with Tiberia, the winemaker who prefers to go only by that one name, and his wife Sissy, resident character and bon vivant.
Tiberia's parents came to the US via Ellis Island and settled in New York State. Finding his own way to Texas in the 1970s, he began making wine as a hobby while working for Texas Electric. Spinning his avocation into a career after receiving his enology degree from Grayson County College, he now makes wine full-time.
A well-manicured, verdant plot of Black Spanish grapevines, vigorous, extraordinarily pest resistant and tolerant of blistering heat and drought, highlights the winery grounds. Tiberia explained that he learned the lesson of what kind of grapes were suited to the Texas climate as the result of an earlier failed effort with other varieties that weren't so well suited. Most of the grapes he bottles are grown in other West Texas vineyards.
He does envision, however, a time when Barking Rocks will have the capacity to bottle estate grown wines. His current varieties include Sangiovese, Cabernet Sauvignon and Viognier. His 2004 Sangiovese won a medal in the 2007 Lone Star International Wine Competition.
Tiberia believes there is a tremendous opportunity for expansion for the grape and wine industry throughout Texas. Approximately 95% of the wine produced in Texas is consumed within the State, but State wineries provide only 5% of the total consumption by Texans. He gives Susan Combs, who served as a Commissioner of the Texas
Department of Agriculture from 1999-2007, the lion's share of credit for turning Texas winemaking into a serious industry. Tiberia's credo about wine and winemaking is "Good Wines are Wines that Taste Good to You!" Wine tastings are available for a nominal cost each Saturday afternoon. Cheers!
Many other attractions are conveniently located within a short drive from the town center. One of the last remaining outdoor movie theatres in Texas, The Brazos Drive-In Theatre, is open year round and offers a double feature each Friday, Saturday and Sunday. Just like the old days, admission is charged per vehicle, and you can stay for both shows.
An endless variety of lodging beckons visitors to relax and enjoy in a comfortable, welcoming atmosphere. Numerous Bed & Breakfast possibilities, many within walking distance of the square, offer luxury at value priced rates. National chain motels, inns and suites, mostly newly opened, dot the landscape off of US Highway 377 and near
the lake. Rental houses are plentiful and affordable for most budgets. Granbury is most assuredly a "kick off your shoes destination."
Edible Dallas & Fort Worth is a quarterly local foods magazine that promotes the abundance of local foods in Dallas, Fort Worth and 34 North Texas counties. We celebrate the family farmers, wine makers, food artisans, chefs and other food-related businesses for their dedication to using the highest quality, fresh, seasonal foods and ingredients.