VEGGIE YUM
Prefer to skip the meat? Here's Garden Café's deliciously filling veggie burger recipe. Accompany your local burger with one of these veggie-centric side dishes—like grilled summer squash with spicy yogurt dipping sauce; blueberries and watermelon chunks tossed in feta; or field peas and heirloom tomatoes drizzled with smoky Thousand Island Dressing. For dessert, how about refreshingly minty melon pops or layered berries 'n lemon pound cake in a jar? All are stunning displays of summer's best pickings.
RECIPES
Farm-Fresh Blueberries & Melon with Feta
East Texas Field Pea Salad with Barbecued Thousand
Island Dressing and Heirloom Tomatoes
Melon and Cucumbers with Pepper & Lime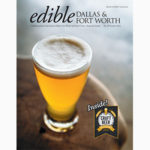 Edible Dallas & Fort Worth is a quarterly local foods magazine that promotes the abundance of local foods in Dallas, Fort Worth and 34 North Texas counties. We celebrate the family farmers, wine makers, food artisans, chefs and other food-related businesses for their dedication to using the highest quality, fresh, seasonal foods and ingredients.