THE GLEANING NETWORK OF TEXAS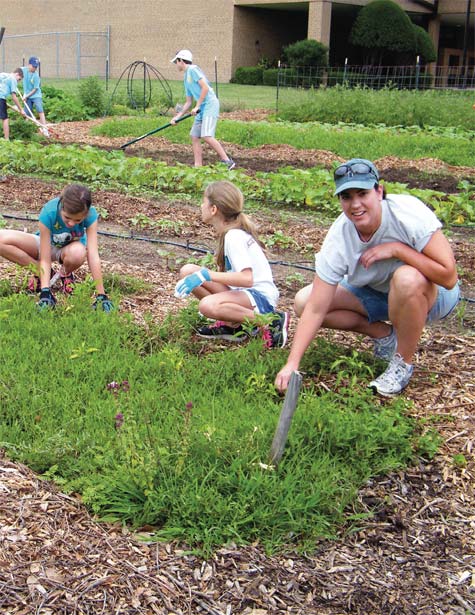 Susie Marshall, Photo by Marie Tedei
The act of gleaning—gathering what remains in a field or orchard after the harvest—traces back to Biblical times, when charitable landowners left excess crops on the ground to be collected by those less fortunate. Today, the volunteers of the Gleaning Network of Texas continue this humanitarian tradition, collecting unwanted vegetables and fruits from post-harvest fields and orchards, and from wholesale distributors. Serving as the link between the food producers and the food assistance agencies, volunteers deliver these perishable foods to local homeless shelters, soup kitchens and food pantries. According to founder Susie Marshall, the Gleaning Network gathers thousands of pounds of produce each year, gleaning from berry and fruit orchards in the early summer and from sweet potato fields in the fall.
On October 27, the Gleaning Network will hold its annual Sweet Potato Round-up in fields near the East Texas towns of Emory and Golden. Marshall is hoping for a turnout of 200-300 volunteers. "The drought and certain other weather events have hurt us the last couple of years. But if all the stars line-up, we could collect more than 30,000 pounds of potatoes." The event is planned to coincide with The Golden Sweet Potato Festival. "Volunteers can mix pleasure and work," says Marshall. "We'll work the fields in the morning and in the afternoon, there will be time to visit the festival."
The USDA estimates that 20% of all food grown in our country is wasted because it is overlooked during mechanical harvesting or because it is not commercially marketable due to its imperfections or because of overproduction. If not salvaged, leftover crops rot and are plowed back into the field or end up in landfills, wasting not only the food, but also the time and water utilized to grow it. The monetary loss is around $31 billion. More importantly, a valuable food source is lost to those in need. It is estimated that 33 million Americans regularly go without food. More than three million of them live in Texas.
Marshall, an activist passionate about building a just and sustainable local food system, is expanding the program's reach. "Because gleaning is seasonal, we also want to engage our volunteers in other ways," says Marshall. Year round, Gleaning Network volunteers are helping in community gardens where extra hands are always needed. "By being involved with planting and weeding, as well as gleaning, we get to experience the full cycle," says Marshall. "It's gratifying to know that we are helping people. It's also a lot of fun to play in the dirt!" www.gleantexas.org
DALLAS FARMERS MARKET
WELCOMES LONE STAR CARDS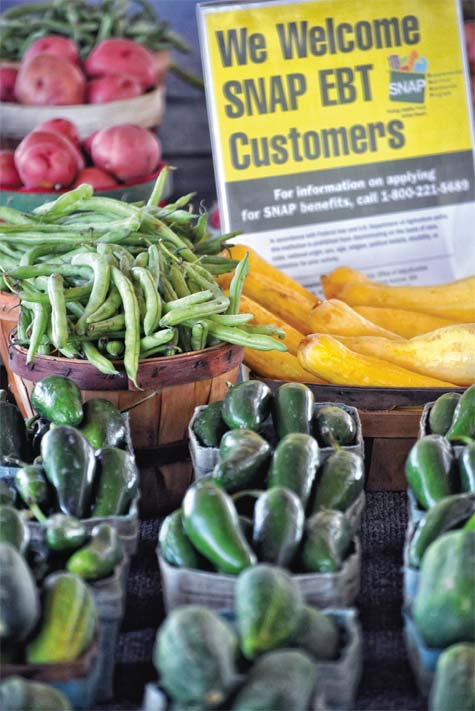 Photo by Debbie Bozman-Zook
All North Texans, regardless of income and circumstance, should have access to affordable, fresh foods. Helping our area achieve that goal, the Dallas Farmers Market is now accepting the Lone Star Card, a food stamps benefits card, federally funded by SNAP (Supplemental Nutrition Assistance Program).
Participants can use their card to purchase seasonal vegetables, fruits and meats from participating local DFM vendors. The beneficial program is also in place at the White Rock Local Market, Cowtown Farmers Market, Keller Farmers Market and Coppell Farmers Market.
Last fall, the Dallas Farmers Market Friends, the non-profit support group for the Dallas Farmers Market, secured the necessary licensing to enable SNAP for the city-owned market. By the time the farmers began bringing in the first crops of 2012, the DFM Friends had office space at the market and a list of farmers and ranchers to kick off their SNAP pilot program. By June, the program was in full force.
"The Dallas Farmers Market is a year-long farmers market, well situated to serve those in need," says DFM Friends president Debbie Bozeman- Zook. "If you look at any map of Dallas showing the concentrated areas of our food deserts (neighborhoods without easy access to fresh, healthy and affordable foods), you'll see that the Dallas Farmers Market is in a prime location to serve those communities."
Too often, low-income families reside in areas serviced only by minimarts with shelves of cheap, processed foods, which contribute to obesity and health problems. Food pantries must often make do with canned and frozen food that has an extended shelf life. The availability of affordable, fresh fruits and vegetables through farmers markets offers a means for SNAP participants to improve their health and to teach their children the value of good nutrition. It is estimated by the Department of Agriculture that half of all SNAP recipients are children.
"People can purchase tokens with their Lone Star EBT card and use them to buy food from our local producers," says Bozeman-Zook. "This gives that person the opportunity to meet the farmer who grew those tomatoes that he or she is holding. I tell my farmers that they will never meet a more appreciative buyer. That makes them smile."
Participants can receive redeemable tokens at the SNAP office located at the DFM Administration Offices from 9am-5pm Friday-Sunday. Participating vendors will display the SNAP and Lone Star Card Accepted signage. www.dallasfarmersmarket.org
MEAN GREENS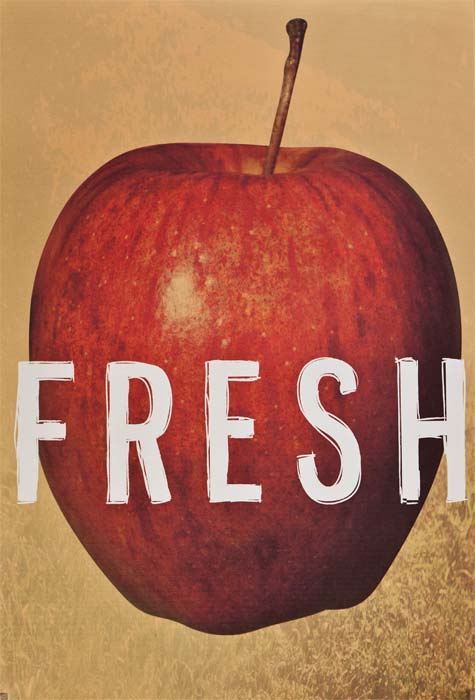 By Ellen Ritscher Sackett • Photos by Thorpe Griner
Mean Greens, one of five dining halls at the University of North Texas, made history when it opened in time for the academic year last fall. It is the first—and so far, the only—100 percent vegan university cafeteria in the nation, born from repeated student requests for more healthy options on campus.
At first glance, Mean Greens—whose name is word play on the university's mascot, the "Mean Green Eagles"—is like any other school cafeteria. The walls are painted bold and bright, contemporary rock is piped in, and rows of large tables and long booths offer side-by-side seating. Staff, wearing aprons and hairnets, serve students from behind two hot lines, and a salad bar offers fresh veggies, fruits and soups. Students can nosh on pizza, eat cereal any time of day, satisfy a sweet tooth with cookies and baked desserts and fill their glasses with sodas, juice, water and tea to wash down their meals.
But you can't miss big letters spelling out V E G A N partitioning off the dining area and the hand-painted quotes from Albert Einstein and Mahatma Gandhi on the walls touting the benefits of a plant-based diet. There's no meat or fried food to be found. The hot lines offer loads of veggies, beans and grain options that change every day. Soy replaces dairy in the milk dispenser, grilled vegetable paninis and baked sweet potato fries take the place of traditional burgers and fries, and diners can help themselves to soy soft-serve ice cream cones that rival any other. Without trays, diners take only what they can carry, which reduces waste as well as overeating. The students have input and make suggestions posted on a corkboard, and no one mentions the need for meat or dairy, which are offered at the other dining halls. Every meat-eater polled said the same thing: they eat at Mean Greens simply because it's good food.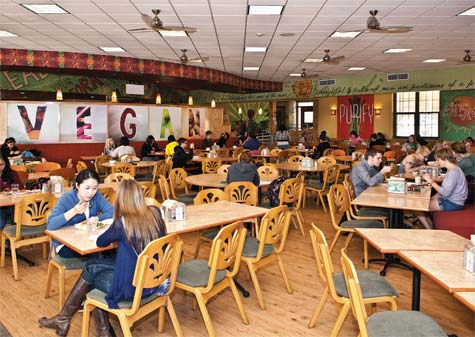 Unlike most college campuses, UNT Dining Services does not outsource its food services; it is the largest self-operated food service operation in Texas.
"We are committed to bringing the same healthy foods to all of our dining halls," says Ken Botts, special projects manager for UNT Dining Services. Another recently renovated cafeteria added a vegan hotline with 20 different vegan sides and entrees. "We feature vegetarian options in all of our dining halls, 13 retail locations and in our full-service restaurant, Avesta," says Botts. Unlike most college campuses, UNT Dining Services does not outsource its food services; it is the largest self-operated food service operation in Texas.
The response to Mean Greens "has been over the top since day one," says Botts, who has been involved with the cafeteria every step of the way. The decision to turn the existing Maple Hall cafeteria into a pure vegan self-serve restaurant drew media attention and accolades from all over the world. It has received awards from The Physicians Committee for Responsible Medicine (PCRM) and PETA's youth division, peta2, and other campuses have voiced interest in following its model. "The best response was from our students," says Botts. When the cafeteria opened, "lines were out the door, and there was hardly a seat to be found."
Campus Sustainability Day is October 24. For more information on UNT's commitment to maintaining a sustainable campus: https://sustainable.unt.edu
Edible Dallas & Fort Worth is a quarterly local foods magazine that promotes the abundance of local foods in Dallas, Fort Worth and 34 North Texas counties. We celebrate the family farmers, wine makers, food artisans, chefs and other food-related businesses for their dedication to using the highest quality, fresh, seasonal foods and ingredients.