GARDEN CAFE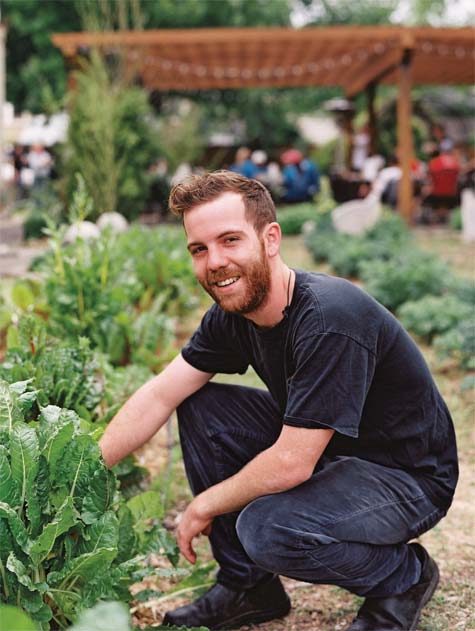 Mark Wootton
Story by Kim Pierce • Photography by Melinda Ortley
You will find the Garden Cafe in a refurbished strip center tucked incongruously in a Junius Heights residential enclave.
There's a real garden out back, with chickens. The center was supposed to be an office building, but lawyer Dale Wootton had other ideas when he purchased it in 1991. "The previous owners gave him plans for an office building and parking lot," says Mark Wootton, Dale's son and manager of Garden Cafe. "He spent a lot of time and money to renovate what was there." Indeed, if you go to the website, there's a photo of the boarded-up brick edifice.
The funky, fast-casual eatery opened in 2002, and by 2010, the latest in a string of managers had quit. Dale was ready to fold, says Mark, who had just resigned from Central 214. "I asked if I could give it a shot." Not convinced he was up to the task, the senior Wootton hired him as lead cook. "It was kind of a test period," Mark says. After three months, he stepped up to manager.
The transition had its moments, he says, but eventually he and the café found their way. He started by kicking the canned and frozen veggies in favor of fresh. He emphasized the garden as a kitchen asset and began to incorporate local sourcing. He asked on Facebook if people would pay $1 extra for local, pastured eggs, and the answer came back a resounding "yes!" Mark has become an advocate for Texas food producers, and the restaurant frequently hosts events that support local food initiatives.
Now a garden manager oversees the spread flanking the patio with the help of all the staff. This season promises tomatoes, okra, salad mixes, herbs and more. To augment, says Mark, "I have [local goods] delivered from Comeback Creek Farm [Pittsburg], Marie Tedei's [Eden's Garden CSA Farm, Balch Springs], Peace and Love Farm [Windthorst], Turning Point Ranch [Proctor], and WE Over Me Farm [Paul Quinn College]—oh, and Spiceman." That's Tom Spicer, nearby urban farmer and produce broker at FM 1410.
Open only for breakfast and lunch, Garden Cafe's a hippie-home-cooking throwback that includes occasional Poetry Night dinners.
It's also a cozy venue for private events. Among many excellent dishes, Thursday's special chicken-fried steak stands out, returned to the cast-iron skillet tradition by Mark. And the omelets continue to fuel the café's reputation. "We don't roll the veggies into the eggs. We sauté the veggies, then put them in the pan with the eggs. The way we cook it, it rises up a lot—nice and big and fluffy." Did we mention that Dad's proud?
POP STAR HANDCRAFTED POPSICLES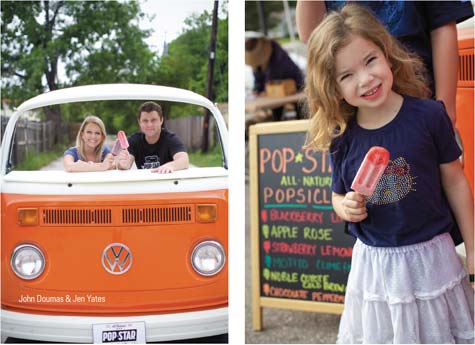 Story by Kim Pierce • Photography by Melinda Ortley
One of my most enduring images of Pop Star Handcrafted Popsicles is of a tiny munchkin at White Rock Local Market, perhaps three years old, clutching a couple of cold pops to her chest and wailing, "Mine! Mine!" when someone, no doubt a parent, tried to take one away. Yes, Pop Star, the stall with the Volkswagen bus front, has its fans. I don't know which flavor the tot was embracing as if it held her very life force, but all of John Doumas' frozen pops are easy to like, from strawberry-lemonade to the most popular summer pop, terrifically cooling cucumber-lemon-mint. The fruit-based bars come in around 50 to 60 calories each, he says, and they're not overly sweet.
"I'm health-conscious," says Doumas, whose day gig is interactive consulting. "I limit sugar. I'm looking for alternative sweeteners. I use organic evaporated cane juice [from Sugarland], organic fruits, if possible, and local, if possible." That means we can look forward to locally sourced fresh peach bars and watermelon-lime this summer. Doumas also partners with Noble Coyote Coffee Roasters, another local artisanal producer, to create a very grown-up brew coffee pop. And he reckons he'll bring out lavender-lemonade later this summer.
Doumas started Pop Star early last year. "I had turned 40," he says, "and wanted to learn something new." He just happened to love frozen pops. "I had been buying a certain brand, and they stopped making them. I thought, 'Why don't I make my own?'" That was the spur and inspiration for his cool venture. "I started researching and playing around in my kitchen." Wife Jen Yates joined him in the venture. By summer, a friend encouraged him to sell his pops at White Rock Local Market, and he started with a Mexican pushcart.
These days, the Pop Star booth stands out as the only one with the quirky VW bus front, which he got from a friend in the prop business. "In the work I do, I'm exposed to a lot of designs and styles, and I've always liked the retro or vintage look. The VW buses are iconic, and it's a neat way to serve and draw attention."
But about that name: Sooner or later he's going to have to give up the "Popsicles" part, when the Joe Lowe Co., which owns the Popsicles brand, comes gunning. But a Pop Star by any other name will still taste as luscious.
PUTTING HEALTH
BACK IN GLUTEN-FREE
The Good Karma Kitchen Food Truck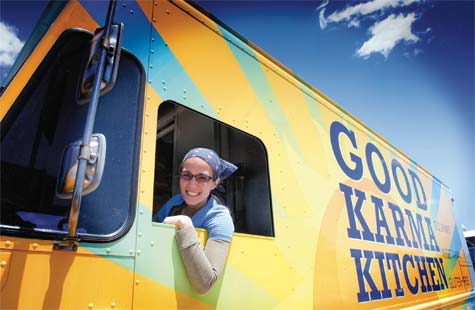 Christina MacMicken
Story by Sarah Junek • Photography by Matthew Rainwater
When food truck chef Christina MacMicken of the Good Karma Kitchen started eating gluten-free a few years ago, she began taking a hard look at labels. Sugar. Fat. Salt. Many gluten-free products were as nutritionally void as mainstream processed foods.
MacMicken and Good Karma Kitchen co-owner/chef Megan Topham had just launched a personal chef business specializing in vegetarian cuisine. The day after their launch party, they received some life-altering news. Topham's doctor diagnosed her with celiac disease, a condition caused by the gluten proteins found in grains such as wheat, barley, rye or spelt. The news ended their business before it began.
That's when their journey took a turn, MacMicken explains from a sunny picnic table at Fort Worth's Clearfork Food Park. Finding themselves with no healthy choices, the partners changed plans and launched what is at this writing the only gluten-free food truck in North Texas. In addition, their kitchen offers safe options for those with dairy or nut allergies, as well as those wanting organic, vegetarian, vegan or simply delicious healthy options. "It's pretty amazing to reach people who wouldn't typically eat vegetarian at all," says MacMicken.
These days, she teaches classes on how to perfect gluten-free desserts at home and answers the call when someone with a food allergy says, "I have no idea what I'm doing. Can you come in and teach me some things?"
Recipes and flour blends take months to perfect, and MacMicken's love for Asian cooking leaves her hands tied even more during the creative process. "No Asian food is naturally gluten-free," she says. "We have to make our own sauce to make a sauce to make another sauce." With everything made from scratch and in a gluten and nut-free, highly controlled environment. "It's very time consuming, complicated and insane."
But the work has paid off. Their Pan Asian Noodle Soup made it to #1 on the DFW Food Truck Foodie's Top Dishes List for 2012. "It's the dish I wish I had all the time," praised the top North Texas food truck blogger, Stephanie Hawkes, for its depth of flavor, spicy shiitake mushrooms and gluten-free noodles.
They get much of their organic produce through Natural Grocers and Whole Foods, balancing quality ingredients with local sources like the WE Over Me Farm at Paul Quinn College in Dallas. MacMicken has lectured at the Tarrant County College Southeast Campus Culinary Arts School and found that there's an interest in starting a sustainable organic garden for chefs there.
Topham is the Director of Operations for the UTA: Fort Worth Center, home to the Sustainability Institute and located in downtown Fort Worth's historic Santa Fe Freight Depot. She makes sure the truck, named Lucy, is on the cutting edge of sustainability. They use recycled utensils made from potato starch and are diligent about composting.
The family business is expanding with her sister, Aubree Topham, now at the creative dessert helm and her mom, Linda Lancaster in charge of expanding their manufacturing side of the business. They plan to offer grab-and-go fresh packaged foods at grocery stores, as well as flour blends, and gluten or dairy-free sauces, like their vegan ranch dressing. They are also partnering with local pizza kitchens that want to add gluten-free pizza to their menu.
MacMicken gets great joy from throwing private pizza parties for kids with autism or for those who can't have dairy or gluten. "I love reaching out to those customers," she says. "They're the reason we're doing this. We're offering something that didn't exist before for them."
RECIPE
Balsamic-Infused Watermelon Salad
BIG CAT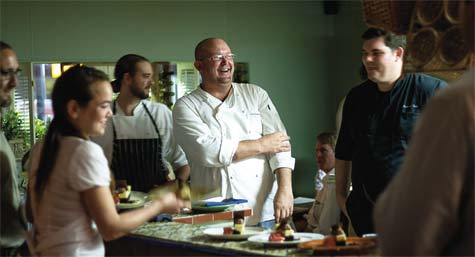 Story by Kim Pierce • Photography by Robert Bostick and Lauren McClure
The untimely death of restaurateur Randall Copeland on April 2 sent shock waves through the Dallas farm-to-fork community. Guitar-strumming, people-loving "Big Cat," as he was fondly known, went to sleep and simply never woke up. He was 39. The partner in Restaurant Ava in Rockwall (since closed) and Boulevardier in the Bishop Arts District had a knack for bringing people together, say his contemporaries, and he never missed an opportunity to participate in charitable events.
A Dallas native, Randall was overseeing Restaurant Ava when he died. Before that, he was the opening sous chef at Bolsa. After he attended Skyline High School's culinary program and studied culinary arts at El Centro College, his resume included stops at the Park Cities Hilton and Eastern Hills Country Club in Garland, according to his bio. Working under Colleen O'Hare at the Green Room was life-changing: She introduced the concept of using local, seasonal ingredients, which he embraced with a passion. Following a trip to Las Vegas in 2004 with Adam West, Randall signed on at Bradley Ogden inside Caesars Palace. He returned to Dallas a few years later to develop Restaurant Ava with chef Nathan Tate. The community to which he gave so much intends to honor Randall formally at some point in the future, says Chad Houser, executive director and chef at Café Momentum, possibly with a scholarship for Skyline students going to El Centro. "We would like to put together something that's meaningful and sustaining." We asked a handful of chefs and friends, who are holding each other a little closer these days, for a sense of who Randall was and why he was so important to them and the farm-to-fork movement.
GRAHAM DODDS, EXECUTIVE CHEF, CENTRAL 214
I met Randall through Adam West. He was my opening sous chef at Bolsa. A lot of the [Bolsa] recipes were his, like the flatbreads [still on the menu]. I've been doing them lately as kind of an ode to him…. The best way to sum it up is we've all lost a best friend. He was everybody's best friend. He was the center of the community. He made you challenge yourself to be a better person. I still expect him to come bouncing out of the kitchen in his flip-flops.
STEVEN DOYLE, EDITOR, CRAVEDFW.COM
I was blessed having known Randall for the few short years that I did. His use of local farms and ranchers was vital to his style. I met the ladies from [Rockwall-based] Barking Cat Farm, Laurie Bostic and Kim Martin, at Restaurant Ava, and you could also find Shalom Ranch eggs on his menu, which were from one of his employees. His many charitable works and the way he gave back to the community have left a lasting impression on me. I definitely will miss the joy and laughter we shared, along with some terrific bottles of wine.
CHAD HOUSER, EXECUTIVE DIRECTOR & CHEF, CAFÉ MOMENTUM
I met Randall through Janice [Provost, owner of Parigi] after Savor Dallas three or four years ago. He and I just hit it off immediately. At some point, we became tennis partners. We joked about the fact that we talked every night. When I found out [about his passing], I called Jack Perkins [Maple & Motor, Slow Bone] and Graham Dodds. I wouldn't have known them if it weren't for Randall. I met Matt and Iris [McCallister] through him. Randall brought us together, as friends and comrades. You didn't meet someone through Randall without feeling a connection immediately. I never had a boss or mentor who treated me like Randall. He was in it for everybody to succeed.
MATT MCCALLISTER, CHEF-OWNER, FT33
I met Randall through George Majdalani [managing partner, Stephan Pyles Concepts]. He moved out to Rockwall and was always coming back describing the awesome [Ava] brunch. I eventually made it out, met Randall, and we started hanging out. Our cooking styles were different, but we held the same basic food values. After the first Chefs for Farmers [which Randall named], we got closer. A lasting friendship started from that. There are competitive chefs, and there are chefs who want everyone to do well. Randall was the latter. Chefs and ranchers and farmers across the board will definitely miss him.
STEPHAN PYLES, CHEF & CO-CREATOR, SOUTHWEST CUISINE
I first met Randall when I was planning the guest chef lineup for one of my charitable dinners at Stephan Pyles. I was immediately taken in by his persona. Here was this larger-than-life character, both literally and figuratively, who was one of the most engaging but humble persons I had ever met….The thing I will most remember is his being such an integral part of my 60th birthday last year. What I didn't know was that Randall would be cooking dinner. He must have worked for days on this feast because it went on and on forever. …He touched a lot of hearts and palates, and I remain ever grateful that we not only crossed culinary paths but bonded on a very rare and special level. As one of my chefs, Jon Thompson, said, "Randall had a lot of friends, but I had only one friend like Randall."
ADAM WEST, EXECUTIVE CHEF, THE PORCH
He and I became friends in culinary school [at El Centro College]. I think the chef community has lost someone who bound us together. He was the glue that stuck the high-profile chefs with the low-profile chefs. He was the guy who'd go to his cook's dinner— the Hispanic guy who didn't speak English—and also go to fancy wine dinners. Plenty of times, I think of picking up the phone and calling him. That's gone now. Because he's gone, he brought a lot of us closer…. He was just a great guy.
RANDALL COPELAND BY JANICE PROVOST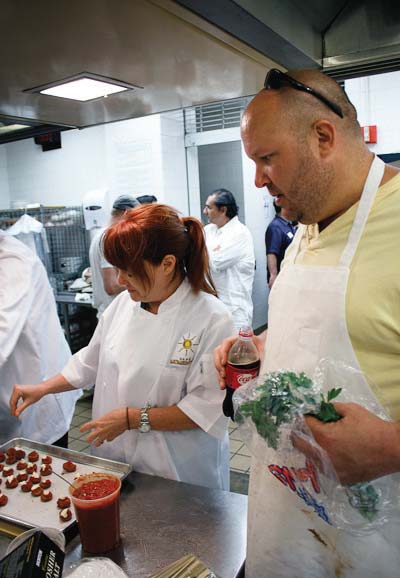 As chefs, we are oft en inspired by the works of others, and when we taste something fantastic, we want to replicate it in our own restaurants, usually putting our own twist on it. If we are lucky enough to know the chef, he may give us the recipe. If what we wanted to replicate in our kitchen was a recipe from Chef Randall Copeland, all we had to do was ask.
As I look at my menu at Parigi, I see Randall's influence. The sherry gastrique that glazes our grilled fish is a recipe I watched him make at a Café Momentum dinner. I can still see him, standing in his t-shirt, flip fl ops and shorts, laughing and cooking.
The piquillo vinaigrette, a splash of bright flavor and brilliant orange color, is oft en a component on our plates. The Randall Salad, a pork schnitzel dish he created when he opened Bolsa, graces our menu every few months or so. And the biscuits. We all know the biscuits. Fluffy and buttermilky, they are a giant hug on a plate. That is a perfect way to describe the chef who created them. He was the guy who always made you feel loved and comforted. He hugged you with his food.
I feel very lucky to have known Randall. I think about him oft en, and I miss him. We all do. I've heard many other chefs make the comment, "I would have called Randall to ask him that." I wish we could.
Edible Dallas & Fort Worth is a quarterly local foods magazine that promotes the abundance of local foods in Dallas, Fort Worth and 34 North Texas counties. We celebrate the family farmers, wine makers, food artisans, chefs and other food-related businesses for their dedication to using the highest quality, fresh, seasonal foods and ingredients.