TASTE THE HONEY FOOD SWAPPERS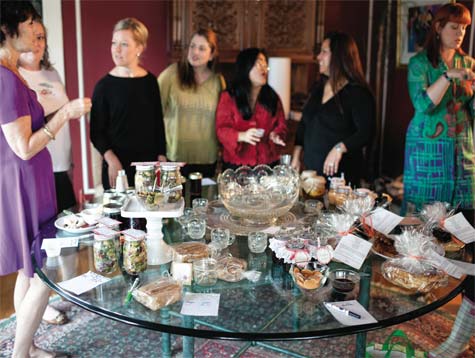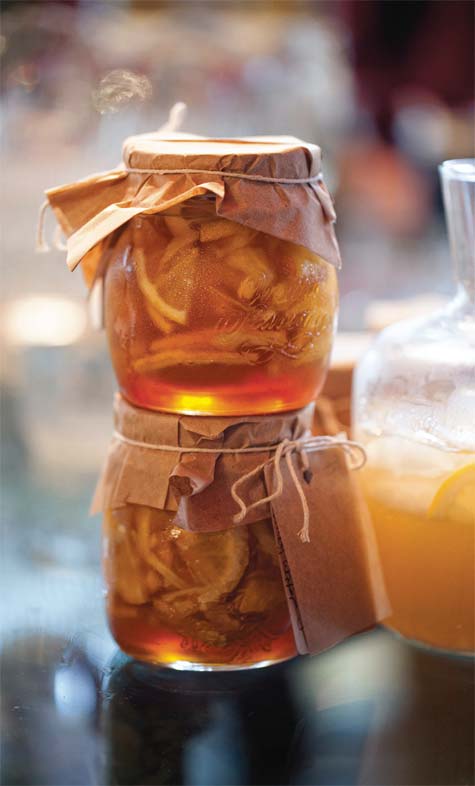 Story and Photography by Kelly Yandell
Food is love, or so they say. So what better way to get to know neighbors and friends with similar interests than by sharing your favorite homemade dishes? In East Dallas, a group of food lovers have adopted this notion by holding a monthly food swap known as Dallas Taste the Honey Food Swappers. In August 2011, Dallas caterers Darlene Navarrette Rosen and Denise Bethel Molina began inviting their friends to get together on the first Thursday of every month to trade favorite homemade treats. Friends began inviting friends, and the circle soon expanded. Though limited to 40 attendees, the swaps are now open events, and one need only get on the email list to be notified of the gatherings.
The members alternate hosting the swaps, and meet every other month at The Wine Therapist, on Skillman at Live Oak. Each attendee brings a homemade treat for the group to sample and four more artfully packaged versions of their creation to swap with other guests.
For the first hour, attendees mingle, enjoy a glass of wine and taste each other's swap offerings. Each dish is displayed on a large feasting table with a sign-up sheet that guests can add their name to if they want to swap the listed item with their own offering. After the first hour, everyone meets with their favorite cooks to arrange a swap. The person who brings four jars of fresh strawberry jam might leave with caramel sauce, organic apple cider, homemade scones and beef jerky. Other recent swap dishes included organic vanilla extract, cranberry pepper jam, a sore throat elixir and butternut squash soup.
In the summer months when gardens are brimming over, people will offer baskets of tomatoes and greens to swap. Backyard eggs have been a popular item, as well. While the group emphasizes local and organic offerings, it is not a strict requirement, and the selections are limited only to the creativity of the guests.
Both former corporate world workers, Darlene and Denise have in recent years chosen to stay at home to raise young children. Their common interest in food has led to the birth of a catering business in which Darlene cooks and Denise handles staffing for private parties, birthdays and even food preparations for families. Together, they have created this bustling food swap to spur their creativity and meet new people. "I get to mingle and giggle and taste new things," says Darlene. Denise says that her favorite part of the swap is "getting out of my bubble and meeting a new community with similar interests." Blending each person's food perspective with a glass of wine and happy talk leads to laughter, learning and community. What better way to celebrate a mutual love of food?
More info: dallastastethehoneyfoodswappers.blogspot.com and on Facebook
REAL FOOD FAST AT START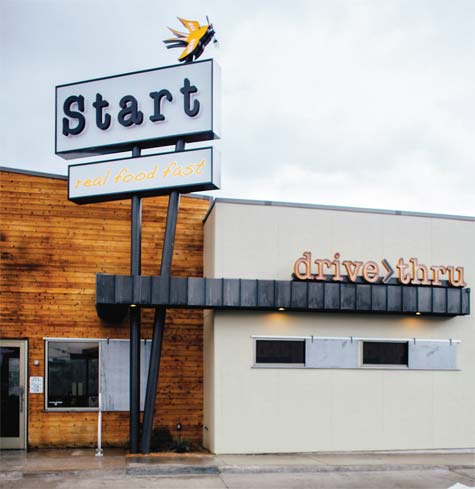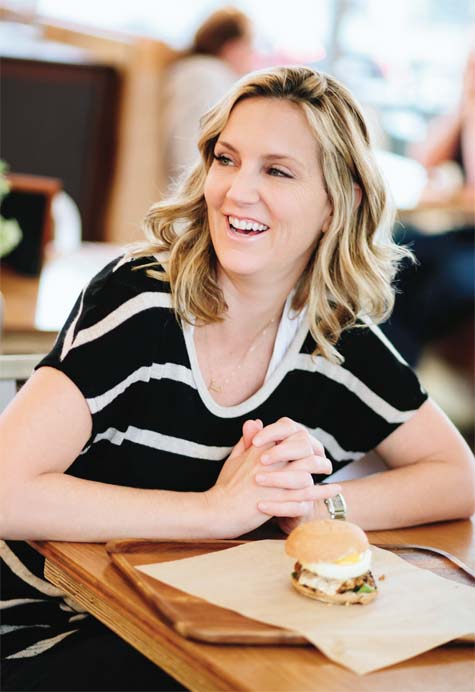 Erin McKool
Photos by Lauren McClure
Erin McKool's dream was to have a friendly restaurant where you could get something healthy to eat while on the run. Last summer, the dream was realized when Start opened on Dallas's Greenville Avenue, serving fresh alternatives for breakfast, lunch and dinner. McKool owns the restaurant with husband Mike, and their chief of operations is long-time restaurateur Frank LaRocca. Though the restaurant has an inside dining area, the drive-thru accounts for more than half of its business. "It was really important to have the drive-thru," McKool says. Educating consumers about wholesome food starts with the small passengers buckled in the back seat and their drivers up front. She is trying to influence those young taste buds as well as those of their parents.
Like a growing number of people, McKool keeps her kitchen at home void of junk food and stocked with organic alternatives. The concept was to create a fast food equivalent. "There's a demand for a healthy place that's fast," she says. By the way, no junk food doesn't mean no sweets, just sweets with high quality ingredients such as Three Happy Cows yogurt and dark chocolate chips.
Start's everyday breakfast menu includes Silver Dollar Pancake Sandwiches made from whole-wheat pancakes, veggie sausage and maple butter. The slider-sized Brunch Burger, new on the weekend menu, features 100% grass-fed beef, fried egg, Swiss cheese and chipotle mayonnaise. McKool describes the new Cobb Frittata as a Cobb salad folded into eggs and cooked.
The kitchen uses cage-free, organic eggs and made-from-scratch sauces and salad dressings. McKool pays a lot of attention to how those high-quality eggs are prepared. "Our eggs are creamy and cooked slowly. I want them to have a custardy texture." Other egg dishes include burritos and egg sandwiches. "Have you noticed how many people want an egg, at any time of day?" she asks.
On the lunch and dinner menu, you'll find baked empanadas, mahi mahi wraps, grass-fed beef burgers, Mediterranean quinoa salad and roasted sweet potatoes stuffed with pecans and cranberries. For the younger set, there are kid-pleasers like cheese pizza (on whole wheat flatbread) and a PB & banana English muffin with local honey.
McKool wants her customers to understand the value of what they are eating so she makes sure all of Start's servers can answer questions about where the food comes from. "We need to make a bigger deal about fresh food," she says. "There's not just value in quantity, but also value in the quality of food you're eating." It's harder for restaurants serving healthy food to have lower prices, but McKool is hopeful that consumers will become more aware of the real cost of producing nutritional foods.
It's important to McKool that the food Start serves is humanely grown without additives and that they are mindful of the environment. They don't use fryers, aspartame, corn syrup or plastic water bottles. Their cups, utensils and serving trays are biodegradable. With young customers in mind, McKool wants to start focusing on that after-school hour with a story time. She already has stocked Start with crayons, holiday books and small birdhouses for sale. Proceeds from the birdhouses goes to the Vogel Alcove, an early childhood advocacy program of which McKool is currently board chairman.
This spring, Sunday Brunch on the patio will feature local musicians. Artists Nicholas Altobelli, Paul Slavens, Paul Averitt and John Lefler are set to appear Sundays in March.
Edible Dallas & Fort Worth is a quarterly local foods magazine that promotes the abundance of local foods in Dallas, Fort Worth and 34 North Texas counties. We celebrate the family farmers, wine makers, food artisans, chefs and other food-related businesses for their dedication to using the highest quality, fresh, seasonal foods and ingredients.