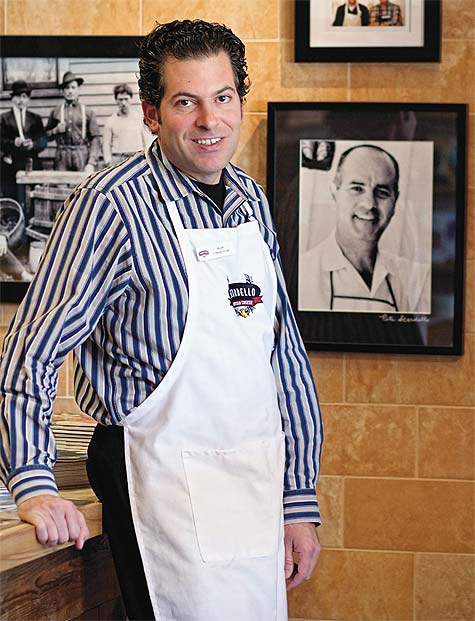 photo by Lauren McClure
Local suggestions for Cheese Lovers
Dallas cheesemonger Rich Rogers found his passion for cheese through his love of cooking. On the wall of his Oak Lawn cheese shop are photos of his grandfather, Peter Scardello, who he credits with teaching him the value of making great meals. "He taught me the Italian ideal that food is more than something you eat," says Rich. "It is something you share with friends and family. Cheese is the perfect example of that ideal."
For Edible DFW's holiday cheeseboard, Rich selected six local cheeses that showcase the varied styles being produced in North Texas. At the American Cheese Society's 2011 gathering in Montreal, several of these cheesemakers garnered 1st place awards.
Of course, great local cheeses should be accompanied by equally impressive local beverages. We also enlisted the help of esteemed sommelier Hunter Hammett of the Pyramid Room at Dallas' Fairmont Hotel and Scardello's resident beer connoisseur Lance Lynn. The following Texas pairings will dazzle your holiday guests, both wine and beer lovers alike.
ON PURE GROUND
"Divine Chèvre"
(Fresh Goat-Pasteurized, Bonham)
Lighter than most of its counterparts with a delicate texture and creamy finish. Rich suggests a Sauvignon Blanc or bubbles.
Hunter's Wine Pairing
Landon Winery, Gewürztraminer (2010), McKinney
Ripe flavors of apricot and peach with subtle undertones of cardamom and ginger This aromatic wine nicely complements the chèvre's delicate nature.
Lance's Beer Pairing
Franconia Brewing Company, Kolsch, McKinney
Golden hued with aromas of wheat and lemon, grassy floral notes on the palate. Beer mirrors subdued characteristics of chèvre, enhancing its inherent flavors.
CAPRINO ROYALE
"Texas Bloombonnet"
(Bloomy Rind Goat-Pasteurized, Waco)
A soft mold-ripened cheese. Pearly center, runny towards the rind. Slightly earthy with a tinge of mushroom on finish. Rind is tasty. Rich suggests a Texas Vigonier or Savignon Blanc.
Hunter's Wine Pairing
Kiepersol, Vit (2010), Tyler
A playful wine with hints of orange blossom, melons, raw honey and pineapple. Although a sweeter wine, it is very balanced with acidity and lively floral elements, which beautifully match the cheese's creamy texture.
Lance's Beer Pairing
Rahr and Sons Brewing, Summertime Wheat, Fort Worth
The color of summer straw with aromas of banana and clove. Earthiness of cheese plays well with this German Hefeweizen-styled brew. Beer's carbonation lifts the cheese from the tongue, making it dance across the palate.
MOZZARELLA COMPANY
"Hoja Santa"
(Goat-Pasteurized, Dallas)
Fresh chèvre wrapped in hoja santa leaves. Imparts cheese with subtle tones of sassafras, anise, mint and black pepper. Rich suggests either a dry white or something with a little sweetness to build up the flavors of the leaves.
Hunter's Wine Pairing
Brennan Vineyards, Syrah (2007), Comanche
A polished and perfumed syrah with flavors of blackberries, lavender and cloves, which enhances the complex savory elements in the cheese.
Lance's Beer Pairing
Franconia, Dunkel, McKinney
A dark brown brew imbued with a malty sweetness. Pairs well with the pepper and anise from the hoja santa leaf. The beer's creamy carbonation brings out the zestiness of the chèvre.
BRAZOS VALLEY CHEESE
"Brie"
(Cow – Raw, Waco)
A Brie that holds its shape, even when ripe. Distinct, creamy milk flavors. Though more subtle on the rind than a typical French Brie, its earthy, mushroom flavors are true to the style. Rich suggests Duchman's Vermentino as a solid pairing.
Hunter's Wine Pairing
McPherson Cellars, Rosé of Grenache/Syrah (2010), Texas High Plains.
Vivacious wine with blended flavor of tart cranberries and sweet strawberries. A vibrant alter ego for this relaxed cheese.
Lance's Beer Pairing
Franconia, Lager, McKinney
A strong malty taste with a light notes of caramel. The Brie's earthiness really brings the taste of hops to the front of the palate. A crisp, dry finish that washes away the cheese's creamy mouthfeel, leaving a refreshed palate.
EAGLE MOUNTAIN CHEESE
"Granbury Vintage"
(Gouda, Cow-Raw, Granbury)
Gouda made with 100% Brown Swiss cow's milk. A firm texture with more rounded sweetness than older Goudas. Subtle hints of caramel and butterscotch, though less so than its Dutch counterparts. Rich says lighter reds and heavier whites are a safe bet here.
Hunter's Wine Pairing
Red Caboose Winery, Tempranillo (2007), Meridian
Big rich wine with fruity aromas of plum, blackberry and strawberry. This opulent red mirrors the denseness of the cheese while not overwhelming its delicate sweetness.
Lance's Beer Pairing
Rahr and Sons Brewing, Gravel Road, Fort Worth
A maple red pour with hints of raisins and caramel. On the palate, toasted bread flavors. Chocolate, dark fruit and molasses on the front with a slightly sharp bite on the finish.
VELDHUIZEN FAMILY FARMS
"Bosque Blue"
(Blue, Cow–Raw, Dublin)
Made in a similar style of the English Stilton, the flavor is fairly mild when young. Older wheels acquire a funkier, deep-blue flavor that's slightly barnyardy. A creamy texture on the palate, sometimes crumbly on the plate. To mellow out the pungent flavor, Rich suggests a desert wine like Calais Winery's Cuvee du Saule, 2010.
Hunter's Wine Pairing
Duchman Cellars, Dolcetto (2009) Bingham Family Vineyard, Texas High Plains
Though "dolcetto" means little sweet one in Italian, this is not an overly sweet wine. Fruit forward with aromas of black cherries and raspberries. This pairing proves that opposites do attract.
Lance's Beer Pairing
Rahr and Sons Brewing, Winter Warmer, Fort Worth
Beer is dark brown with ruby highlights and a thick, rich head. Has the aroma of nutty chocolate and figs with hints of cinnamon and vanilla. Husky winter spices work well with the grassy funkiness of the cheese.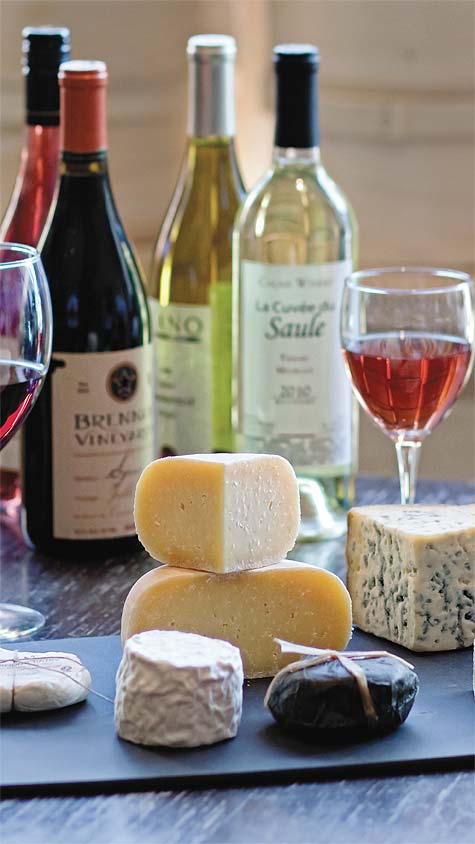 Edible Dallas & Fort Worth is a quarterly local foods magazine that promotes the abundance of local foods in Dallas, Fort Worth and 34 North Texas counties. We celebrate the family farmers, wine makers, food artisans, chefs and other food-related businesses for their dedication to using the highest quality, fresh, seasonal foods and ingredients.