Sweet Summer Treats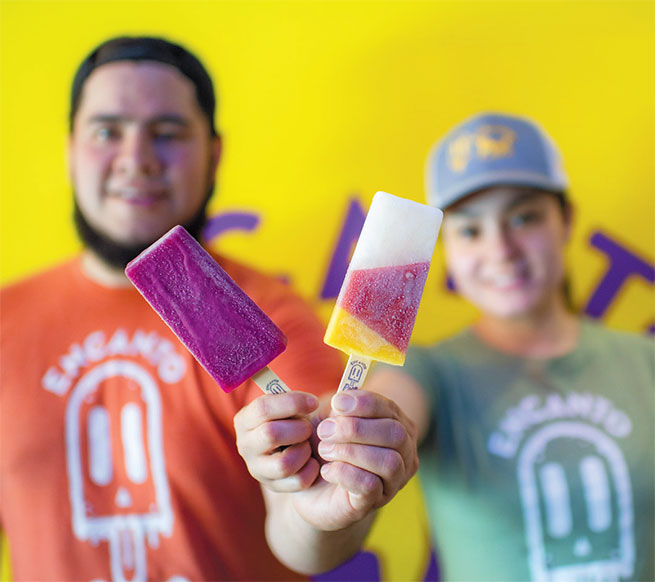 When the heat is on, chill with an artisan pop from one of these eclectic, local purveyors. Each puts a different spin on the frozen treats, which range from dessert on a stick to cool, seasonal fruit refreshers. Most menus change seasonally. Lots of vegan options. And here's a cool idea—for your next private event, rent one of their pop carts with your choice of flavors.
Nestled in Fort Worth's South Main Street urban village, Alchemy Pops swirls fresh, natural ingredients—local when available—to create simple to madcap flavors. Go basic with chocolate, watermelon or strawberry. Or get a little wild with honey-cream lavender, horchata or lemon-blueberry buttermilk. Alchemypops.com
At Berrynaked, enjoy "superfood-based" pops like kale-avocadolime or Greek Me Up (yogurt with berries) or fruity bites like mango- passion fruit or pineapple guava. Or give in to dusky chocolatefudge brownie (Berrynaked makes its own chocolate from cacao), even dark cherries blended with mascarpone. All this, and surprisingly low-cal. Three locations: Park Cities, Richardson and Legacy West (Plano). Berrynaked.com
Encanto Pops' paletas (pictured above) blend right in with the near- Bishop Arts hood. Its water- and cream-based treats are Mexican influenced, with alluring flavors like chocolate-strawberry gansito (snack cake) with a crunchy chocolate coating, cucumber-lime-jalapeño, sweet-spicy chamoy or Mexican chocolate. They'll even make churros to order. Encantopops.com
At Picolé Pops, three brothers bring their Brazilian heritage to the Bishop Arts District. Sure, try the water-based bars made with traditional fruits like acai and passion fruit. Or go bold and try the wildly creamy, signature filled bars with their oozy, rich centers blended from the likes of condensed milk or Nutella. A new Deep Ellum location adds spirits-infused flavors. Facebook: Picolé Pops
With its orange-and-white retro VW bus stand, Pop Star Handcrafted Popsicles is a familiar sight at Coppell Farmers Market. But you're just as likely to find stashes from the 6-year-old pops "pioneer" at local shops and restaurants. They keep it simple with fresh fruit and local in season. Most popular: strawberry lemonade. But summer will bring watermelon-lime, blueberry and—wait for it— Texas peach. Popstardallas.com
Popular Steel City Pops makes its seasonal frozen treats on-site, with local ingredients when possible, in three styles: fruity, creamy and "cookie." (That's right: cookie.) Although we love them, Steel City Pops are technically interlopers. That is, branches of an Alabama- based mother ship. Steelcitypops.com
Pickin' and Grinnin'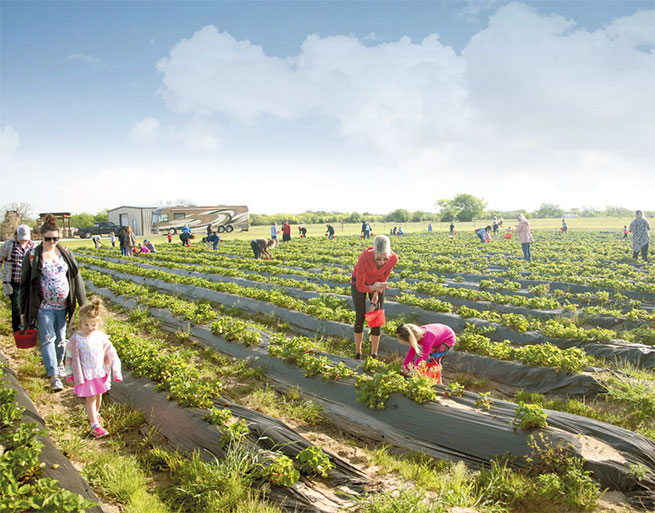 If the landslide social-media response generated by Chris Demases' and Megan Neubauer's announcements of new pick-your-owns is any indication, folks are ready to go out and harvest. This year, there's plenty to pick. Although strawberry season's winding down, Chris' new Pecan Creek Strawberry Farm in Pilot Point may still have some berries. Ditto Highway 19 Berries and Produce in Athens.
Just about the time strawberries falter in the heat, blackberries and blueberries kick in. East Texas is full of black-and-blue pick-your- owns, from Greer Farm in Daingerfield (where you can stay overnight) to Blueberry Hill Farms near Edom and Alford Family Farm near Emory. Ham Orchards near Terrell has a blackberry patch for picking, although the seasonal store is primarily devoted to all things peaches. Those are but a few of the many berry pick-your- owns. Closer to Dallas-Fort Worth in Waxahachie, you can pick tree fruit—peaches, plums, apricots and more—in June at Larken Farms Orchard. Plus whatever garden crops they're growing. And speaking of that, Megan Neubauer and father Jack's Pure Land Farm in McKinney will let you pick right through the seasons— tomatoes, peppers, blackberries, melons and more. All these farms and others are easy to find on Facebook or through Google.
The Farm Crisis Fund: Helping Farmers Weather the Storm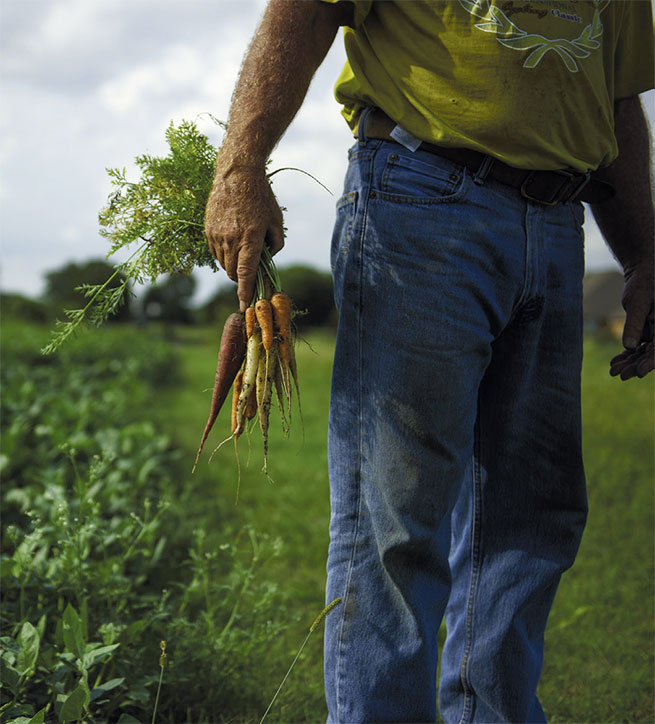 When illness or natural disaster befalls a farm family, financial assistance is often necessary to help them overcome the unexpected hardships. In Collin County, the organizers of the Seed Project Foundation believe that neighbors should help neighbors. When the next disaster strikes, they want to be ready with immediate aid. Expanding their mission to connect farmers and consumers, the Foundation is building a Farm Crisis Fund through a series of community events.
A summer fundraiser—Farm Tour for the Farm Crisis Fund— is scheduled for Saturday, June 16. Guests will board buses at 11 a.m. at the new Local Yocal BBQ & Grill in Historic Downtown McKinney and travel to three area farms—Profound Microfarms in Lucas, N & P Farm & Dairy in Farmersville and Pure Land Farm in McKinney. They'll enjoy a farmer-guided tour while sipping on an adult beverage, courtesy of TUPPS Brewery, Ironroot Republic Distillery and Tranquilo Cellars. At each stop, a local chef—Aaron Nelson of Hookline, Robert Lyford of Patina Green Home and Market and Andrea Shackelford of Harvest Seasonal Kitchen—will be on hand serving a dish prepared with local produce. Tickets for the tour are $100 each and are expected to sell out.
"Our goal is to raise $100,000 before the end of the year," says McKinney restaurateur Rick Wells, who has been a guiding force in recognizing local growers.
A November gala at Wells' Water Boy Farms is also in the works. The autumn festivities will feature music, silent and live auctions and an array of great cuisine from McKinney's talented chef community. "If North Texas is to be a leader in the food movement," says Wells, "we need to support our producers."
For event tickets and to learn more about The Seed Project Foundation, go to https://spftx.org
Edible Dallas & Fort Worth is a quarterly local foods magazine that promotes the abundance of local foods in Dallas, Fort Worth and 34 North Texas counties. We celebrate the family farmers, wine makers, food artisans, chefs and other food-related businesses for their dedication to using the highest quality, fresh, seasonal foods and ingredients.