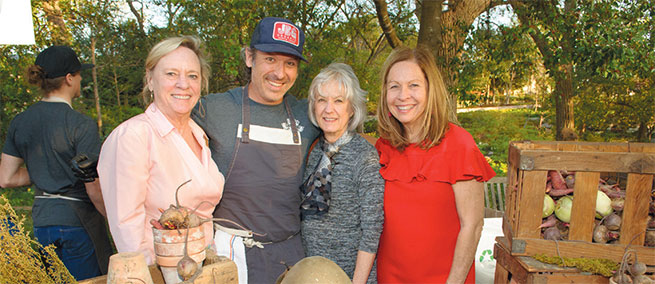 Edible DFW publisher Nanci Taylor with chef Robert Lyford, Patina Green Home and Market, Senior Editor Kim Pierce and Editor-in-Chief Terri Taylor at the Dallas Arboretum Food and Wine Festival. Photo by Steve Foxall.
Frozen pops with fresh fruit. Homemade pizza with ripe tomatoes and just-plucked basil. Peaches, blackberries, okra and melons. Summer's bounty is cause for celebration! Thank you, Teresa Rafidi, for our good-enough-to-lick cover shot of Berrynaked frozen pops! See Notable Edibles for a list of local purveyors. Each has a unique take on this sweet summer treat, so visit them all.
Let's get this garden party started with grilled pizzas topped with seasonal pickings. I'm a pizza fanatic who'd never mastered the art of homemade—until now. Just before going to press, I made pizzettas (with peppers and roasted eggplant) for three foodie friends—tough critics—and got rave reviews. I owe my success to Cowgirl Chef Ellise Pierce. Check out her step-by-step instructions in our recipe section.
And what pairs best with crispy-crust pizza? An ice-cold local beer, of course. DFW beer guru Brian Brown has curated a list of 12 summertime o# erings, all brewed in North Texas. His juicy descriptions will have you racing to the store or to one of our local cra# breweries—there are over 60 now—with his list in hand.
Home gardeners will be inspired by Eve Hill-Agnus' profile of Rebecca Allinson— The Curious Gardener. In her Plano yard, Allinson grows unusual things with enchanting names— butterfly pea vines, Malabar spinach and muscade carrots. An accomplished cook, Allinson can recite five recipes using nasturtium leaves. Don't be afraid to experiment, she says. A guaranteed hit—her chakchouka recipe with tomatoes, peppers and roasted okra. It's summertime in a skillet. Thanks to Desiree Espada for her delectable photos.
Kim Pierce and photographer Teresa Rafidi took a country drive to visit two farms belonging to the Demases family, who've been farming in North Texas for over 100 years. Near the town of Boyd, George, Pam and son Chance grow an array of produce, using sustainable methods, for both retail customers and renowned chefs. And there's a farm store onsite. In Pilot Point, son Chris and his wife Kylie own Pecan Creek Strawberry Farm with you-pick-it fields. Follow both farms on Facebook to learn what's being harvested week by week.
McKinney's active food scene is often featured in Edible DFW, and this season is no exception. Christina Hughes and photographer Danny Fulgencio bring us the heartwarming story of Hugs Café, staffed by people with special needs. It was a dream come true for founder Ruth Thompson, who now has a new dream—Hugs Greenhouse, which will provide even more jobs for team members.
Don't miss "Skip the Straw" by Teresa Gubbins and do take the small steps she suggests. Your action can help save our oceans and ultimately our planet. Let's rethink our throw-away mentality and teach our kids to do the same. We can change the world, one straw at a time
Edible Dallas & Fort Worth is a quarterly local foods magazine that promotes the abundance of local foods in Dallas, Fort Worth and 34 North Texas counties. We celebrate the family farmers, wine makers, food artisans, chefs and other food-related businesses for their dedication to using the highest quality, fresh, seasonal foods and ingredients.