FAIRMOUNT COMMUNITY GARDEN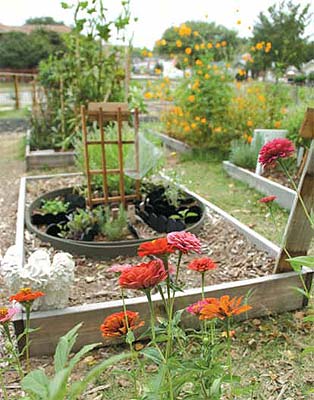 Photo: Katie Ruppel
Patience is a virtue in a gardener's world. After tilling, planting, fertilizing, mulching and watering, even the tiniest sign of a blossom can take months to come around. At the Fairmount Community Garden in Fort Worth, it took two years.
But like most gardens, the hard work was worthwhile. What started as an idea between Andrew Schoolmaster, dean of TCU's AddRan College of Liberal Arts, and Paul Paine, president of Fort Worth South Inc., has literally bloomed into the first city-supported community garden.
According to organizer Susan Harper, there were several hurdles to jump before this garden in the Fairmount Historic District could be realized: developing of plans, finding of the land, obtaining a lease and spreading and gaining support for the idea. Not to mention fixing up the plot from a dump space to a suitable home for plants with adequate sunlight, water fixtures and nutritious soil.
With help from many hands around the community, the garden was born. But without the grants, donations, installations and labor from various contributors, according to Harper, the garden would not exist. So while 77 gardeners plant and nurture the seeds in their plots, the dedication of countless people in Fort Worth continues to help the garden grow.
Six months after its opening day, the garden is glowing with green foliage and bright flowers. Bikers heading down the street get off and walk their bikes through the garden, taking special interest in the "Astrological" plot, where herbs are assigned to each sign of the zodiac. A dad leads his toddlers through; their eyes widen as they look into the marigolds nestled near the scarecrow.
The garden itself is a little community, tomatoes bunking up with red peppers, basil fighting mint for the covers on the bed, okras towering over the squash, and marigolds sneaking out to hold hands with mums. The diversity of plants correlates to the diversity of neighborhood gardeners. TCU professors and retired folks work alongside stay-at-home moms and children; even a nine-year old manages his own plot. And inside each plot, everything from cucumbers to eggplants are grown and shared.
Harper says they hope to have a table of free produce each month for people in the neighborhood who can't afford fresh foods. But it's more than just food that is shared. It is time, commitment, new friendships, stories and tips. "It doesn't make a difference how long you've been gardening, you never know everything," says Harper, who is a certified Master Gardener.
As the cool winds draw near, gardeners pick their best crops, cozy up their plots and prepare to sit tight for the winter season with the one thing they know all too well: patience.
—Katie Ruppel
ECO-RADIO WITH ANDREA RIDOUT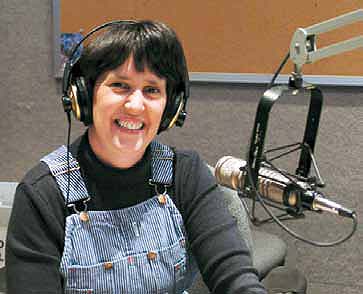 Local radio host, Andrea Ridout, is an advocate for the planet— but she wasn't always that way. For much of her life, she drove a gas-guzzling SUV, didn't recycle or compost and even used pesticides on her yard. Then a few years ago, she saw the green light. "I was tired of being part of the problem," she relates, "I wanted to be part of the solution instead."
Now Ridout spreads her eco-friendly message through a national radio show that happens to be based in Dallas; Mother Earth News Radio. An offshoot of Mother Earth News magazine, one of the oldest enviro-rags in the U.S., the show features a plethora of environmental experts each week.
Guests have included Ed Begley Jr. (actor and activist), Joel Salatin (organic farmer), Dolly Freed (author), Denis Hayes (coorganizer of Earth Day), Robert Stone (filmmaker), Blake Morrison (editor of USA Today) and even local eco-celebs such as Brandon Pollard of the Texas Honeybee Guild and Edible Dallas & Fort Worth publisher Nanci Taylor.
The program has hit a nerve with listeners across the country. Though it debuted on just one station last fall, it has rapidly spread nationwide, gaining a new affiliate almost every week. In our area, the show can be heard on 1190 AM at 9 a.m. on Saturday mornings and can also be downloaded from iTunes.
Ridout is also developing a new TV project for PBS that will focus on planet-friendly folks across Texas and beyond. She and her team have already shot segments including Ty Wolosin of Windy Hill Organics, Heather Rinaldi from the Texas Worm Ranch and several other earthy movers and shakers. She's interested in story ideas. Readers can contact her directly at [email protected].
CHEFS FOR FARMERS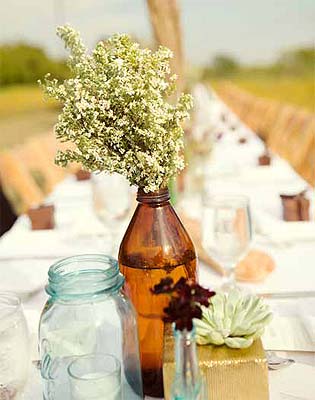 Photo: www.sarahkatephoto.com
Floral design: www.bluelotusgardens.com
Iris McCallister is almost as passionate about farms as her husband. But there was a weekend, a little over a year ago, when she questioned Chef Matt McCallister's sanity.
"Matt loves going to farms and his enthusiasm is completely contagious. But here I am, eight months pregnant with our daughter Ella, and we're bouncing around in a golf cart on someone's ranch in the middle of nowhere. A herd of longhorns surrounds us and just stares with those big ole eyes. It's funny now," she laughs, "but not so much so when I was on the verge of delivery."
From those weekend visits and their shared passion for supporting local agriculture, Iris and Matt developed the "Chefs For Farmers" dinner series. Each event brings chefs and farmers together with appreciative diners who get to enjoy an evening of locally sourced cuisine while a portion of the ticket price goes to help a North Texas charity.
During his four and a half years at Dallas' esteemed Stephan Pyles, Matt cultivated friendships with an extensive network of both farmers and chefs. In October, their first farm-to-table event, held at Eden's Garden CSA Farm in Balch Springs, featured a five-course meal prepared by chefs from Restaurant Ava, Parigi, Salum, Stephan Pyles and The Mansion with local products from Barking Cat Farm, Eden's, Motley Farms, Tassione Farms, Caprino Royale and Burgundy Pasture Beef. The Gleaning Network of Texas reaped 20% of the proceeds.
A December event, benefiting Meals on Wheels, is scheduled at Times Ten Cellars in Fort Worth with an after party at J Bar L Cutting Horse Ranch. Farms include Dominion Farms, Burgundy Pasture Beef, Scott Farms and Tassione Farms, and the chefs are from Grace, Tillman's, Café Modern, Bonnell's and the Colonial Country Club.
More events are in the works for the spring and early summer. "We will continue to come up with unique venues and fun ways to bring about awareness," says Iris. "We want to continue honoring our local farmers, and the chefs who support them."
Edible Dallas & Fort Worth is a quarterly local foods magazine that promotes the abundance of local foods in Dallas, Fort Worth and 34 North Texas counties. We celebrate the family farmers, wine makers, food artisans, chefs and other food-related businesses for their dedication to using the highest quality, fresh, seasonal foods and ingredients.