FALL HAPPENINGS
By Kim Pierce
Thanks to North Texans' huge commitment to local foods and farm-to-table dining, we can look forward to several outstanding events this fall. We can't list them all, but here are four that promise an exciting, unforgettable experience.
CHEFS FOR FARMERS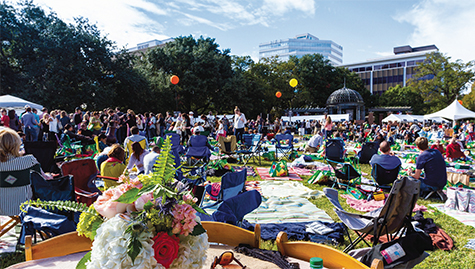 photo by Robert Bostck
Look for three fall events. All tickets at chefsforfarmers.com
Guest Chef Dinner—7 p.m. Oct. 23 at FT33 in Dallas. Top-of-his-game chef-owner Matt McCallister teams with great chefs from around the country for a landmark dinner limited to 85 guests at his restaurant. $125.
The Butcher Block Party—7 p.m. Oct. 24 at The Joule, Dallas. It's all about great chefs, great drink, outdoor cooking and grand charcuterie. $125.
Culinary Village Main Event—2 p.m. Oct. 25 at Lee Park, Dallas. Brings together more than 120 local chefs and artisans with their specialties, libations and more for one great all-you-can-eat picnic. Highlights include a biscuit bar, oyster station, beer garden and live music. BYOB – bring your own blanket—and stay a while. $75.
AN EVENING WITH FARM AID
photo by Troy Foster
7 p.m. Oct. 8 at Rustic Grace Estate in Van Alstyne, a charming country venue. Patina Green Home and Market's chef-owner Robert Lyford and Experimental Table's crack farm-to-table caterer George Brown will feature two local farms and a local rancher/purveyor with their seasonal, locally sourced repast to remember: Cartermere Farms (Celina), which is raising lambs especially for the event, Full Quiver Farms (Kemp), which is aging special cheeses, and Matt Hamilton's Local Yocal (McKinney), which will supply beef "and whatever else he throws at us," Lyford says. The evening starts with cocktails and passed appetizers in the big red barn, followed by the multicourse, sit-down dinner outdoors next to the pond with grazing longhorn steers nearby. Afterwards, Secret Sisters and Jamestown Revival make sizzling music in the chapel. Hosted by Lyford and wife Kaci and Farm Aid board members Kevin and Ashley Steed. Benefits Farm Aid, with 100 percent of the monies raised going to small, family farmers. $250. Facebook: An Evening with Farm Aid 2015
DALLAS FARMERS MARKET
20TH ANNUAL HOEDOWN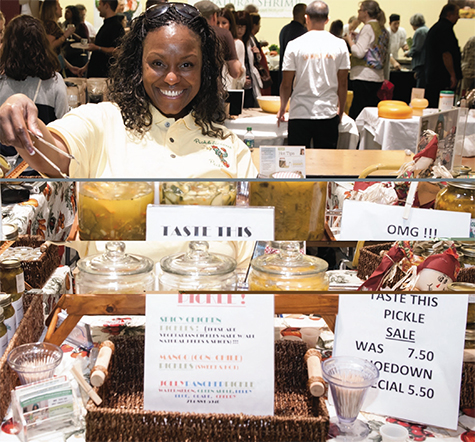 6:30 to 9:30 p.m. Oct. 14. This year, the Hoedown moves to The Shed, newly restored home of the Dallas Farmers Market. It feels like a good fit for the local chefs, farmers, wineries, food artisans and others who are joining in to offer an evening of noshes and beverages, along with live music and a silent auction. Proceeds benefit the Dallas Farmers Market Friends, which supports the farmers market. This year some of the funds will go toward building the Mama Ida Papert Teaching Garden at the eastern end of The Shed, honoring "Mama" Ida Papert, the beloved founder of the Friends and tireless supporter of the market until her death in 2011. Come celebrate her life and pet project, the market. $75. Go to dfmfriends.org.
PARK AND PALATE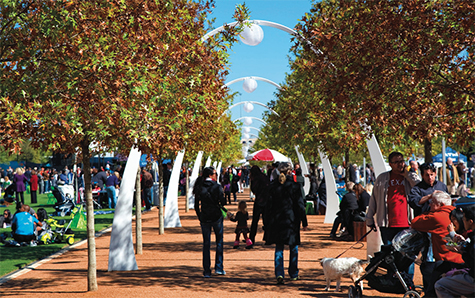 7:30 to 10 p.m. Sept. 25, noon to 5 p.m. Sept. 26 at Klyde Warren Park, Dallas. Friday night, the park fundraiser looks for the "best comfort food with a modern twist" in a Texas celebrity chef cook-off . In addition to Dallas faves like Graham Dodds (Hibiscus), Kent Rathbun (Kent Rathbun Concepts), Tyson Cole (Uchi and Uchiko), Danyele McPherson (Remedy) and John Tesar (Knife), check out cool imports such as Timothy Rattray (The Granary 'Cue & Brew, San Antonio), Jason Dady (Shuck Shack – his newest in San Antonio), Becky Masson (Fluff Bake Bar, Houston) and Todd Duplechan (Lenoir, Austin) – and that's just to name a few. Saturday night is the Grand Tasting with more than 30 Texas chefs and two dozen wineries, including Hall (Napa Valley), Walt Wines (Sonoma), Siduri Wines and Novy Family Wines (Santa Rosa), all with Dallas connections. Tickets start at $150. ParkAndPalate.org
URBAN CHICKEN RANCHING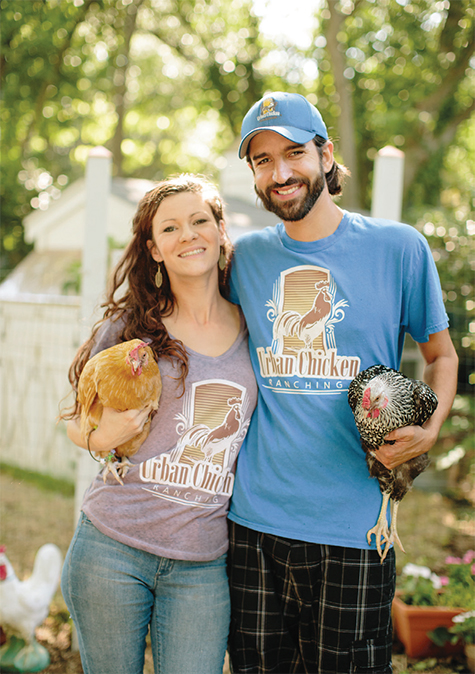 photo by Lori Wilson
By Mariana Greene
Do you have a chick that grew up to be a rooster? A backyard hen whose lifetime supply of eggs is dwindling to none? Is mucking out the coop one of those jobs you would pay to avoid?
As the Dallas area's population of city chicken tenders continues to expand, John and Emily Ramos are willing to meet any need that crops up. Their homegrown business, Urban Chicken Ranching, includes the basics, such as building coops, raising and selling pullets, delivering heavy bags of supplies and regular cleaning services.
But the young, energetic couple also has taken on specialized chores and services that come with city folk participating in the national lifestyle trend of backyard hen keeping. Their clients do not aspire to the farming life of a Green Acres; they just want the fresh eggs, companionship and entertainment a few pet chickens provide.
Emily, 30, grew up on 60 acres in Illinois, but John, 29 and raised in the Lochwood neighborhood of East Dallas, never met a chicken until five years ago. He took to them like a duck to water and educated himself about every aspect of maintaining a healthy, productive flock. "Chickens are a one-of-a-kind animal," John says. "I've fallen in love with them."
His own flock numbers 22 hens, and his business stock he estimates to be about 100 chicks and pullets. "We don't sell chicks," he says. "We want to grow them out before we sell them." He does not want the fragile creatures at the mercy of inexperienced, uneducated owners. On the other hand, many of his clients turn into devoted pet owners— and that is where the Ramoses' unique services come into play.
As owners learn, a sick chicken's condition deteriorates quickly, and the causes can range from disease, dehydration and spoiled food to unclean housing, heat, cold and numerous other dangers. While a neighbor and standard pet sitter can feed hens and supply fresh water daily while the owner is away, many homeowners consider their hens as precious as a pet dog or cat—and want them cared for accordingly in their absence.
"If a pet sitter does not know to blow the feathers out and look at a chicken's butt to check out their condition," Emily says, "they should not be taking care of your birds."
Some of the couple's more affluent clients request extra services that go beyond the basics of food and water and a quick scoop of waste from the coop. It is not unknown, he says, for especially pampered hens to spend nights inside the owner's house.
At dusk, one flock marches into the house and down the hall to the sunroom, where the owner has installed roosting poles over plastic pans much like a feline litter box. When their inner clock rouses them, the hens retrace their steps very early the next morning.
This client also leaves labeled, daily treat boxes in the refrigerator containing grapes, blueberries and maybe a sprinkling of whole grains for John to serve to his spoiled charges. "Another client fixes scrambled eggs each morning—for herself and her hens—before she lets them outside," John says.
While he estimates 60 percent of his pet-sitting clients are hen owners, the couple also has cared for rabbits, hedgehogs, parakeets, dogs and cats, starting at $20 per visit.
To contact Urban Chicken Ranching, find the company on Facebook or go to urbanchickeninc.com
FIELD TO MEAL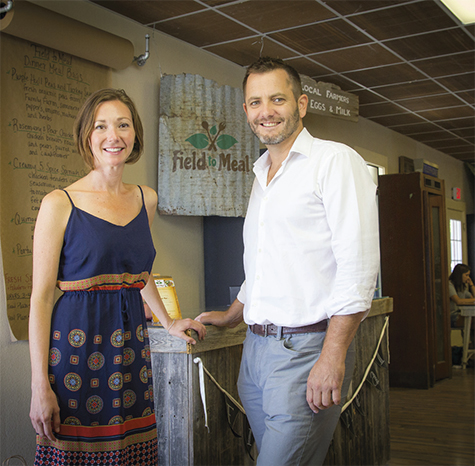 photo by Marshall Hinsley
When Aussie Sam Roberts met Texan Amy Johnson in Tanzania three years ago, "I knew I was going to marry her," says Roberts. From the African nation where he grew up, he moved to Waxahachie, there to start a business with his bride. "He wanted to build a business to do good," Johnson says.
The result was Field to Meal, a meal-plan delivery service emphasizing local produce and products that first took root in Waxahachie, then started a steady march north, gaining customers from Dallas to Frisco. The couple recently bought a home in Dallas as well as a warehouse. They deliver within a 45-minute radius of the latter. "Our model is working with local farmers," Roberts says, "and to be as close to 100 percent organic as possible."
Each week, they deliver ingredients for full meals. The recipes, created by Johnson, are published online. This isn't fancy food, just homey spreads that go together in about 30 minutes. "I grew up in this area," Johnson says. "I know what people eat." At the same time, her world travels provide "influences from other places that jazz it up." Think chicken burgers with zucchini and onion in the chicken patties, or sautéed tilapia with green beans and plums.
One of their primary growers, Garden Harvest, moved to a larger farm in Italy (Texas) this year. Field to Meal sources cheese and yogurt from Full Quiver Farms in Kemp. "We get grass-fed beef from a place in Red Oak called Diamond D Ranch," Johnson says. Larken Farms, a small grower in Waxahachie, is another supplier.
"I give you everything you need except salt, pepper and olive oil," Johnson says. The meals also lend themselves to personalizing. Maybe you want butter instead of olive oil. Or less onion in the chicken patties. You can also order extras, such as free-range farm eggs and Mill-King Creamery dairy products.
Field to Meal gets a lot of word-of-mouth, the couple says, plus they're trying to keep their operation "lean," Roberts says, to reach more customers with their wholesome concept. In addition, they have a small store in Waxahachie and are building one in Rockwall, where they share space with Along Came Tamale, another supplier.
"We continue to grow really, really quickly," Roberts says. "People say, 'People are crying out for what you're doing. Our friends told us about you.'" Fieldtomeal.com
Edible Dallas & Fort Worth is a quarterly local foods magazine that promotes the abundance of local foods in Dallas, Fort Worth and 34 North Texas counties. We celebrate the family farmers, wine makers, food artisans, chefs and other food-related businesses for their dedication to using the highest quality, fresh, seasonal foods and ingredients.