CITA'S SALSA
Photo: Andrew Vracin
By Valerie Jarvie
Looking for some fresh and festive flavors to brighten winter meals? Check out Cita's Salsa Spicy Cranberry made with citrusy aji limon peppers (sourced from Farmer Jones Eco-Friendly Produce in Terrell) and orange zest.
The ruby-hued salsa is delicious served straight up as a dip with blue corn chips, poured over cream cheese with crackers, as a side relish with turkey or ham, or as a topping for tamales (such as Chicken Tomatillo Tamales from The Tamale Company). "It's also good as a spread in a turkey and Swiss grilled cheese sandwich. I've eaten a lot of those," laughs Lena Palomo, the daughter half of the mother/daughter team.
East Dallas residents Lena and her mother Carol "Cita" Castillo started their awardwinning company in 2011, based on recipes that had been the centerpiece of the family's breakfast, lunch and dinner table for generations.
Twice weekly, the two women use fresh ingredients to prepare small batches of salsas without adding preservatives or MSG. Signature items include Garden Green Salsa, made with jalapeños, tomatillos, garlic, cilantro and extra virgin olive oil, and its scarlet counterpart, Red Rage, a spicy combo of stewed tomatoes, pickled jalapeños, carrots, garlic and cilantro. Lena's husband, Arthur Palomo, handles labeling and delivery to specialty stores like Green Grocers and Bolsa Mercado as well as to Central Market, where you'll find their products in the refrigerator case. Cita's is also available at White Rock Local Market, Vickery Meadow Local Market and McKinney Farmers Market, and via Artizone.com, a home delivery service. Spicy Cranberry Salsa will be available through the holidays.
What's up next for the burgeoning company? "In the spring, we expect to offer Ranchero Salsa, a chunkier tomato- based sauce which is great with huevos rancheros; and Fiery Fiesta, a hotter version of Red Rage," said Palomo.
QUEEN'S HONEY WINE:
A LIBATION FIT FOR A ROYAL FEAST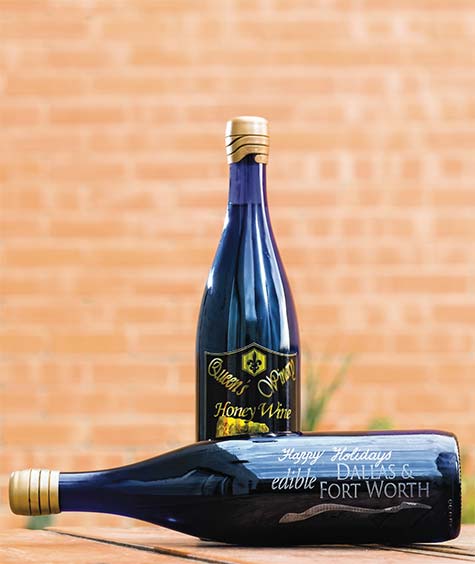 Photo: Hoyoung Lee
By Valerie Jarvie
Long before fermenting grapes, man has been making honey into wine. Also known as mead (though nowadays that term often includes a broader range of ingredients), wine made exclusively from honey, sourced 100% from Texas, is the specialty of Queen's Winery.
Inspired by friends interested in medieval culture, winemaker Joe Southwell got his start making honey wine in his closet in college. A fluke of the law made it legal for him to purchase the ingredients to make wine, though he was too young to buy wine at the time. After graduation—and becoming of age—he worked for a traditional winery for a time, before convincing his family to give the making of honey wine a go as a business.
"Honey wine is better for the planet, better for others and better for you," said Southwell. "It uses fewer resources and is more sustainable than grape wines. It pairs well with everything. It pairs well with life."
The Garland-based winery turns out dry, sweet and dessert versions, all of which have won awards in area competitions. And, although they did not particularly set out to make a kosher product, Queen's Wine happens to be kosher, bearing OU (official Orthodox Union) certification, a measure Southwell took to document the product's quality standards. Its kosher status and pretty cobalt blue bottling (with custom engraving options) make it a nice choice for gifting and for kosher meals this holiday season.
Starting at $19, Queen's Wine can be found at Whole Foods, Central Market, Sigel's, Total Wine, Market Street and the Dallas Farmers Market.
Edible Dallas & Fort Worth is a quarterly local foods magazine that promotes the abundance of local foods in Dallas, Fort Worth and 34 North Texas counties. We celebrate the family farmers, wine makers, food artisans, chefs and other food-related businesses for their dedication to using the highest quality, fresh, seasonal foods and ingredients.