Beets can be so much more than part of the ubiquitous spinach-and-goat-cheese salad that they've become synonymous with in the last few years. Here's what I like to make with them.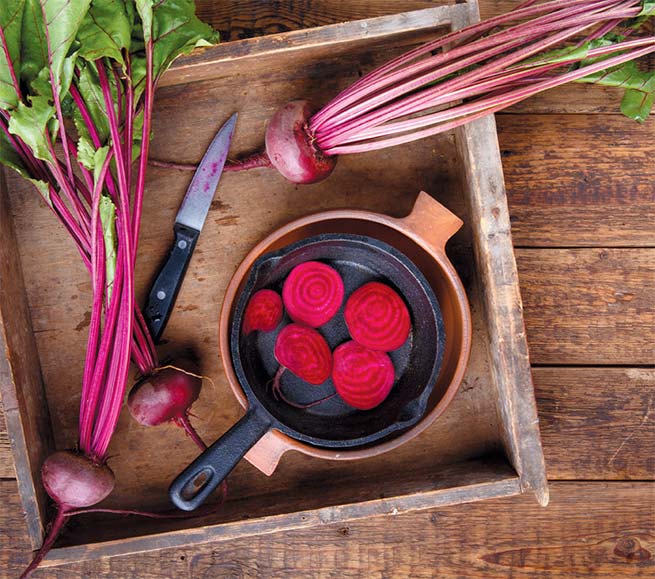 photo: istock.com/gesh
BEET HUMMUS
Wrap a large beet in aluminum foil and roast it in a 400°F oven until cooked through. Cool, peel, and put in your blender or food processor with a container of store-bought or homemade hummus. Purée until smooth.
GRATED BEETS AND CARROTS
Roast 2 beets (as in Beet Hummus). Once cooled and peeled, grate the beets. Grate an equal amount of raw carrots. Make a Sherry vinaigrette (¼ cup Sherry vinegar, 1 teaspoon Dijon, 1 chopped shallot, sea salt, pepper and ½ cup olive oil). Add fresh dill. Toss.
BABY KALE, BEETS AND BLACK BEAN SALAD
Put a couple of big handfuls of baby kale in a salad bowl. Dice 1 cooked beet (roasted and peeled as in Beet Hummus) and toss this in. Add about 1 cup of black beans (drained and rinsed if using canned) and some crumbled Feta. Pour on some red wine vinaigrette (same as above but swap out red wine vinegar for Sherry vinegar). Toss.
BEETS, EGG AND QUINOA
Roast 2 large beets (as in Beet Hummus), let cool. Peel, dice and put in a bowl. Make 2 hardboiled eggs. Chop and add to the beets. Add about 1 cup cooked quinoa to the beets and egg. Drizzle some olive oil and balsamic on top and toss. Taste for seasonings.
FLATBREAD WITH BEETS AND SPINACH
Prepare 1 beet, as in Beet Hummus. Peel and dice. In a medium skillet with a little olive oil, cook a bag of baby spinach just until it wilts. Add grated nutmeg and a pinch of cayenne. Put the spinach on a flatbread (store-bought is fine), add the diced beets, and sprinkle with goat cheese crumbles. Bake in a hot oven (450°F or hotter) until the flatbread is toasty and the cheese melts. Slice and eat.
Edible Dallas & Fort Worth is a quarterly local foods magazine that promotes the abundance of local foods in Dallas, Fort Worth and 34 North Texas counties. We celebrate the family farmers, wine makers, food artisans, chefs and other food-related businesses for their dedication to using the highest quality, fresh, seasonal foods and ingredients.