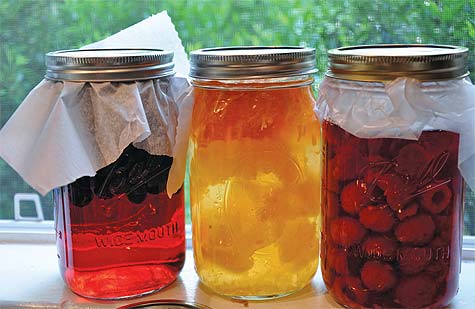 Infused with Flavor
Infusions are a quick, easy and delicious way to capture seasonal flavors. I find them particularly helpful for using up the late-season bits and bobs from the market—a few of the last stone fruits, cool-crop raspberries, grapes, apples, pears and herbs—that might otherwise be caught in Jack Frost's clutches. Make your infusions now by steeping fresh produce, herbs and/or spices in spirits or vinegar, and these tasty concoctions will offer a burst of fresh-from-the farm flavor to enjoy for months or give as holiday gifts.
Infused Vinegars
Infused vinegars are a little turn of kitchen magic—you start with a pantry staple, add a little imagination (and a few treats from the farm or garden) and wind up with a jewel-colored, full-flavored elixir. They make stellar vinaigrettes, of course, but can also be used to perk up the flavor of long cooking dishes such as stews and braises and bring a surprising kick of flavor to quick refrigerator pickles and homemade mayonnaise. But my favorite way to enjoy them is to add a sweetened splash to sparkling water to create a modern version of the colonial thirst quencher, "Shrub."
RECIPES
Infused Spirits
Home-infused spirits not only taste great, they let you claim a little corner of the craft cocktail movement for your very own. Create custom combinations that mimic your favorite top-shelf tipple or let your taste buds be your guide to new flavor sensations.
You can infuse any liquor you like, but it's best to stick to those that are at least 80 proof—any less and you run the risk of fermenting your fruit, rather than infusing it.
When it comes to flavoring your hooch, look to your market basket for inspiration—peaches, plums, apples, pears, chiles (I have a friend who swears by celery!) —it's all good. Try vodka with chiles, brandy or rum with peaches, gin with plums, rum with cranberries, tequila or vodka with citrus, just to name a few.
RECIPE
Sherri Brooks Vinton wants you to "preserve" local agriculture with your food choices. Her writing, talks and hands-on workshops teach fellow eaters how to find, cook and preserve local, seasonal, farm friendly food. She is currently touring with her latest book, Put 'em Up ! To find out more, visit her: www.sherribrooksvinton.com
Edible Dallas & Fort Worth is a quarterly local foods magazine that promotes the abundance of local foods in Dallas, Fort Worth and 34 North Texas counties. We celebrate the family farmers, wine makers, food artisans, chefs and other food-related businesses for their dedication to using the highest quality, fresh, seasonal foods and ingredients.