By Rita Cook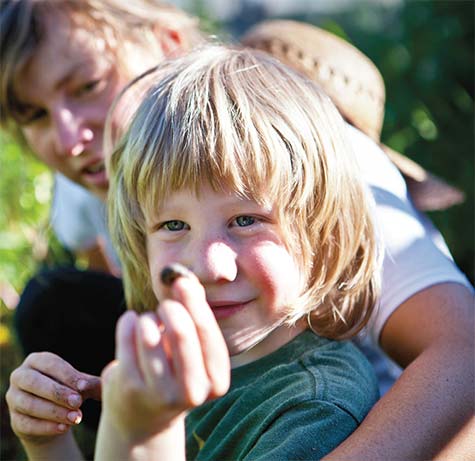 FUN AT THE FARM AND GARDEN
School's out for summer! Time for kids to slow down, break from the routine and learn something new. To keep your child's boredom level from matching the heat index, enroll him or her in one of the many outdoor activities being sponsored by local farms and gardens. Below is a partial list of the organized classes and camps designed to both educate and entertain. While digging in the dirt, cooking and learning about farm animals, youngsters become better acquainted with the origins of their food. It's summertime fun that will inspire a lifetime of healthy habits.
COLLIN COUNTY
1. CHESTNUT SQUARE PRAIRIE ADVENTURE CAMP
315 S. Chestnut St., McKinney, 75069
www.chestnutsquare.org • 972-562-8790
Prairie Adventure Camps, held in McKinney's historic Chestnut Square, take children on a time traveler's journey to the 1890s. Smell the campfire. Taste delicious Dutch oven cooking. See how butter is churned. Each camp includes three half-days of period activities such as weaving, hearth cooking and one-room schoolhouse lessons. Campers dress in period clothes and enjoy old-fashioned snacks and games.
Ages 6-13:
Morning and afternoon sessions will be held in June, July and the first week of August. Enrollment is limited to 15 campers per session.
Cost: $100 non-members/ $90 members
2. JACOB'S REWARD FARM
4308 Church Lane, Parker, 75002
www.jacobsreward.com
To register: 214-284-9218 or [email protected]
Nestled on 4.5 acres not far from Dallas, Plano and Allen, Jacob's Reward Farm is located in the bucolic little community of Parker. Head shepherdess and certified Texas Master Naturalist Cindy Telisak and her crew (including herding dogs) raise sheep and alpacas (for fiber), as well as chickens. Campers get to meet the animals, gather fresh eggs, create art projects with wool and yarn and learn about growing plants from seeds. Stories are told about farm life to help broaden the children's understanding of the natural world.
Ages 7-10: with a limited enrollment of six campers per session
There will be three 5-day sessions beginning on the June 9, June 16 and June 23. From 9:00 a.m. to noon.
Cost: $180 per camper/ $144 for each additional sibling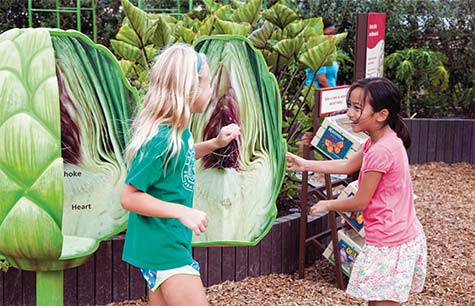 DALLAS COUNTY
3. DALLAS ARBORETUM
8525 Garland Road, Dallas, 75218
214-515-6500 • www.dallasarboretum.org
To register: (214) 515-6540 or [email protected]
Dallas' 66-acre garden on the banks of White Rock Lake offers a variety of children's classes related to nature, gardening and cooking. Go to their website for a full listing. Below are but a few.
Cooking From The Garden—Sassy Salsa
For parent and children ages 4-6
These 2-1/2 hour classes are designed for the young at heart and the special young child in their lives. Besides making salsa, you and your child will learn how to plant a salsa garden, discover the secrets of the honeybee and celebrate with a fiesta.
Half-day class on the following dates:
June 2, July 21 or August 8; 9-11:30 a.m.
June 20 or July 1; 1-3:30 p.m.
Cost: $30 Members/$35 Non-Members (One adult and one child)
Additional children—$15
Edible Creations Mini-Camp—How Does Your Garden Grow?
During these three-day camps, children will don their very own chef 's hat and use food from the garden to prepare scrumptious recipes with herbs, fruit, veggies—and a little chocolate.
1st & 2nd grade: June 17-19, July 8-10 or August 5-7; 1-4 p.m.
3rd & 4th grade: June 30-July 2 or July 29-31; 1-4 p.m.
Cost: $110 Members/$125 Non-members
4. TEXAS DISCOVERY GARDENS
3601 Martin Luther King Jr. Blvd, Dallas, 75210
www.texasdiscoverygardens.org
To register: 214-428-7476 x 343 or [email protected]
Located within Dallas' historic Fair Park, Texas Discovery Gardens is a 7.5-acre organic botanic garden featuring native and adapted plants. Check their website for a complete listing of classes. Each weeklong camp is $200/ $170 for TDG members. Pre-class and post class daycare is available.
Growing Green in the City with Paul Quinn College
1st- 3rd Grade
9:30 a.m. to 3:30 p.m., June 9-13
From farm to Fair Park, see what's growing all across the city, and learn how to grow a thing or two along the way! Campers will spend two days at the WE Over Me Farm at Paul Quinn College, where they'll get their hands dirty as they learn about growing vegetables and taking care of our farm animals, followed by three days at the Texas Discovery Gardens, where they'll explore the plants and critters that surround us in Dallas.
Budding Botanists
Age 3-5
9:30 am -3:30 pm; August 11-15
Explore everything about a plant while getting dirty and planting your very own min-garden. From Muddy Monday to Fruity Friday, kids will learn all about how plants, people and animals need each other's help to keep growing.
DENTON COUNTY
5. CARDO'S FARM PROJECT
1599 Mingo Road, Denton, 76209
www.cardosfarmproject.com
To register: 817-371-2278 or [email protected]
Just west of Denton, Cardo's Farm Project is dedicated to teaching the community, particularly the younger generation, about sustainable agriculture and land stewardship.
Farm Tours: Throughout the summer, Cardo's offers free tours on the second Saturday of each month at 10:30 a.m. Families can bring a picnic, harvest from the U Pick fields and flower gardens or shop at the farm stand.
Field Trips: Cardo's hosts visiting school groups throughout the growing season. A full-tour of this working farm includes hands on learning opportunities like picking vegetables, gathering eggs in the chicken coop and learning about what cows give us. Lessons foster understanding about the importance of farms to our daily lives. Length of tour: Approximately 1½ hours. Cost: $6 per child.
Farm & Wilderness Camp:
August 11-15 from 9 a.m. – 3:30 p.m.
Ages: 6-12 Cost: $222
A weeklong camp at the Clear Creek Natural Heritage Center and Nature Preserve, combining hands-on farm experience with wilderness exploration.
TARRANT COUNTY
6. FORT WORTH BOTANIC GARDEN
3220 Botanic Garden Blvd, Fort Worth, 76107
www.fwbg.org • 817-871-7686
To register: 817-392-5534 or [email protected]
The Fort Worth Botanic Garden, a 110-acre nature sanctuary located 3½ miles west of downtown Fort Worth, is a living laboratory for students to explore topics such as native plant studies, pollination, tree structure and climate change. Their Green Thumb Club is offering a variety of classes in June and July, including their Incredible Edibles.
Incredible Edibles Class:
Ages: Kindergarten- 5th Grade
June 16-19; 9 am to noon Cost: $90
Children will pick vegetables in the Backyard Vegetable Garden and the fruit orchard. They will learn about gardening at home, build their own solar oven and make nutritious and fun food.
7. HOMESTEAD FARMS
4160 Keller Hicks Road, Fort Worth, 76244
817-431-4277• www.homestead-farms.net
To register: [email protected]
At Homestead Farms, Michael and Sarah Farris are dedicated to reviving agricultural traditions that promote sustainability. Michael is a fifth generation Keller dairy farmer and Sarah has a degree in Dietetics. To help connect families with farm life, they offer a series of morning camps for children 2-6 and 6-12. Kids get to join in on the chores, such as milking the goats and gathering eggs in the hen house. $25 per child.
Farm Camp
Ages 2-6 (Parents must stay)
Wednesdays, June 11, 18, 25; 9 a.m. to 11 a.m.
Thursdays, July 3, July 10; 9 a.m. to 11 a.m.
Ages 6-12 (Parents may stay)
Thursdays, June 12, 19, 26; 9 a.m. to noon
Wednesdays, July 2, 11; 9 a.m. to noon
8. NASH FARM
626 Ball Street, Grapevine, 76051
(817) 410-3185 • www.nashfarm.org
Built in 1859, the 5.2-acre Nash Farm teaches lessons in history through exhibits, interpretive programs and displays.
First Fridays at the Farm – June 6 and August 1
This family-friendly series is designed to teach life skills that were important to a Texas farm in the 19th century. In June, the lesson teaches how crops were vital for both providing food and for financial security. Explore the garden and see what grows at Nash Farm today. $3 activity fee.
Farmhouse on the Grape Vine Prairie Series – August 30
On the 4th Saturday morning of every month, 3rd-7th graders can learn more about the world of Laura Ingalls Wilder, author of Little House on the Prairie. Students will participate in chores that will bring her stories to life. In August, the topic is "Summer Harvest." Activities will include shelling and grinding field corn and stuffing mattresses. The corresponding book passage is "Farmer Boy: Early Harvest." $3 activity fee.
Edible Dallas & Fort Worth is a quarterly local foods magazine that promotes the abundance of local foods in Dallas, Fort Worth and 34 North Texas counties. We celebrate the family farmers, wine makers, food artisans, chefs and other food-related businesses for their dedication to using the highest quality, fresh, seasonal foods and ingredients.