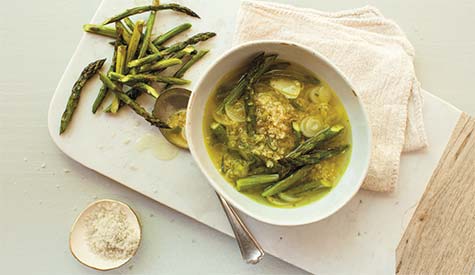 Story by Terry Walters, excerpted from EAT CLEAN LIVE WELL
Our family's shared meals, my weekly trips to the farm and visits to farmers markets remind me of how food brings us together. But our adulterated food system, the politics influencing it and so much uncertainty around truly sustainable, healthy food reveal the reality of how deeply food divides us as well. Our food system is polluting our bodies and our environment, and the negative effects of overprocessing our food and the land that produces it are everywhere, from dwindling natural resources to our deteriorating health.
Two engines drive our food system. One is a profit-based business and political model that does not always have our best interest at heart. This model is in part a response to our demands for products that fill short-term needs (a picky child, busy schedule or waning energy), but create long-term imbalance and disease. In contrast, the second engine is fueled by the growing clean food movement that is helping to sustain small farms and provide an essential connection to the source of our food.
Perhaps the only thing we know for certain is that food is ever-changing in ways good and bad. New pesticides and herbicides, advancements in genetic modification, depletion of the soil and relaxed organic standards are not transparent to consumers at the point of purchase and come with the potential for great risks to our health. Large single-crop farms (monocultures) deplete the nutrient density of soil, threaten crop diversity, are more vulnerable to insects and disease, and put our food and water supplies at risk.
At the same time, more and more people are participating in gardening, the number of small farms continues to rise, and special programs and grants are making clean food more accessible. Schoolyard gardens are increasingly common, while nutrition and cooking education are being brought back into the classroom as well.
Unlike my mother, I don't prepare dinner from scratch every night. Sometimes "upcycling" the previous night's dinner into a new dish or having my children prepare the meal is the only way mealtime happens. Sitting down to share a meal is always a gift and sometimes a luxury. But the greatest difference between the meals in my mother's kitchen and mine is the dialogue about food—where it comes from, how it was grown or produced, and how it influences our health, our community, our environment and even our world. In my mother's kitchen, I ate with blind faith. Today, I want to know the land, the farmer, the fisherman, the grocer and all the processes from seed to plate to ensure that the food on my table will nourish and not harm.
The more we insist upon clean food options and knowing the truth behind the label, the more demand we'll create for the foods and food system that are in balance with the rhythm of the seasons and which sustain good health.
BUILDING HEALTHY COMMUNITIES
There I stood, before 200 high school students, teaching them what it means to eat clean and why they should demand clean food in their school cafeteria, when one student shouted out, "Why is your generation always telling my generation to fix this problem?" Creating healthy change in our food system and our communities will not come from one generation telling another what has to be done, but rather from all of us joining our voices and actions to make it happen each and every day.
We can all make changes individually that will positively influence our health, but it will take all of us coming together to create healthy communities. With more access to seasonal fresh foods through farms, farmers markets and food hubs; nutrition and cooking education through schools and community centers; wellness programs and outreach to all ages, we gain not only healthy communities, but invaluable connections to each other and the land.
You never know what will inspire positive change. It can come from an organization, a teacher, an event and even the most resistant child, who in one minute is disgusted by the very thought of kale in a smoothie, and is encouraging all of his peers to drink it along with him in the next. It can require hard work to open minds and create opportunity, and sometimes it just requires working hands and caring hearts.
Terry Walters is the author of three best-selling cookbooks, CLEAN FOOD, CLEAN START, and her latest EAT CLEAN, LIVE WELL. She is a James Beard Foundation Award finalist and recipient of the Nautilus Gold and Silver Book Awards. terrywalters.net
RECIPE
Spring Onion and Quinoa Soup with Roasted Asparagus
Edible Dallas & Fort Worth is a quarterly local foods magazine that promotes the abundance of local foods in Dallas, Fort Worth and 34 North Texas counties. We celebrate the family farmers, wine makers, food artisans, chefs and other food-related businesses for their dedication to using the highest quality, fresh, seasonal foods and ingredients.