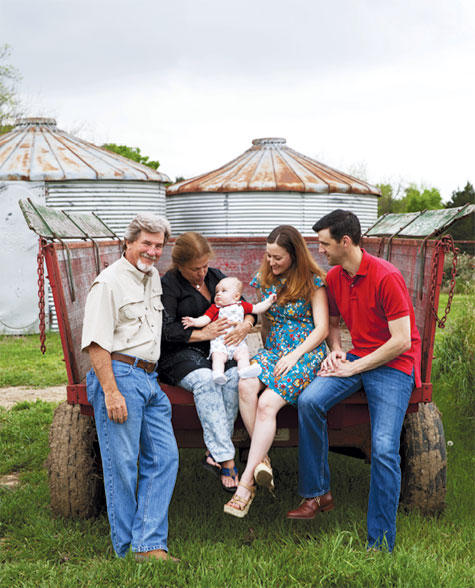 Baby Quinn with her grandparents Jack and Sarah Neubauer,
and parents Megan Neubauer and Allan Couch.
Story by Monica Johnson • Photography by Desiree Espada
It's surprisingly quiet at Pure Land Organic farm, just minutes away from the suburban bustle of McKinney and the traffic of US75. At the entrance to the farm's 28 rolling acres sit an old barn, a couple of storage tanks and a trailer used for an office. Garlic and onions are growing in two nearby plots. The land gently slopes to a field of 1,600 blackberry bushes and further on, a pond is filled to the brim after plentiful spring rains.
Four years ago, father and daughter, Jack and Megan Neubauer, were new to the business of agriculture; their growing experience was limited to backyard gardens. Recently retired from the oil and gas business, Jack wasn't ready to quit working. "I always liked the outdoors," he explains, "and was interested in doing something with Megan."
In Los Angeles, daughter Megan and her husband Allan Couch were scientists in the biotechnology industry but missed living close to their families. As much as she loved her work, Megan found the idea of a family business even more appealing. With that in mind, father and daughter began brainstorming.
Food had always played an important role in their family. "We're just one of those families that's always in the kitchen," says Megan. "Up late with wine, planning what we're cooking the next day." She says it was her mom Sarah who instilled the importance of fresh foods early on with her home-cooked meals.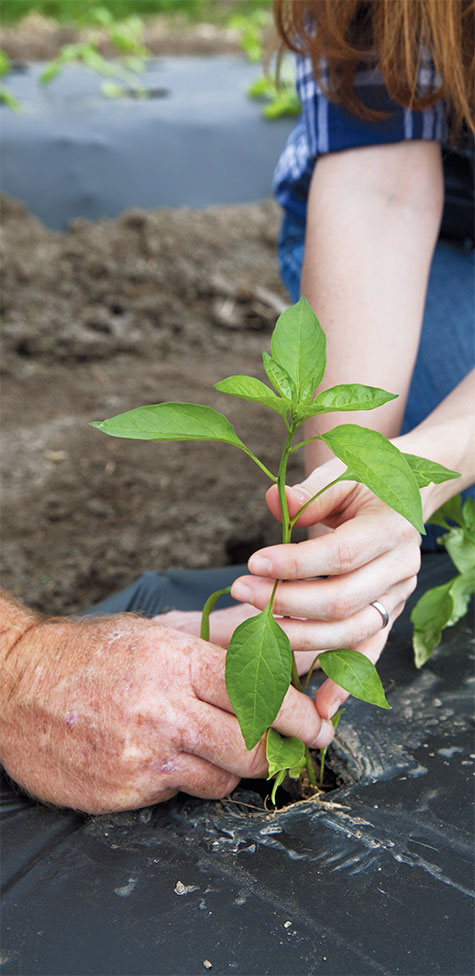 "I like to say if it wasn't for me
nothing would ever get done,
but if it wasn't for Dad, nothing
would ever get done right."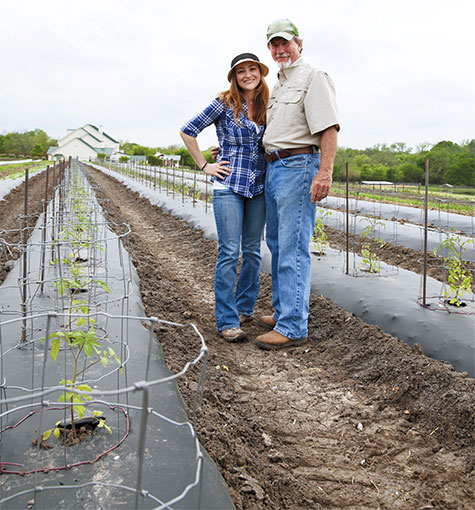 When Megan was eight, Jack's job uprooted the family from Louisiana to series of faraway places—Thailand, Syria, Australia and Indonesia. While they enjoyed the cuisine of each new locale, they occasionally craved familiar fare. "Whenever my mom could get the ingredients to make something that tasted like home, like a burger," says Megan, "it was always incredibly comforting."
The father-daughter's first concept for a business was a fresh produce delivery service, a convenience Megan had enjoyed in L.A. Though local farmers thought it was a great idea, most didn't have an extra supply of produce to share with them. After hearing that over and over and over," recalls Jack, "we finally said, 'Well maybe we just ought to think about being the farmer.'"
Together, they share the planting and harvesting duties, but Jack drives the tractors and maintains their irrigation systems. Megan manages their social media and uses her past experience in a microbiology lab to get their soil to a healthier state. Though husband Allan works full-time at a finance job, he still helps out—sometimes in the fields, sometimes crunching numbers in the office.
This year, they're focusing on crops that have proven to grow well— blackberries, melons, summer squash, sweet potatoes, garlic, onions, kale and hot peppers. They'll also keep trying new varieties as long as it's a good fit for their soil and their business. "You've got to do what you can to satisfy everybody's needs," says Jack, "but at the day's end, you've got to have a product to sell, or you're just wasting your time."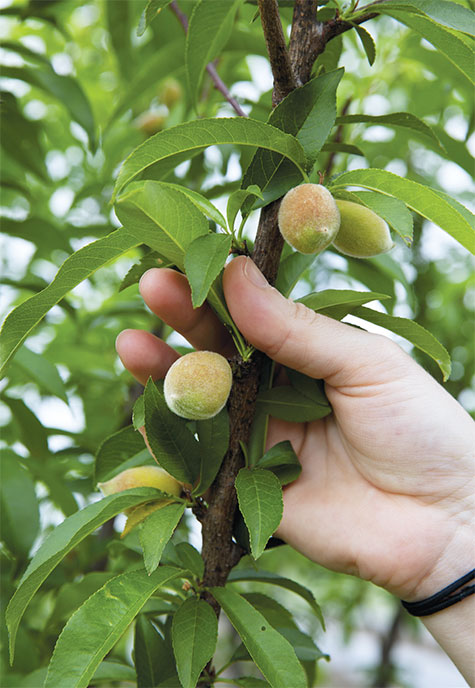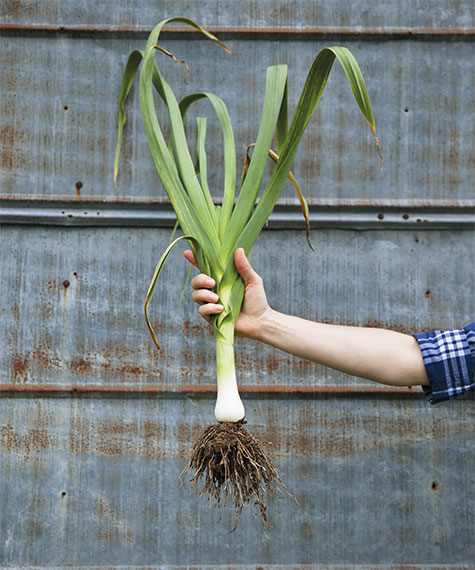 In their earliest seasons, when certain crops weren't growing well, they realized that the land, depleted from years of cattle grazing, needed to be amended with vital nutrients. "The healthier the soil, the healthier the plants," says Megan, "and the fewer the pests." Though the farm is not USDA Certified Organic, they follow organic standards, using organic seeds, natural bug control and natural fertilizer, like fish emulsion.
Chefs, like Robert Lyford of McKinney's Patina Green Home and Market, who insist on cooking with the freshest, local ingredients, call Megan regularly to find out what's ready for harvest. Lyford says he's not concerned about the farm's lack of official organic certification because he knows first-hand that their produce is of the highest quality and sustainably grown.
When he first met Megan, whom he now considers a friend, he was thrilled about the close proximity of her farm to his restaurant. But as he does with all of his farmers, he needed to ensure that Pure Land's produce passed his test.
"I show up at the farm, get right in the dirt and start looking for bugs," says Lyford. "I'm looking for bees flying around—I'm looking for any kind of life that proves to me that they're not spraying pesticides. And, that's what's going on at Pure Land. You can tell that not only do they know what they're doing—they're passionate about it. This passion for farming is what keeps them going, because farming, especially small organic farming, is hard work."
Occasionally, customers question why the price of Pure Land's food is higher than what's offered at the big-box grocery stores. "People get so removed and get used to the three-for-a-dollar pricing," said Megan, "They don't know what things actually cost or the work involved." The Neubauers are excited about expanding their reach. Like so many Texas suburban areas, McKinney is rapidly developing to keep up with its expanding population. With new housing developments popping up, the family's rural farm may soon become an urban oasis. But that's just fine with them—growth only brings the community closer to the farm. (At the end of last year, Megan and Allan added their own little sprout to McKinney's growing population with the birth of their daughter Quinn.)
They want to be known as a community center, as well as a farm, hosting field trips, workshops, weddings and parties. There are plans for an on-site farmstead store where they'll sell just-picked produce and small-batch food products, like jellies and sauces. Father and daughter agree that they are grateful for how the entire process has unfolded. "If we had had all the money in the world from day one," says Megan. "We would have gotten a lot wrong."
The experience has brought them closer together, though any family business has its challenges. "We do have a few differences in style," says Megan. "I'm a pretty quick decision maker while Dad considers every possible option. I like to say if it wasn't for me nothing would ever get done, but if it wasn't for Dad, nothing would ever get done right."
"If you communicate," adds Jack, "It can work."
Look for Pure Land Organic produce at the Coppell Farmers Market and the Dallas Farmers Market.
Edible Dallas & Fort Worth is a quarterly local foods magazine that promotes the abundance of local foods in Dallas, Fort Worth and 34 North Texas counties. We celebrate the family farmers, wine makers, food artisans, chefs and other food-related businesses for their dedication to using the highest quality, fresh, seasonal foods and ingredients.