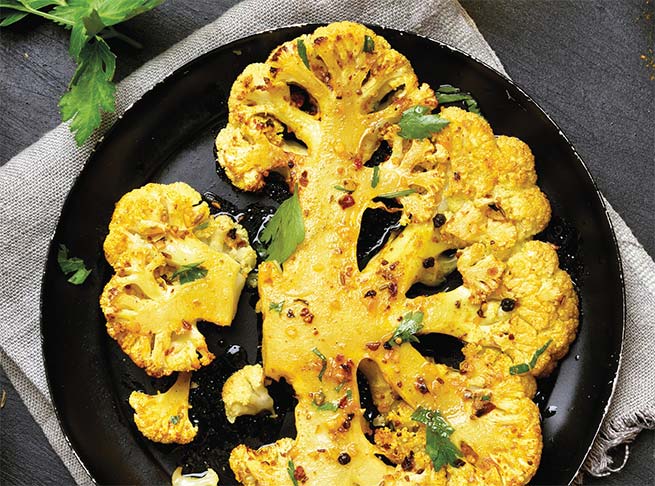 photo: istockphoto.com/Tatiana Volgutova
Cauliflower, how misunderstood you are! Big ugly head. Lumpy, bumpy, hard to get into, messy to chop, hard to break off. And after all that, for what? White bits all over the floor, the countertop, a snowstorm of crumbles. It doesn't matter if you use a knife large or small.
It is still cauliflower, after all. Or choufleur, if you will, and I do, because it sounds so much nicer, softer and more like something I'd want to eat. Which I finally did, but it wasn't that long ago—ten years maybe.
Not surprisingly, I fell in love with choufleur, not cauliflower, because I was living in Paris and buying the big heads—so heavy they were still covered with thick green leaves, the white part barely showing—and carrying them all the way home in a bag over my shoulder. It was always a dilemma—choufleur or potimarron, the chestnut-flavored pumpkin that here in America we call Red Kuri squash. Things quickly became heavy in my basket in the fall.
Roast choufleur, and it becomes something else: nutty and sweet— far removed from the stinky, limp and still wet (from the boiling water), opaque lumps that my grandmother served in Texas at Thanksgiving. It smelled so bad it threatened to override the pleasing aroma of the turkey and cloverleaf dinner rolls, just out of the oven, swaddled in a cloth-napkin-lined basket, ready to be passed with butter, not oleo, because it was a holiday.
These days, cauliflower is having its Big Moment, the darling of the vegan set and anyone who's still refusing to eat carbs. Grate it like it's a hunk of cheese and roast it, and it's a stand-in for, well, rice. It's better roasted my way, if you ask me.
In a nod to my grandmother, I will occasionally go full-on, one hundred percent funky. I'll steam it in a little metal steamer basket until the house is filled with the familiar holiday stench, only to throw it all into a blender with some Parmesan cheese and butter and cream and make a purée out of it, or maybe a soup. There's no getting around the smell.
It's actually starting to grow on me.
RECIPE
Ellise Pierce is the Cowgirl Chef and author of COWGIRL CHEF:
Texas Cooking with a French Accent (Running Press). Read her blog
(www.cowgirlchef.com), follow her on Twitter (@cowgirlchef) and Instagram
(cowgirlchef)