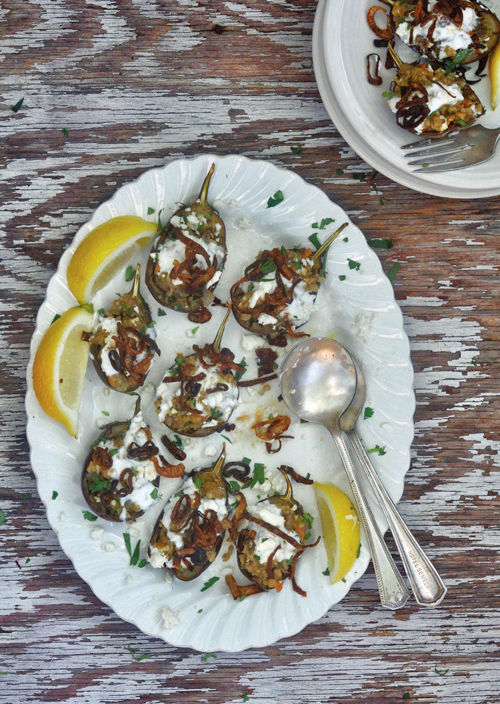 If you've ever spent any time in Spain, then you know about the breezy, whenever-you're-hungry eating culture there—they're grazers, mostly, stopping in at a favorite spot for lunch, having a little bit of something, then moving on before doing the same thing again later in the day, before dinner, or as dinner. It's a loose system, one which adheres less to specific times, or even types of food, than the overall laid-back sense of the place which in some small way, has always reminded me of home—my Texas one, not my Paris one.
Especially in the summertime, when the long Texas days stretch into the night and the heat doesn't relent, adopting a slightly Spanish approach to eating makes sense—plus it works well for entertaining. Even though we've got cold air blasting indoors to keep us comfortable, I can't get my head around the idea of eating food that's sizzling hot when it's 110 degrees outside. Give me cold or give me room temperature. There's already too much heat going around.
Which totally works when you're having people over for a dinner party. If everything's been made ahead of time and can be served as is, so much the better, because you don't have to do heavy kitchen duty while your guests are in-house, and the casual vibe means people can nibble on whatever you've got laid out while they sip a slightly chilled Texas rose.
The idea is to let people come and go with smaller size plates, and to give them plenty to choose from. There will undoubtedly be vegetarians and vegans and meat eaters, too, because these days, that's how it goes, so putting cheese or anything dairy on the side when you can is a great option to make everyone happy.
It doesn't take long to prepare a seasonal, summery tapas table, and every bit of it can be done the morning of, before the heat settles into the day. A half-hour beforehand, just pull everything out and set your table—and if you're determined to grill, be my guest. I'll be inside where it's cool and mosquito-free. All of these dishes will go nicely with whatever you're in the mood to throw on the fire, from chicken thighs to flank steak.
RECIPES
Stuffed Baby Eggplant with Freekeh, Feta and Herbs
Okra, Corn and Fingerling Potatoes with Buttermilk Yogurt Dressing
Watermelon and Chèvre with Jalapeño Oil
Crustless Quiche with Summer Squash, Ricotta and Mint
Ellise Pierce is the Cowgirl Chef and author of COWGIRL CHEF:
Texas Cooking with a French Accent (Running Press). Read her blog
(www.cowgirlchef.com), follow her on Twitter (@cowgirlchef) and Instagram
(cowgirlchef)