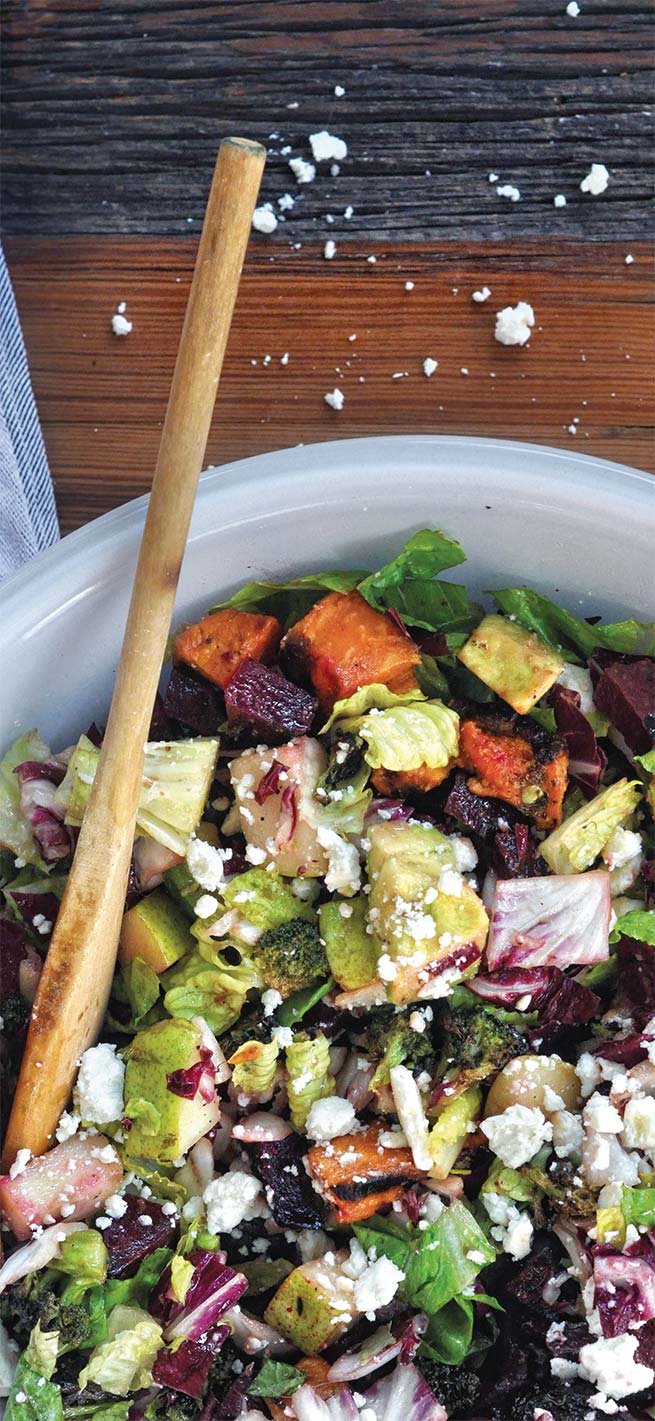 photo by Ellise Pierce
Makes 8 servings
2 pounds broccoli crowns, florets removed
6 tablespoons olive oil (divided use)
Sea salt and pepper
2 lbs sweet potatoes, peeled & sliced into ½-inch discs
2 lbs beets, peeled & sliced into ½-inch thick discs
1 Anjou pear
1 avocado
1 small head romaine
½ head radicchio
Cane Syrup Vinaigrette (recipe below)
4 ounces Feta, crumbled
Preheat the oven to 450°F.
Toss the broccoli florets with 2 tablespoons of olive oil and salt and pepper to taste and spread them out on a large baking sheet. Cook until browned on all sides, about 20 minutes, turning once. Remove from the baking sheet and put them into a bowl to cool.
On the same baking sheet, lay out the discs of sweet potatoes and beets. Drizzle them with the rest of the olive oil —and you may not need all 4 tablespoons. Make sure all of the pieces are well coated so they don't stick to the pan. Roast for 40 minutes, or until browned on both sides, flipping them over halfway. Let them cool before slicing into ½-inch cubes.
Chop the pear and avocado into ½-inch cubes.
Chop the romaine and radicchio into 1-inch pieces.
To assemble the salad, put everything in the largest bowl you've got— the broccoli, beets, sweet potatoes, pear, avocado, romaine and radicchio. Add half of the Cane Syrup Vinaigrette and most of the Feta crumbles; toss and taste for seasonings. If you need to add more vinaigrette, now's the time. Top with the rest of the Feta. Eat.
Cane Syrup Vinaigrette
Makes 1 cup
¼ cup Champagne vinegar
1 teaspoon lemon zest
1 tablespoon lemon juice
1 teaspoon Dijon mustard
2 teaspoons cane syrup
Sea salt and pepper to taste
¾ cup grapeseed oil
Whisk together the first five ingredients along with sea salt and pepper to taste. While whisking, slowly add the grapeseed oil. Taste for seasonings.
Note: You may make this in advance and keep in the fridge until you're ready.
Ellise Pierce is the Cowgirl Chef and author of COWGIRL CHEF:
Texas Cooking with a French Accent (Running Press). Read her blog
(www.cowgirlchef.com), follow her on Twitter (@cowgirlchef) and Instagram
(cowgirlchef)