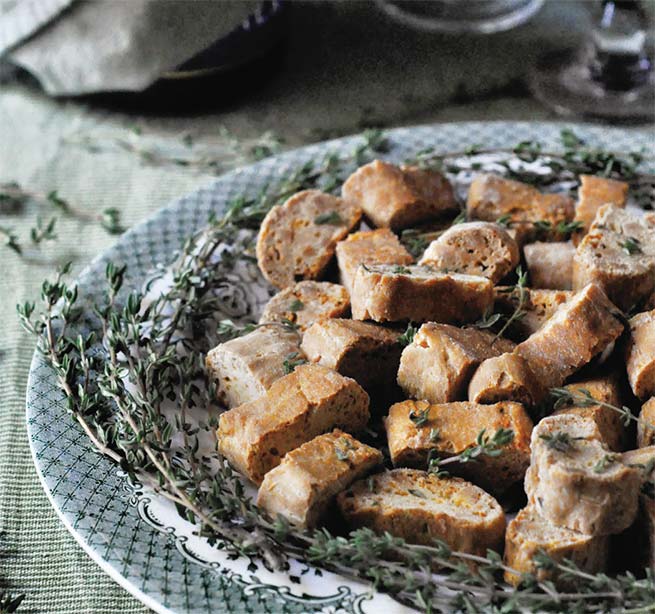 Photography by Ellise Pierce
Makes about 32
1½ cups all-purpose flour
3 tablespoons sugar
½ teaspoon sea salt
3 tablespoons olive oil
1 egg plus 1 egg yolk
2 tablespoons water
½ cup shredded Asiago cheese
½ cup slivered and blanched almonds
Leaves of 4 sprigs fresh thyme
Preheat oven to 350°F. Line a baking sheet with parchment paper.
Put the flour, sugar and sea salt in your mixer bowl and whisk to combine.
Add the olive oil and eggs and mix well, along with just enough water to bring the dough together.
Add the Asiago cheese, almonds and fresh thyme leaves and make sure they're evenly distributed throughout the dough.
Divide the dough in half and roll each piece into a log 1-inch in diameter. Bake for 25 to 30 minutes or until firm to the touch.
Remove from the oven, let cool for 15 minutes and slice ½-inch pieces on the diagonal. Lay out the slices on the baking sheet and return to the oven. Bake an additional 15 minutes on each side or until lightly browned.
Let cool completely before you serve them with Champagne
Ellise Pierce is the Cowgirl Chef and author of COWGIRL CHEF:
Texas Cooking with a French Accent (Running Press). Read her blog
(www.cowgirlchef.com), follow her on Twitter (@cowgirlchef) and Instagram
(cowgirlchef)