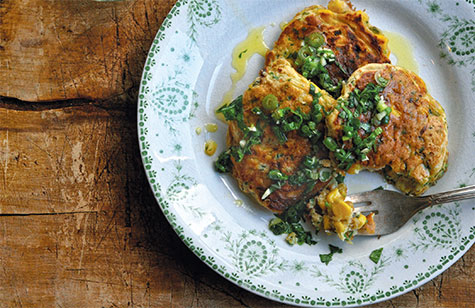 Makes about 18 (3-inch) galettes
For Galettes
3 ears of fresh sweet corn, shucked (about 3 cups)
2 cups of shredded zucchini
4 green onions, chopped
1 cup of chickpea flour
2 tablespoons of wheat flour
2 tablespoons of baking powder
1 teaspoon of sea salt
¼ teaspoon of cayenne
1/8 teaspoon of cinnamon
½ teaspoon of cumin
2 eggs
1 (5.29 ounce) container of Greek yogurt
2 tablespoons of vegetable oil or canola oil
For Herb Pesto
2 green onions, chopped
Small handful of cilantro, chopped
Small handful of mint, chopped
1 clove of garlic, minced
¼ cup of olive oil
Sea salt and pepper, to taste
Preheat oven to broil.
Put the cleaned corncobs under the broiler and cook until browned on all sides. Remove, let cool, then slice off the kernels with a sharp knife. (You can do this ahead of time and keep in the fridge until you're ready to make the galettes.)
Put the corn, zucchini, cilantro, and green onions in one bowl. In another bowl, whisk together the chickpea flour, wheat flour, baking powder, sea salt, cayenne, cinnamon, and cumin.
In a small bowl, whisk together the eggs and yogurt. Add this mixture to the dry ingredients and stir together. If the batter is too thick, just add a little bit of water. Fold in the vegetables.
Heat 2 tablespoons of the vegetable or canola oil in a large skillet over medium heat. Using your ice cream scoop, add as many galettes as you can, leaving an inch between each one (they'll spread slightly). Cook for a couple of minutes, or until the bottoms are brown and toasty, then flip to the other side for another few minutes. You don't want these to cook too fast, or they'll be wet in the middle (you may need to turn the heat down once the skillet gets hot to prevent this.) You'll need to work in batches, so put the just-cooked galettes on a rack set over a cookie sheet in a 200°F degree oven.
While the galettes are cooking, make the Herb Pesto. Simply mix all of the ingredients in a small bowl and let rest. You may want to do this in advance and keep in the fridge until eat-time. When ready to serve, spoon a little pesto on the top of the galettes, or simply put in a small bowl and pass around.
Cowgirl Tip: These reheat beautifully. Just pop them in the toaster or toaster oven.
Ellise Pierce is the Cowgirl Chef and author of COWGIRL CHEF:
Texas Cooking with a French Accent (Running Press). Read her blog
(www.cowgirlchef.com), follow her on Twitter (@cowgirlchef) and Instagram
(cowgirlchef)