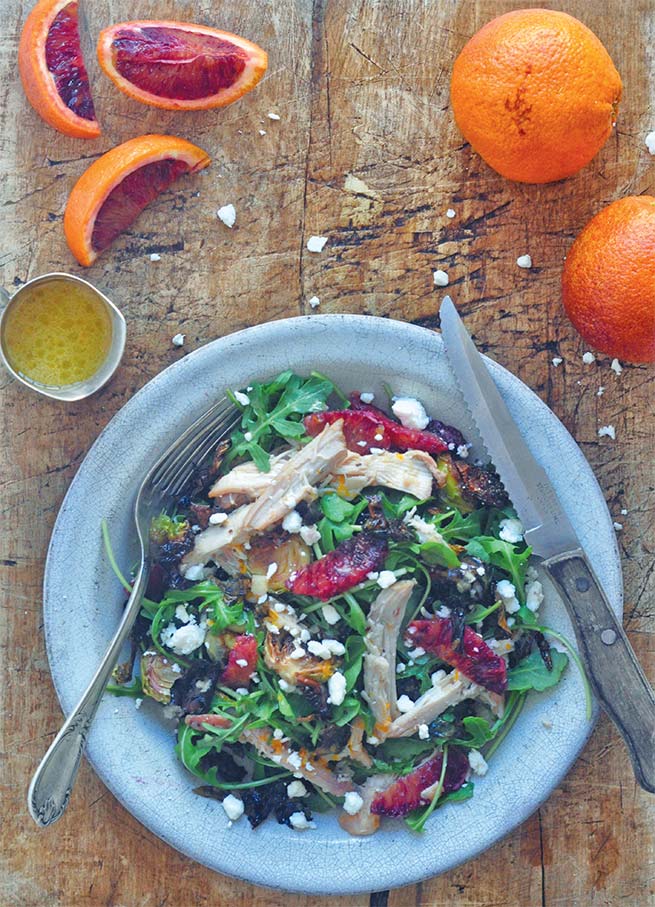 Makes 4 servings
1-inch knob ginger, grated
3 cloves of garlic, minced
¼ cup soy sauce
¼ cup honey
Juice and zest of 2 oranges
1 pound chicken thighs
1 pound Brussels sprouts, sliced
3 tablespoons olive oil
Sea salt and pepper
4 blood oranges
Orange Vinaigrette (recipe follows)
4 handfuls arugula
Feta cheese crumbles
Make the marinade by combining the first 5 ingredients in a bowl and whisking until combined. Add the chicken thighs and turn to make sure they're submerged in the liquid. Cover tightly with plastic wrap (or put in a heavy-duty zip-top plastic bag) and refrigerate overnight.
Preheat the oven to 425°F.
Pull the chicken out of the fridge and place the thighs on a foil-lined baking sheet. Bake for 20 minutes, turning once, or until the internal temperature reads 160°F. Discard the marinade.
Toss the Brussels sprouts with the olive oil, sea salt and pepper, and spread on a large baking sheet. Roast until browned, 20 to 30 minutes, turning once. Remove from oven and allow to cool.
When the chicken is cool enough to handle, shred the meat with your fork. Set aside.
Supreme the blood oranges, which means peel them, then with your paring knife, slice the segments away from the pith. Set these aside.
Make the Orange Vinaigrette.
Assemble your salads. Put the Brussels sprouts in a large bowl along with the arugula. Add some of the vinaigrette and toss. Divide this among 4 bowls. Add some of the shredded chicken to each bowl, plus some of the blood orange slices. Sprinkle with feta. Serve.
Orange Vinaigrette: Put 3 tablespoons fresh orange juice, 1 tablespoon minced shallot and 1 teaspoon Dijon mustard in a jam jar along with sea salt and pepper to taste. Screw the lid on tight and shake until combined. Add 6 tablespoons grapeseed oil and shake again. Save time: Make this in advance and keep in the fridge until ready to make your salads.
Ellise Pierce is the Cowgirl Chef and author of COWGIRL CHEF:
Texas Cooking with a French Accent (Running Press). Read her blog
(www.cowgirlchef.com), follow her on Twitter (@cowgirlchef) and Instagram
(cowgirlchef)