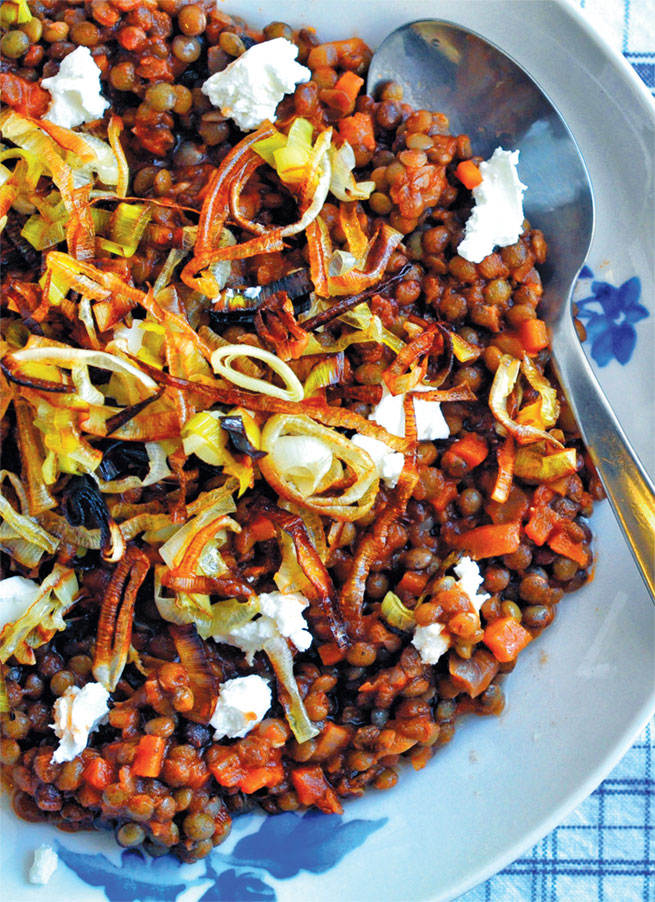 Makes 4 servings
1 pound green French lentils (du Puy, if you can find them)
6 tablespoons olive oil (divided use)
½ cup chopped onion
1 clove of garlic, minced
1 carrot, finely diced
1 tablespoon tomato paste
4 cups vegetable stock or chicken stock
1 bay leaf
Sea salt and pepper to taste
2 leeks, rinsed, the white and light green thinly sliced
About 4 tablespoons goat cheese crumbles
Make the lentils: Put them in a fine mesh colander and give them a good rinse.
Put 2 tablespoons olive oil, onion and garlic in a large soup pot and turn the heat to medium. Cook until onions become translucent, 5 to 10 minutes, then add carrots and stir occasionally. Let carrots cook until slightly softened, about 5 minutes, then add lentils, tomato paste, stock and bay leaf. Add pinch of salt and pepper. Cover and let come to a boil, then reduce heat. Cook for 30 minutes or so, then taste for doneness and season, if needed.
Make the leeks: Pour remaining 4 tablespoons olive oil into a medium skillet over medium-high heat. When oil is hot, add leeks and fry until they brown. When done, remove to paper towels to drain.
To serve: Put a serving of lentils into each of 4 bowls, then add a portion of frizzled leeks in the middle. Sprinkle with crumbles of goat cheese.
Ellise Pierce is the Cowgirl Chef and author of COWGIRL CHEF:
Texas Cooking with a French Accent (Running Press). Read her blog
(www.cowgirlchef.com), follow her on Twitter (@cowgirlchef) and Instagram
(cowgirlchef)