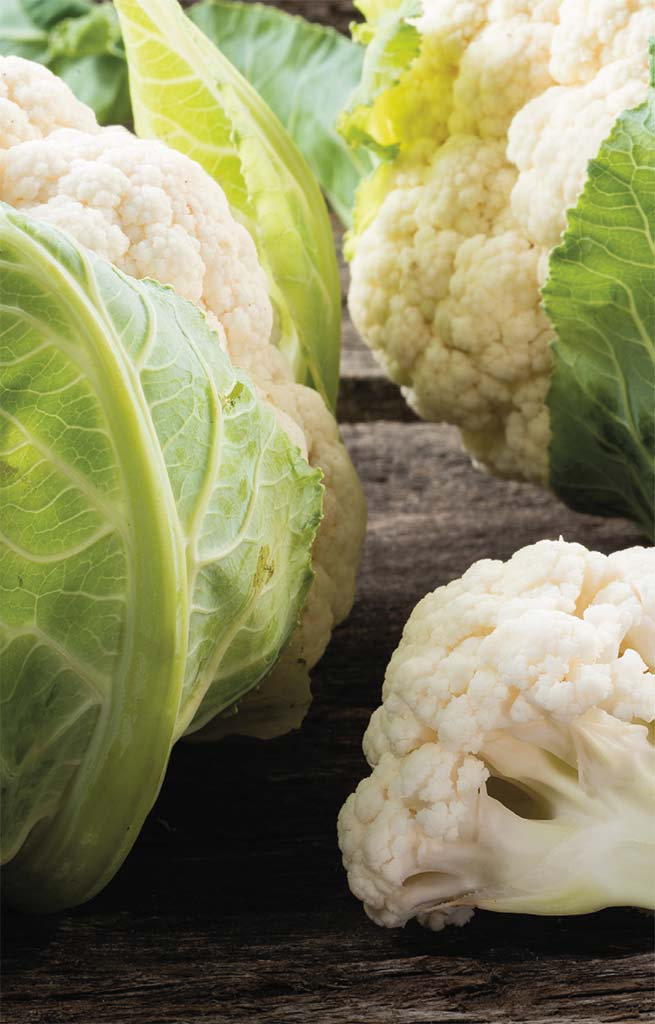 PHOTO: ISTOCKPHOTO.COM/ANNA1311
Make cauliflower 'n' cheese. Roast florets from 1 head at 450°F till tender, then mix with 4 cups cooked quinoa, some freshly snipped chives, 1 cup grated Gruyère. Return to oven until the cheese melts.
Make flatbread. Steam 2 cups of cauliflower florets in a steamer basket. Mix with ½ cup almond meal, 1 cup grated mozzarella, 1 egg, sea salt and pepper to taste, and some fresh chopped parsley. Flatten on a baking sheet. Bake at 450°F until rm, about 25 minutes.
Make quesadillas. Scatter 1 cup of roasted cauliflower florets over a flour tortilla along with some chopped Kalamata olives, 1 chopped jalapeño, ½ avocado (chopped or smashed), and 2 or 3 tablespoons goat cheese. Top with a second tortilla. Grill on a buttered griddle or skillet until warm.
Dip into cauliflower hummus. To 1 head's worth of roasted cauliflower florets, add 2 tablespoons tahini, juice of one lemon, 1 chopped shallot. Mix well.
Make griddle cakes. Steam the florets from 1 cauliflower head. Mash them slightly. Add some chopped green onion, minced jalapeño, a beaten egg, salt to taste and just enough our to make it all stick together for savory pancakes. Cook on a hot griddle with a little oil. Serve with crème fraiche.
Ellise Pierce is the Cowgirl Chef and author of COWGIRL CHEF:
Texas Cooking with a French Accent (Running Press). Read her blog
(www.cowgirlchef.com), follow her on Twitter (@cowgirlchef) and Instagram
(cowgirlchef)