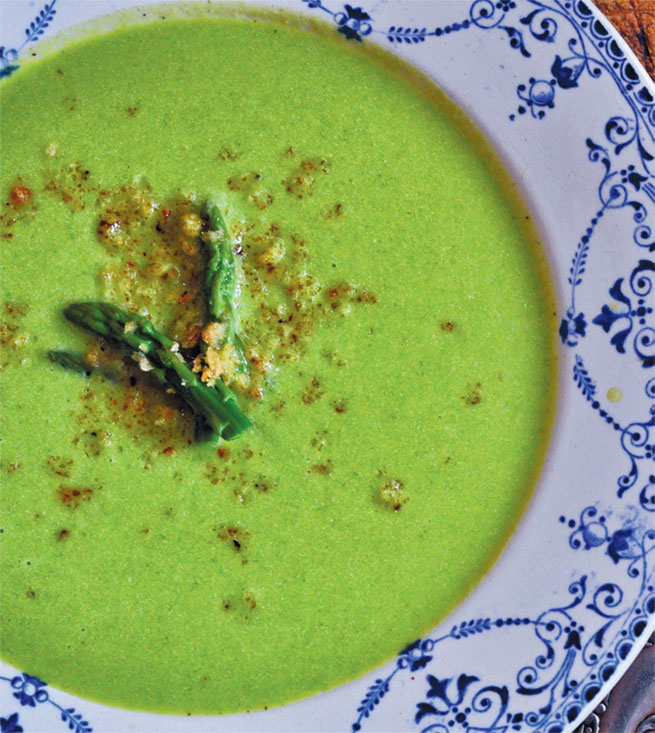 PHOTO BY ELLISE PIERCE
All the recipes below use one pound of asparagus. Pre-cook prep: trim off the ends, if they're skinny; peel the skins off the ends, if you have fat ones.
MAKE A SALAD
Preheat the oven to 425°F and roast the asparagus—after tossing in a little olive oil, sea salt and pepper—for 20 minutes or until lightly browned. Throw together in a bowl with a can of drained cannellini beans, some arugula, a pint of halved cherry tomatoes and a little balsamic vinaigrette.
GO SIMPLE, AND SERVE IT AS A SIDE
Steam your asparagus and serve it with a squeeze of lemon and curls of Parmesan, sea salt and pepper.
ADD IT TO YOUR PASTA
Cut asparagus into 2-inch pieces. Add olive oil, sea salt and pepper, and roast at 425°F for 20 minutes or so, turning once. Put a pot of chunky pasta, such as penne, on to boil. Toss with roasted asparagus, browned butter, prosciutto and lots of Parmesan.
SOUP IT
Steam your asparagus until soft but not mushy, then dunk it into ice water to keep the color. Trim the ends to use as garnish. Sweat a shallot in a saucepan with a little olive oil, then put this in a blender along with the asparagus, 2 cups of vegetable stock, lemon zest and ½ cup of ricotta. Garnish with toasted breadcrumbs. Serve warm or cold.
MAKE A SALSA
Cut your asparagus into 1-inch pieces and roast (per instructions above). Put roasted pieces in a bowl and toss with 1 chopped avocado, some cilantro, about ½ of a jalapeño and juice of 1 lime. Salt to taste.
Ellise Pierce is the Cowgirl Chef and author of COWGIRL CHEF:
Texas Cooking with a French Accent (Running Press). Read her blog
(www.cowgirlchef.com), follow her on Twitter (@cowgirlchef) and Instagram
(cowgirlchef)