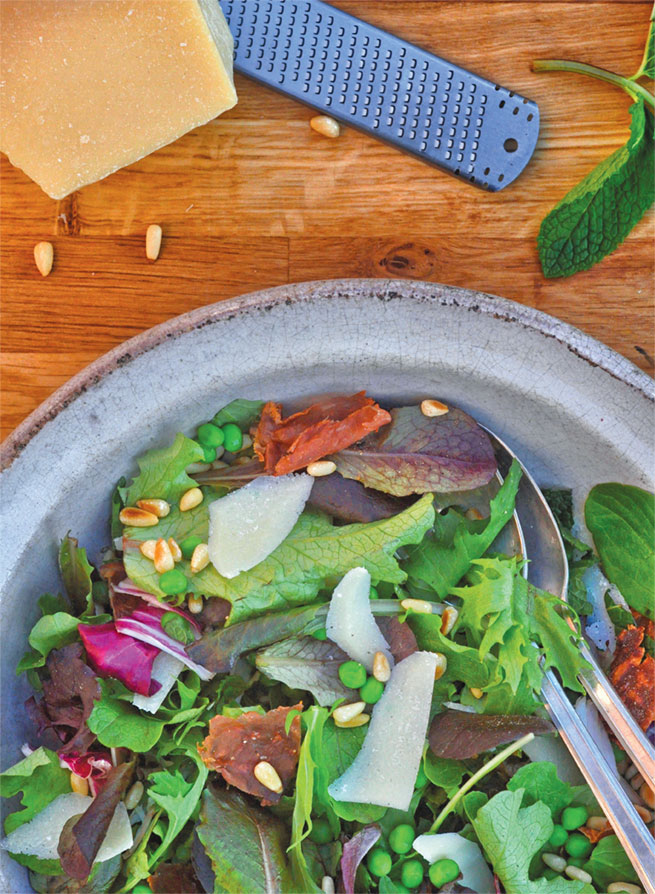 Makes 4 servings
3 slices prosciutto, such as San Daniele
1 cup peas (fresh or frozen)
3 ounces spring salad mix
Handful of torn mint leaves
Sea salt and cracked pepper
Champagne Vinaigrette (recipe follows)
¼ cup pine nuts, toasted
Parmesan, for serving
Tear the ham into small pieces, about 2 inches, and put them in a hot ungreased skillet over medium-high heat. Cook until firm and slightly crispy, turning once— this won't take more than a minute or two. Set aside on a paper towel-lined plate.
Put a small pot of salted water on to boil. If using fresh peas, reduce heat to mediumlow and set your timer for 2½ minutes. If using frozen peas, cook according to directions. When done, pour off hot water and put peas in a bowl of ice water to keep the color bright.
Put the lettuce and mint in a large bowl, add sea salt and pepper to taste and toss. Add peas, crispy ham and some of the vinaigrette, and gently toss again. Sprinkle pine nuts on top and add curls of Parmesan.
Serve.
CHAMPAGNE VINAIGRETTE
Makes ¾ cup
¼ cup Champagne vinegar
1 teaspoon Dijon mustard
Sea salt and pepper to taste
1 teaspoon chopped shallot
½ cup grapeseed oil
Put the first 4 ingredients in an old jam jar and give it a shake to blend. Add the oil and shake again. Taste for seasonings. Will keep in the fridge for about a week.
Ellise Pierce is the Cowgirl Chef and author of COWGIRL CHEF:
Texas Cooking with a French Accent (Running Press). Read her blog
(www.cowgirlchef.com), follow her on Twitter (@cowgirlchef) and Instagram
(cowgirlchef)