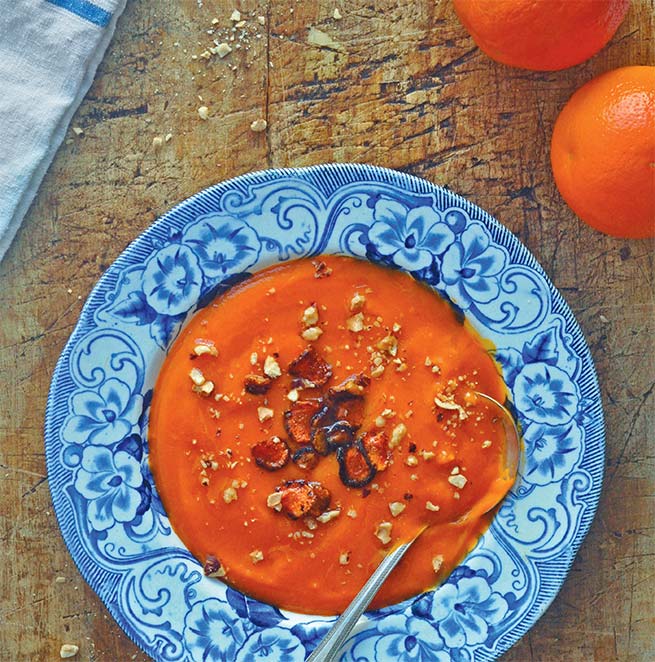 Makes 4 servings
1 shallot, sliced
Sea salt and pepper
2 pounds carrots, peeled and sliced
1 Yukon Gold potato, peeled and cubed
Juice of 2 oranges plus zest of 1
1 quart vegetable stock
1 large carrot, thinly sliced (I used a mandoline)
1 tablespoon olive oil
⅛ teaspoon cumin
⅛ teaspoon chile powder
Hazelnut oil
¼ cup toasted hazelnuts, crushed
Put the shallot in a medium saucepan along with 3 tablespoons of water over medium heat. Add sea salt and pepper to taste. Cook until the shallot softens. Add the carrot slices, potatoes, orange juice and zest, and vegetable stock. Bring to a boil, reduce heat, and cover. Cook until you can easily pierce the carrot slices with a knife.
Carefully pour the mixture into your blender and purée until smooth and silky.
Preheat oven to 425°F.
Put the thin carrot slices on a baking sheet and toss with olive oil, sea salt, cumin and chile powder. Roast for 5 to 10 minutes, or until lightly browned, turning once.
Serve the soup in shallow bowls with some of the roasted carrots, a swirl of hazelnut oil and crushed hazelnuts.
Ellise Pierce is the Cowgirl Chef and author of COWGIRL CHEF:
Texas Cooking with a French Accent (Running Press). Read her blog
(www.cowgirlchef.com), follow her on Twitter (@cowgirlchef) and Instagram
(cowgirlchef)